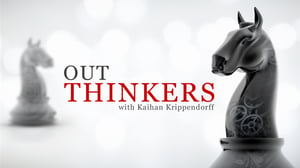 Three ideas.
Three potential million dollar plus revenue generating ideas.
There isn't a mid-size business in the world that couldn't benefit from generating several million dollar revenue producing ideas.
Kaihan Krippendorff's Outthinker Process has generated multi-million dollar ideas for companies like Microsoft to my small mid-size business. In today's Digital Disruption Era, any business needs to be developing ideas to replace the revenues digital is sure to be targeting. This chart shows the disruptive power affecting every business.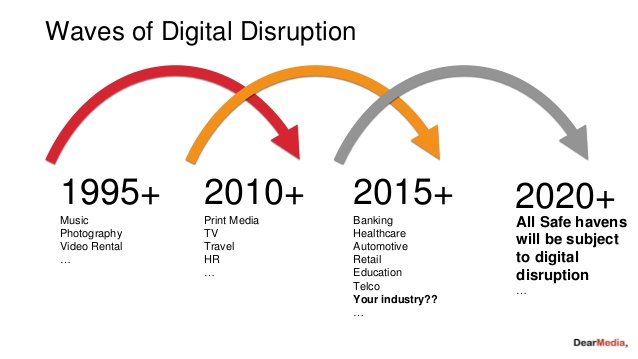 Digital is defined as the nearly instant, free, and flawless ability to connect people, devices, and physical objects anywhere. Digital Disruption, as this graph displays is how it is affecting business World-Wide.
If you're business is not affected NOW, be assured it will be.
In Verne Harnish's Four Decisions White Paper he shares the outcomes every business achieves by getting Four Decisions right.
Decisions Equal Success
There are four decisions, in growing your business, you must get right or risk leaving significant revenues, profits, and time on the table. These Four Decisions are: People, Strategy, Execution, Cash. Most growing businesses face continual challenges in all four areas. Always, a challenge in one of these areas overshadows the rest. Your first decision is to choose which to focus on. This graph displays the four decisions and the outcome it achieves.
DECISION

RESULT/OUTCOME

PEOPLE

STRATEGY

EXECUTION

CASH
If your business is struggling to grow revenue, your business focus needs to be Strategy. The Outthinker Process is specifically focused on growing your revenue.
Five Step Outthinker Process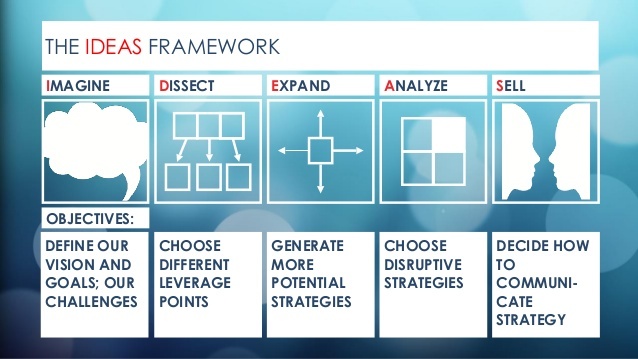 Kaihan Krippendorff, Outthink the Competition provides a pathway to generate strategy ideas.
For the last several blogs we've been sharing one of my customers path through Kaihan's Outthinker Process:
Today's blog concludes with the Fifth and final step
Outthinker Process Step 5: Build Buy-In for Your Strategy
In our last blog, STEP 4 - OUTTHINKER PROCESS - ANALYZE – Space For Impossible Ideas we walked through how my customer analyzed 192 ideas, culling them down to the top 5-7 which could potentially generate the most potential revenue.
In our finally full day session, Kaihan asked our team to take the 3 best ideas and develop them through four Visionary Steps: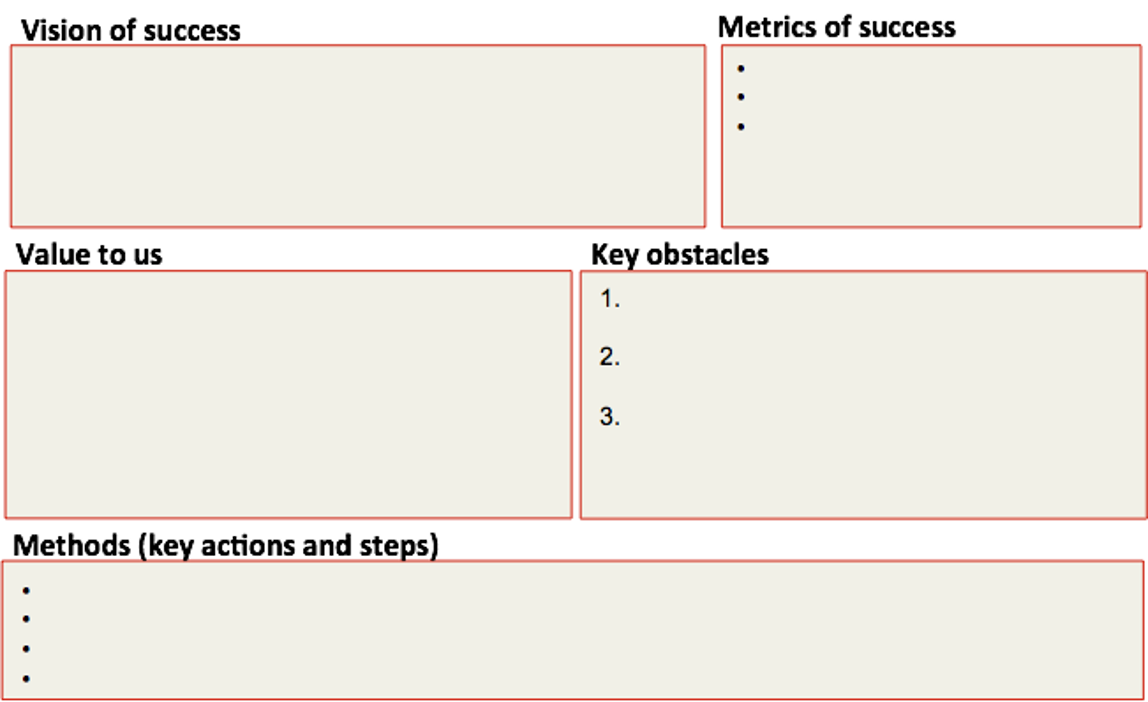 Vision of success: What's this idea look like when it's working? How will it work, what will it mean to our customers, how will it improve their lives and work? Describe how it will work, what it will do for both the company and the customer.
Value to Your Company: Describe the internal value and the external value.
Metrics of success: This should answer the question, "how will you win?" What are the specific metrics for the product or service? What will it produce in terms of revenue for your business?
Effort/ investment: How much work is this going to take to produce in terms of time, manpower, new technology, or learning? How much of a financial commitment will it require for the business to achieve the outcome?
Most businesses fail to take these steps with any of their ideas. This is critical to knowing what you will need to do. Failing to plan is planning to fail. This step requires brainstorming and sharing from the team leaders to build these four elements of the strategy. It took some work to generate the answers to these four elements, yet it was surprising how quickly the team responded. Due to shared excitement each team member contributed enthusiastically.
STRATEGY'S MOST IMPORTANT QUESTION
In AG Lafley and Roger Martin's book, Playing to Win: How Strategy Really Works, the authors share strategy's most important question: "What would have to be true?"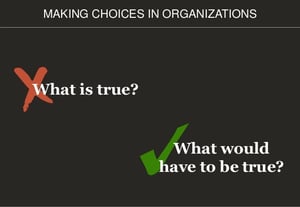 These "What would have to be true" questions comprised the next six blocks of answers our team used to complete the development of the three strategies:
What must be true about the size and attractiveness of our target segments?
What must be true about what our end users value?
What must be true about what our channels value?
What must be true about our capabilities vs. our competitors'?
What must be true about our costs vs. our competitors'?
What must be true about how our competitors will react to our strategy?
These answers honed, and rounded out our strategy. One more step assured these ideas would move actually be implemented.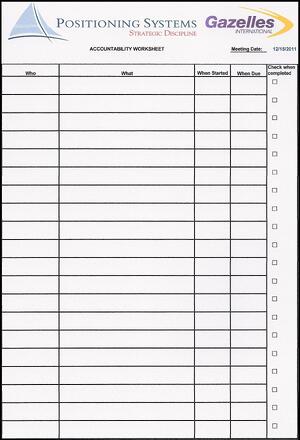 NEXT STEPS - ACCOUNTABILITY
Kaihan was not shy about why he enjoys working with ScalingUp coaches. The final step to crafting and implementing any strategy is to take action. This doesn't mean all of these strategies will eventually become multi-million dollar producers. Without developing the "next" steps to move forward, none of these will have an opportunity to generate revenue. If these ideas aren't acted upon, they could end up in a competitors revenue stream.
Each idea was placed into our accountability chart. A list of next steps for implementing/discovery, a person responsible (WHO), and a due date to accomplish them were assigned. Several of the ideas required research, a pilot, or approaching customers to get approval on beta testing. We completed our work on June 19th. Action items were scheduled out until mid-September.
Meeting Rhythms, establishing your Cadence of Accountability is critical to make sure your team achieves the required steps to implementing these strategies.
In a future blog, I'll update you on our progress.
Growth demands Strategic Discipline.
The 3 Strategic Disciplines: Priority, Metrics and Meeting Rhythms help your business dramatically improve your forecasting, and alignment, empowering your team to achieve accelerated growth. These Execution principles pave the road to success on your 3-5 year plan.
The Outthinker Process is a Strategy Decision. Positioning Systems provides the knowledge and experience to help you navigate and determine your best strategy for your future growth. With experts like Kaihan Krippendorff we bring superior experience to elevate your idea generation and decision-making.
We help your business achieve Execution Excellence.
Positioning Systems helps mid-sized ($5M - $250M) business Scale-UP. We align your business to focus on Your One Thing! To achieve growth, you need to evolve in today's rapidly changing economic environment. Are you avoiding a conversation with yourself on how to can successfully grow your business? Contact dwick@positioningsystems.com to Scale Up your business! Take our Four Decisions Needs Assessment to discover how your business measures against other Scaled Up companies. We'll contact you.

NEXT BLOG: STRATEGY – PLAYING TO WIN
In AG Lafley and Roger Martin's book, Playing to Win: How Strategy Really Works, two questions are critical for success in your businesses' strategy. In my experience few businesses achieve clarity. We'll explore these two vital strategy questions next blog.