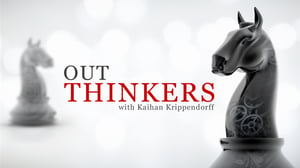 Last Tuesday one of my customers finished their last step in Kaihan Krippendorff's, Outthinker Process. See the 5 steps of the Process in this picture/chart.
We started this process last November at their Annual Strategy & Planning session in Punta Cana.
Our first step, Imagine, was to complete the Calculate Your OUTthinker Score - Assessment. This step, as I explain in 8 P's – A Powerful Way to Discover Strengths, Weaknesses, Trends significantly improves the quality and decision-making surrounding your normal SWOT and SWT (Strengths, Weaknesses & Trends).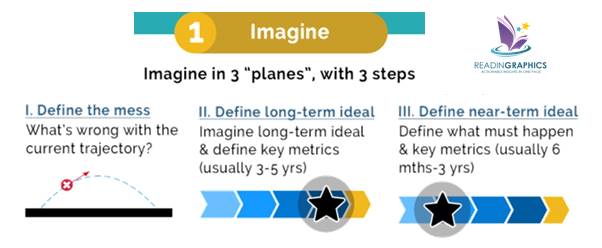 Strategic Planning frequently fails to address anything more than incremental change. Digital Disruption means your business demands innovative thinking, new products and services to meet the fast changing economy.
Here's just a quick reminder on what Digital is. Digital is defined as the nearly instant, free, and flawless ability to connect people, devices, and physical objects anywhere.
If you're struggling to understand how this is affecting your business right now, I urge you to read: You Are Behind & The Light at the End of the Tunnel – A Train!
My customer immediately understood the impact of digital, and the importance of preparing and planning to do something NOW to prevent decline or OBSOLESENCE.
STEP ONE: The Beginning of a Great Strategy - Clarity on What You Want (IMAGINE)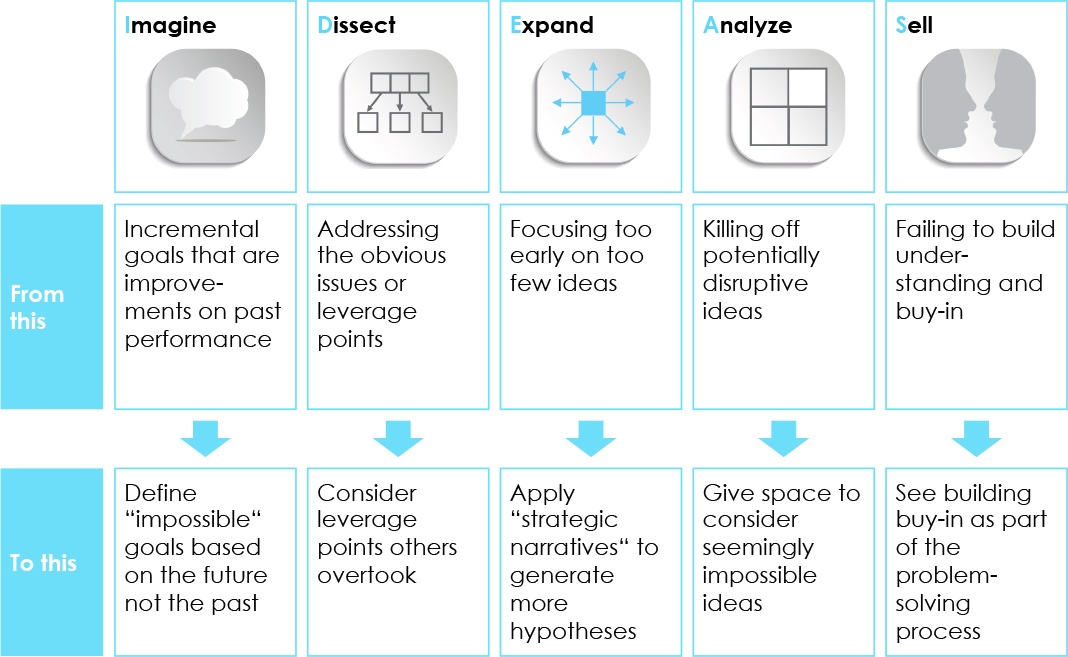 In our November meeting we'd reviewed our 8 P's Assessment to determine where my customer's business was behind, competitive, and differentiated. Our scores revealed the business is differentiated in Process, People and Price, the company is competitive in Positioning, Product, Physical Experience and Placement, and Behind on Promotion.
In our first meeting in April with Kaihan Krippendorff we focused on clarifying the work we'd done to clarify what the business wanted to achieve in the next 3 years. While we'd made good progress identifying our objectives, with Kaihan's we were able to define our near term financial goals with much greater clarity .
We ended our first session with 4 objectives for our long term 5 year goal, 18 one to three year benchmarks to track and reach, plus our final near-term numerical goals (in 3 years). Part of the team's "homework" included reviewing the numbers we'd set to make sure they were achievable in the next three years
In Why Have a 3 – 5 Year Plan?, we shared the Outthinker Process Methodology 5 steps for developing a 3-5 year plan.
Five Steps to a Dynamic 3-5 Year Plan
The 5 steps to achieve a 3-5 year plan include:
Identify the "mess," the undesirable but realistic result of you continuing on your current path.
List the key trends that will shape the long-term future.
Envision the long-term ideal outcome you want.
What must be true in the near-term for you to be confident you are on the path?
Considering the situation, ask a strategic question.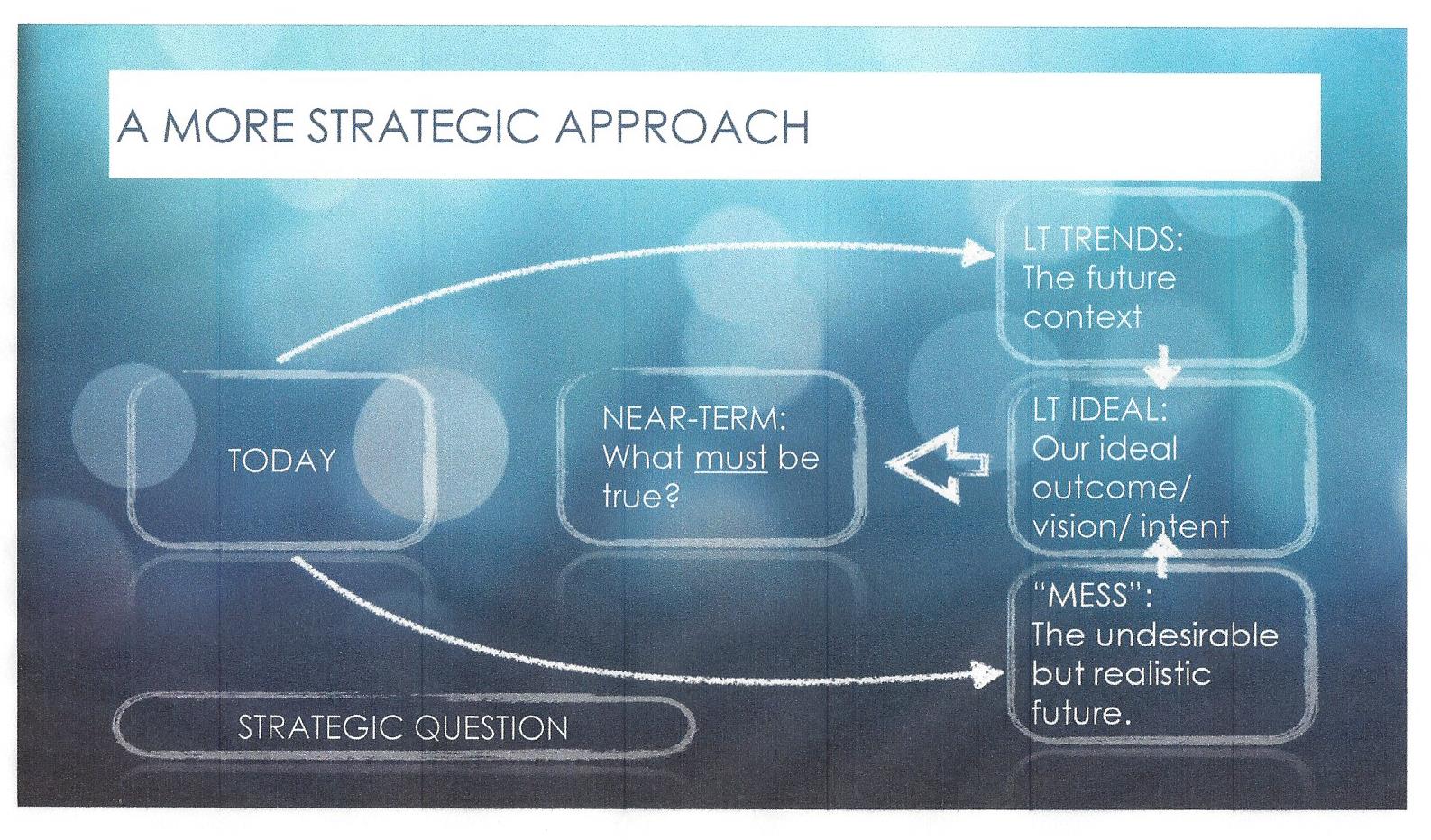 The first two steps to the process I've discovered get your leadership team to begin thinking in a much different pattern then they usually do when approaching strategic planning. Fear is a tremendous motivator. When you recognize if you continuing remaining on the same path you are on, there's very little if any room for missteps, you begin to realize you need to change. The trends step helps you realize the breadth of change that is occurring, and widen the gaps between what you are currently doing and where you need to move to in order to stay relevant, and survive.
In my experience, using this process to develop a 3 to 5 year plan, motivates the team, and broadens the ideas and benchmarks for achievement. It eliminates the incremental measures which most planning achieves, yet fails to set the bar high enough to compete in today's digital disruption era.
Growth demands Strategic Discipline.
The 3 Strategic Disciplines: Priority, Metrics and Meeting Rhythms help your business dramatically improve your forecasting, and alignment, empowering your team to achieve accelerated growth. These Execution principles pave the road to success on your 3-5 year plan.
Positioning Systems helps your business grow through the Four Decisions: People, Strategy, Execution, Cash. We'll help your business achieve Execution Excellence.
Each of the Four Decisions Produces a specific outcome. In our coaching process, we repeat examples and the definitions of the Four Decisions frequently to make sure our customers remember the value and result each decision produces for your business.
If you're business is failing to achieve industry leading results in any of these areas, that Decision should be your One Thing.
Positioning Systems helps mid-sized ($5M - $250M) business Scale-UP. We align your business to focus on Your One Thing! To achieve growth, you need to evolve in today's rapidly changing economic environment. Are you avoiding a conversation with yourself on how to can successfully grow your business? Contact dwick@positioningsystems.com to Scale Up your business! Take our Four Decisions Needs Assessment to discover how your business measures against other Scaled Up companies. We'll contact you.

OUTTHINKER PROCESS STEP 2 – DISSECT (3 Leverage Points)
Our next step in the Outthinker Process is to select up to 3 leverage points to focus on using the 8 P's exercise we completed. The intention of Dissect is to choose the strategic areas you have an advantage, develop new innovations, to generate new revenue opportunities. Would you be excited to find two to three ideas to help you increase your current revenue by 50 – 100% or more? We share this next step in our next blog.