As children you played the game monopoly. The most disappointing part of the game is going bankrupt and being eliminated.
Business is very much like Monopoly. When you run out of cash you're out of business.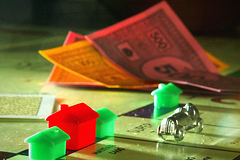 That's how important it is in your business to manage cash. Many business owners have learned this the hard way. Don't be one of them. As an E-Myth coach I quickly learned first-hand how few business owners understand the impact of cash in their business. In fact E-Myth author Michael Gerber had to learn his own lesson on operating without cash, and holding off bankruptcy with his business when one of his partners mismanaged their books.
During the recent recession one of the high priorities for large corporate America businesses was and is to hoard cash. They understand the critical value cash has on their business.
What's the result of having enough cash to run your business?
It means you have oxygen for your business to "breathe" in. You also have options that other businesses don't. We all need oxygen to breathe, and comparing it to this vital life force is not an exaggeration of its importance. Your business can be operating at a profit, and growing incredibly fast.
What happens if you're not getting your customers to pay you? Growing faster in this case will make you go out of business faster.
An exercise we do in our in private and public Four Decisions Workshops is called "Cash Conversion Cycle." It examines the length of time it takes from when you spend $1 until you make that $1 back. Shrinking that time can have enormous impact on your business. In fact Dell Computers and many other companies have figured out how to make that number a negative. That means before they spend $1 on the resources to complete your order they already have your payment.
Think what that could do for your business? If you'd like to know more about the Cash Conversion Cycle and receive a process I've written on it, send me an email with Cash Conversion Cycle in the title.
The other result of Cash is options. When you have cash you have options: Options with your vendors, options on who you hire, options on what you purchase and what terms you receive. In fact with a boat load of cash in your coffers there's very little that you can't imagine doing. It allows you the confidence to ride out any temporary reflex that the economy delivers.
We've covered the results of getting the four critical decisions you need to get right for your company to grow in the past several blogs. With respect to these Four Decisions it's critical to have the correct disciplines in place to achieve the results you want. Let's look at why Strategic Discipline works in our next blog.