In our Rockefeller Habits recommend weekly meetings agenda there is a specific time focused on accountabilities. We discussed previously the value of peer pressure in these meetings in Accountability - Three Reasons Group Meetings Produce Better. Check it out to discover the three reasons group meetings do better at accountability.
One of my customers wanted to give this practice of reviewing our Who, What, When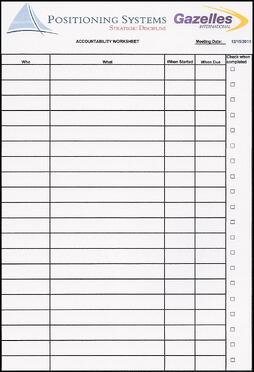 (Accountabilities - displayed to the right) report more teeth. When your team gets busy it's often easy to allow them to take more time to complete an assignment or project. Sometimes things come up that have a greater priority and something needs to drop in order to meet other more pressing concerns. The fear was that by allowing the executive team members to delay and reschedule deadlines these important accountabilities might fall through the cracks. He wanted to make sure the right sets of priorities were being followed. Working together we came up with a list of 3 questions when someone had not met a deadline.
How good are you at keeping your people accountable? Are there some individuals that achieve their priorities every time while others fail to achieve them repeatedly? What's it costing the company and perhaps that department by continual delays? Have you put a price on these?
Here's the list of questions we came up with. We ask this series of questions each time we review the accountabilities to ensure nothing is being delayed that is critical, and that the reason is strong enough to postpone the accomplishment.
When failing to meet a date or benchmark in your priorities and accountabilities be prepared to answer the following questions:
What happened? Why did you fail to meet the time line?
Discover why the completion of accountability is delayed. Getting too busy is not an acceptable answer. Everyone gets busy. It's a matter or what's most important. The person accountable must provide a justifiable reason why the tasks or project that we expected to be completed was delayed. (Example of a legitimate delay: Attending to a family emergency, childbirth, funeral, etc., or higher business priority.) )
Is it material? What consequences or circumstance will/might result from this?
Will delaying the accountability result in any significant damage or potential impairment to other functions in the business? If so what, how, or whom might it affect? Has it affected anyone or any area already? What kind of harm will it cause or has it caused already if any? (Example: A system may not have been documented. Since it's not been documented previously it's difficult to assess the damage or cost of not documenting it. Yet if not having documented is costing serious errors and costs, the consequences may suggest delaying it further is simply not a good option.)
What risks will this nonperformance result in? (Provide a measure on a scale of 0-10)
Any delay or postponement should be assessed to determine the level of risk it offers to the company. Here the individual is asked to make an assessment on how important the accountability is and what's there sense of not performing on how it will affect the business. (Example: "Not getting this project done has a risk to the company of a 3 currently, however if it's not done by the end of the month it will be a 9.")
People miss target dates. Things happen. The value of these questions is to ensure the reasons are justifiable and that significant harm to the company by any deferment is reduced. It puts them on the spot. It provides accountability in front of their peer group. That should reduce the likelihood someone is not pulling their weight and simply sloughing off. Several transgressions will put the leader and his peers on alert that someone is not living up to the standards the group has established.
Speaking of accountability, how well do you make yourself accountable to doing the most important thing each day? Often credited to Stephen Covey, our 34th President, Dwight Eisenhower created a matrix to help you determine what you should invest your time in. That's next blog.