Why is Strategy so powerful that even if your business doesn't have any of the other Four Decisions right, People, Execution and Cash, you can still stimulate rocket like growth?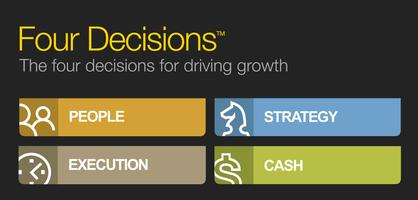 The very first sales managers I worked for used to repeatedly say, "There are damn few problems that increased sales can fix!" Therein lays the reason why strategy is so powerful. Increased revenue forgives a multiple of sins. The result of getting your strategy right is top line revenue growth.
Top line revenue growth is a solid indicator that your business is healthy. The quote, "if you're not growing you're dying," fits. Or as another sales manager who worked for me used to say, "When you're green you grow, when you're ripe you rot!"
Strategy is perhaps the most critical element of the Four Decisions. We've discovered that companies you get their strategy right can have rocket-like growth despite not having any of the other Four Decisions properly in place. That should give you an idea of how powerful the right strategy can be.
What are the components of strategy? These are the entry points confined to the left side of the One Page Strategic Plan. Look at your One Page Plan. Do you have your Core Values, Core Purpose, Actions to Live Your Core Purpose, Core Competencies, Profit per X, BHAG, Brand Promise, Brand Promise KPI's, SWOT, and your 3-5 Year Plan identified?
Yet they include far more than this.
If I asked you and your executive team to provide your strategy in one sentence what type of answers would this bring? Would there be uniformity in their responses? Have you ever truly discussed what your strategy is? Is it clear what your company strategy is and have you delivered this to your executive team let alone your entire organization?
Strategy need not be complex – but it should be simple and consistent.
Think of Southwest Airlines (SWA) – what do you think their simple strategy phrase is?
It is "Wheels Up" – if the wheels are up on the SWA 737 fleet, they are making money and so their strategy is to do everything possible to keep the planes full of happy passengers in the air.
What about General Electric under the leadership of Jack Welch?
It was "first or second in every market or we are out" – GE would only settle for being the leader or #2 in each market they had products\services, or they would exit the market and not compete – simple, clear and compelling."
Over the past year, Verne Harnish (Mastering the Rockefeller Habits author) has been polling Growth Company leaders in regard to which of the Four Decisions is most gnawing at them – the one they feel need important focus, consideration and development. Hands down it has been the Strategy Decision – perhaps because the impact of the recession has been deep and fundamental for many companies – they are now asking the question all over again "What is our strategy and what are the elements of strategy for our company to grow and succeed?"
From this question and research Verne developed what he calls "The Seven Strata of Strategy" – the 7 key elements to have a solid, comprehensive Strategy for a mid-market Growth company. If you'd like this type of advanced understanding of strategy development, send me an email and I'll send you a worksheet with the 7 Strata of Strategy along with an example of a company and how they've achieved these 7 key elements.
Next of the Four Decisions is Execution. Execution is a specialty of Positioning Systems which is why we've developed our strategy around Strategic Discipline. We'll explore execution and the results of getting this right next blog.