How would you grade your decision-making capability? How is your leadership team at making decisions?
We're approaching the time for planning and strategizing for most business. How has your business done at achieving the priorities and objectives you set this year?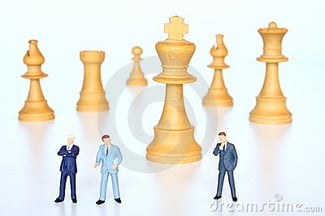 Grade yourself and your team's performance so far this year.
Our measurement for successful businesses is achieving 75% of your quarterly rocks. If you're not achieving your success criteria 75% of the time there are a number of very serious questions to ask:
Are the priorities you set too high, beyond the scale of a stretch goal thus unable to realistically achieve in the time frame set?

Are you setting too many priorities, unable to complete or achieve them due to the multitude of priorities you've set?

Are you missing priorities and objectives in a specific department or segment of your business that continually fails to meet your expectations?

Are the people you have in charge of these priorities and objectives capable of achieving these measurements?

Are you providing your people with the support, tools and resources to achieve the results you are expecting?

Are your priorities clear and the people responsible for achieving them aware of the expectations and measurements for reaching these objectives?

How frequently do you measure these expectations? (If you were not checking progress weekly you're not reviewing them enough.)

How often do you offer help or support through collective intelligence, enlisting the support of your best people to help diagnosis and provide ideas to break bottlenecks and stimulate progress?

Are the priorities you set truly worthy of focused attention? Are these priorities truly drivers of your business performance? If not why are you focusing attention on them?

Is your One Thing truly your One Thing? In the Four Disciplines of Execution authors Chris McChesney and Sean Covey note that without a top priority the whirlwind always wins.

The real enemy of execution? It's your day job!
Your business succeeds or fails based on your ability to make good decisions. We're approaching the end of the year. It's time to forecast 2016 and determine your strategy, annual, and quarterly plans for the next year.
In quarterly and annual planning it's important to review your priorities, and ask yourself some of these tough questions. What did you learn? What do you need to work on?
If you've already been doing this each quarter my guess is you don't have to answer many of the questions I've bulleted above. If you haven't been reviewing and asking yourself what you learned and what you need to work on, then you're either succeeding at a rate much greater than the general business standards, or failing at a much greater rate and simply failing to learn from your mistakes. You're too busy plowing ahead to ever take time to reflect and fix the issues that continually keep you from accumulating victories.
This is why the victory segment we begin the quarterly and annual planning meeting is so vital. If you fail to recognize how and why you succeeded how do you expect to duplicate your efforts in the future? How can those who have failed discover how your most auspicious performers/leaders are generating success without examples to follow?
If you're not succeeding this year, what's going to change to make success plausible for achievement in 2016?
Here's the first place you should look to solve your issue: If you don't execute properly you don't have time to make good decisions.
The Rockefeller Habits Checklist provides a disciplined approach to executing so well you gain more time to work ON the business.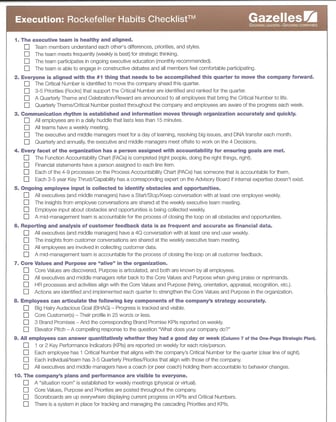 It allows you to make quality decisions.
When we work with a customer we focus on establishing a 3-5 year plan, an annual plan and a solid quarterly plan in our 2 day Strategic planning. Yet the key to implementing your Annual and quarterly plans is Strategic Discipline. The three disciplines for Priorities, Meeting Rhythms, and Metrics drive execution. When you execute you drive success.
We close our Annual and quarterly planning asking each of the attendees to make a commitment to the priorities and their accountability to achieve it.
Perhaps you will see the profound value of this in an anonymous message from a Starbucks customer that they left written on the side of a paper coffee cup:
"The irony of commitment is that it's deeply liberating - in work, in play, in love. The act frees you from the tyranny of your internal critic, from the fear that likes to dress itself up and parade around like rational hesitation. To commit is to remove your head as the barrier to your life."
If you have questions or concerns about how to implement your businesses planning attend our November 11th Scaling Up Workshop in Cedar Rapids, IA.
Next blog I'd like to vent a little sharing a personal story about "Bad Profits" a term Fred Reichheld used in The Ultimate Question.