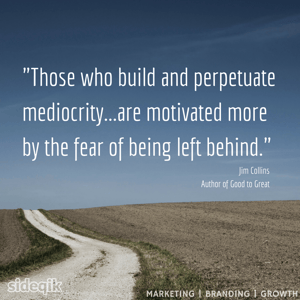 Many customers ask, how do we apply Jim Collins' work to make the leap from Good to Great?
Jim Collins has been asked this question many times.
In Turning the Flywheel: A Monograph to Accompany Good to Great, Collins provides the answer in the Appendix.
Collin's notes the flywheel effect alone does not make an organization great. It's part of a framework Collins and his team uncovered in their research.
Discipline: What Great Looks Like
Discipline separates the great from the mediocre. What does true discipline look like? True discipline requires the independence of mind to reject pressures to conform in ways incompatible with values, performance standards, and long-term aspirations. The only legitimate form of discipline is self-discipline, having the inner will to do whatever it takes to create a great outcome, no matter how difficult.
When you have disciplined people, you don't need bureaucracy.
When you have disciplined action, you don't need excessive controls.
When you combine a culture of discipline with an ethic of entrepreneurship, you create a powerful mixture that correlates with great performance.
Collins defines the Outputs of Greatness:
Superior Results: In Business its financial results, return on capital, corporate purpose achieved. In Social Sector its results and efficiency in delivery of the social mission.
Distinctive Impact: If the business were to disappear would it leave a gaping hole, so large, it could not easily be filled by another organization?
Lasting Endurance: Lasts a long period of time, beyond dependence on a single extraordinary leader.
Collins cautions against believing your organization has achieved ultimate greatness. No matter your achievements, you are merely good relative to what you do next. Greatness therefore is a dynamic process. There is no end point.
GOOD TO GREAT ROADMAP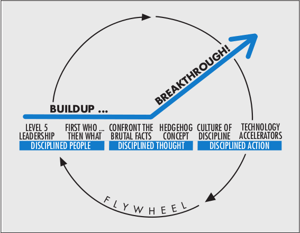 The Good to Great framework, is four basic stages:
STAGE 1: DISCIPLINED PEOPLE
LEVEL 5 LEADERSHIP
Level 5 leaders display a powerful mixture of personal humility and indomitable will. They're incredibly ambitious, but their ambition is first and foremost for the cause, for the organization and its purpose, not for themselves. See Leadership - What is Level Five Ambition? And The Shadow of Leadership
FIRST WHO, THEN WHAT—GET THE RIGHT PEOPLE ON THE BUS
Those who lead organizations from good to great first get the right people on the bus (and the wrong people off the bus) and then figure out where to drive the bus. See Question #2 12 QUESTIONS to Take You From Good To Great - #1 & 2
STAGE 2: DISCIPLINED THOUGHT
GENIUS OF THE AND

Builders of greatness reject the "Tyranny of the OR" and embrace the "Genius of the AND." They embrace both extremes across a number of dimensions at the same time. For example, creativity AND discipline, freedom AND responsibility, confront the brutal facts AND never lose faith, empirical validation AND decisive action, bounded risk AND big bets, productive paranoia AND a bold vision, purpose AND profit, continuity AND change, short term AND long term. See Question #10 From Good to Great - Collins 12 Questions – #10-12
CONFRONT THE BRUTAL FACTS—THE STOCKDALE PARADOX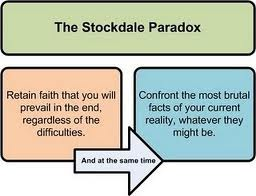 Productive change begins when you exhibit the discipline to confront the brutal facts. For leading from good to great the best mind frame is represented in the Stockdale Paradox: Retain absolute faith that you can and will prevail in the end, regardless of the difficulties, and at the same time, exercise the discipline to confront the most brutal facts of your reality, whatever they might be. Collin's fully developed this concept in the Good to Great. I experienced this first hand in The Patience Lesson Continues – Stockdale Paradox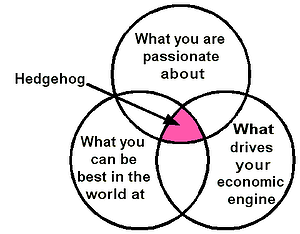 THE HEDGEHOG CONCEPT
See HEDGEHOG CONCEPT Three Circles Signal Greatness
STAGE 3: DISCIPLINED ACTION
THE FLYWHEEL
No matter how dramatic the end result, building a great enterprise never happens in one fell swoop. There's no single defining action, no grand program, no one killer innovation, no solitary lucky break, no miracle moment. The process resembles relentlessly pushing a giant, heavy flywheel, turn upon turn, building momentum until a point of breakthrough, and beyond. To maximize the flywheel effect, you need to understand how your specific flywheel turns. See What's Your Flywheel? Create Your Flywheel - Example, and 6 Steps to Create Your Flywheel
20 MILE MARCH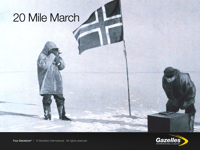 See The 20 Mile March Discipline – Great by Choice
FIRE BULLETS, THEN CANNONBALLS
See Question # 6 Jim Collins 12 Questions - Take Your Company from Good to Great # 6-9
STAGE 4: BUILDING TO LAST
PRODUCTIVE PARANOIA
See Leadership Core Behavior – Productive Paranoia and Question #7 Jim Collins 12 Questions - Take Your Company from Good to Great # 6-9
CLOCK BUILDING, NOT TIME TELLING
See Question # 8 Jim Collins 12 Questions - Take Your Company from Good to Great # 6-9
PRESERVE THE CORE/STIMULATE PROGRESS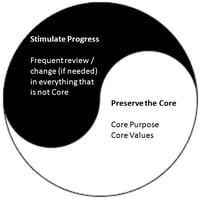 Enduring great organizations embody a dynamic duality. They have a set of timeless core values and core purpose (Why) that remain constant over time. They have a relentless drive for progress—change, improvement, innovation, and renewal. Great organizations understand the difference between their core values and purpose (which almost never change), and operating strategies and cultural practices (which endlessly adapt to a changing world). See Question #10 From Good to Great - Collins 12 Questions – #10-12
10X MULTIPLIER RETURN ON LUCK
See Question # 9 Jim Collins 12 Questions - Take Your Company from Good to Great # 6-9
Do you want your business to achieve Greatness?
How would your business score?
Which stage and elements do you need to work on?
How to manage millennials is next. A customer's Flywheel example in two weeks.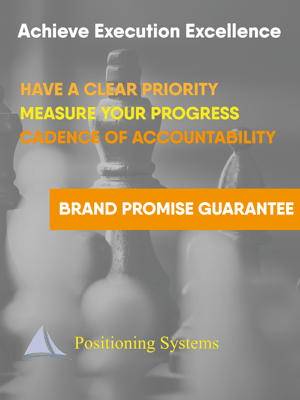 Growth demands Strategic Discipline.
To build an enduring great organization you need disciplined people, engaged in disciplined thought, to take disciplined action, to produce superior results, making a distinctive impact in the world.
Discipline sustains momentum, over a long period of time, to lay the foundations for lasting endurance. It's the framework for Good to Great:
Stage 1: Disciplined People
Stage 2: Disciplined Thought
Stage 3: Disciplined Action
Stage 4: Build Greatness
Positioning Systems is obsessively driven to elevate your teams Discipline. A winning habit starts with 3 Strategic Disciplines: Priority, Metrics and Meeting Rhythms.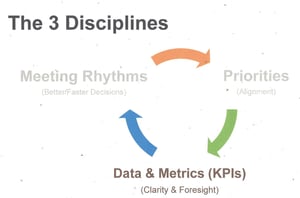 Your business dramatically improves forecasting, accountability, individual, and team performance.
Creating Execution Excellence demands creating/defining, understanding, with creativity and DISCIPLINE your Flywheel.
Meeting Rhythms achieve a disciplined focus on performance metrics to drive growth.
Positioning Systems helps your business achieve these outcomes on the Four most Important Decisions your business faces:
DECISION

RESULT/OUTCOME

PEOPLE

STRATEGY

EXECUTION

CASH
We help your business Achieve Execution Excellence.
Positioning Systems helps mid-sized ($5M - $250M) business Scale-UP. We align your business to focus on Your One Thing! Contact dwick@positioningsystems.com to Scale Up your business! Take our Four Decisions Needs Assessment to discover how your business measures against other Scaled Up companies. We'll contact you.
Next Blog: Managing Millennials (Guest Blog)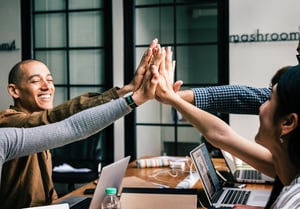 Several of my customers have asked how to deal with millennials. They are the largest generation in the workforce, more than one third of your employees. This figure will rise to 75% by 2025. Learn how to manage and motivate this force effectively. Karoline Clarke provides a special guest blog next week.