At the Australian Growth Summit recently Jim Collins appeared as one of the speakers and asked the following Question: What Defines "Great?"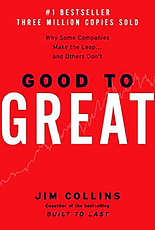 At Positioning Systems our brand is identified with "Strategic Discipline." We recognize the intention of Jim Collins quote from Good to Great, "Greatness is not a function of circumstance. Greatness, it turns out, is largely a matter of conscious choice, and discipline"
Greatness can be achieved we feel by any person or business by combining a passionate pursuit of excellence with a commitment to a specific meaningful purpose wrapped in a culture of discipline.
Our intention in coaching our customers is to help them define their meaningful purpose, coach them on how to develop specific success routines and habits (Strategic Discipline: culture of discipline) at the same time help them maintain or increase their passion. What occurs as they apply Strategic Discipline and the Gazelles Growth Tools is a dramatic surge of confidence fueled by achievement.
At the Australian Growth Summit Collins spoke to 12 questions you need to ask about your business to take it from good to great.
According to the article Collins first addressed the question: what is a great enterprise, be it a great company or a great social sector enterprise? Not how you build one, but what is a great organization—what are the criteria of greatness?
He suggested there are three tests: Superior Results, Distinctive Impact, and Lasting Endurance.
Superior Results
In business, performance is defined by financial results—return on invested capital—and achievement of corporate purpose. In the social sectors, performance is defined by results and efficiency in delivering on the social mission. But whether business or social, you must achieve top-flight results. To use an analogy, if you are a sports team, you must win championships; if you don't find a way to win at your chosen game, you cannot be considered truly great.
Distinctive Impact
A truly great enterprise makes such a unique contribution to the communities it touches, and does its work with such unadulterated excellence that, if it were to disappear, it would leave a gaping hole that could not be easily filled by any other institution on the planet. If your organization went away, who would miss it, and why? This does not require being big; think of a small but fabulous local restaurant that would be terribly missed if it disappeared. Big does not equal great, and great does not equal big.
Lasting Endurance
A truly great organization prospers over a long period of time, beyond any great idea, market opportunity, technology cycle, or well-funded program. When clobbered by setbacks, it finds a way to bounce back stronger than before. A great enterprise transcends dependence on any single extraordinary leader; if your organization cannot be great without you, then it is not yet a truly great organization.
Finally, Collins cautions against ever believing that your organization has achieved an end-state of greatness. To be built to last means embracing the idea that good to great is never done. No matter how far we have gone, or how much we have achieved, we are merely good relative to what we can do next. Greatness is an inherently dynamic process, not an end point. The moment you think of yourself as great, your slide toward mediocrity will have already begun.
Here are Collin's 12 questions followed by comments the story and from my coaching experience with our Gazelles customers to help you understand the value and impact of these questions.
JIM COLLINS TWELVE QUESTIONS to help you make the leap from GOOD TO GREAT.
Are we willing to strive for Level 5 Leadership, and to embrace the 10X behaviors needed to build a great company or social sector enterprise?

Do we practice the principle of First Who, with the Right People on the Bus and in the right seats?

What are the Brutal Facts, and how can we better live the Stockdale Paradox?

What do we understand so far about our Hedgehog Concept—what we are fanatically passionate about, what we can (and cannot) be the best at, and what drives our economic or resource engine?

How can we accelerate clicks on the Flywheel by committing to a 20 Mile March?

Where should we place our big bets, based on the principle "Fire Bullets, then Cannonballs"—blending creativity and discipline to scale innovation?

Do we show any signs of How the Mighty Fall, and do we have enough Productive Paranoia to stay far above the Death Line?

How can we do a better job at Clock Building, not just Time Telling?

How can we increase our Return on Luck (ROL), making the most of our good luck and bad?

Do we passionately embrace the Genius of the AND—especially the fundamental dynamic of "Preserve the Core AND Stimulate Progress"?

What is our BHAG – our Big Hairy Audacious Goal – and do we have the SMaC to achieve it?

What should be on our Stop Doing list?
Comments and Insights on Each Question: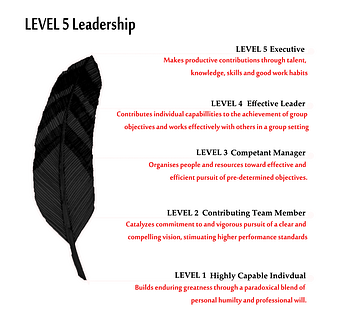 1. Are we willing to strive for Level 5 Leadership, and to embrace the 10X behaviors needed to build a great company or social sector enterprise?
It's been my experience in working with customers who wish to embrace the Mastering the Rockefeller Habits and Scaling Up books philosophies that these leaders are a minimum of level 4 type leader, striving to be a level 5. In many cases they have level 5 attributes, they may not have experience the Superior Results Collins describes because they have either not been in business leadership role long enough, or the discipline in the business is still maturing. They've not embraced all the fundamentals but are committed to them. Embracing the 10X behaviors is not achieved over night. It's requires slow steady pressure on the flywheel. When we begin working with customers they often aren't aware of what the 10X behaviors are, or how to implement and achieve them. Collins notes in the Smart Company article Jim Collins: 12 steps to taking your business from good to great, "The difference between the fives and the fours is personal humility," he said. "But humility combined with utterly stoic will … they are utterly ambitious for the cause, the company, the culture, but they combine that with personal humility and say 'it's not about me'."
2. Do we practice the principle of First Who, with the Right People on the Bus and in the right seats?
This is really about following Collins first principle of Good to Great, First Who, Then What.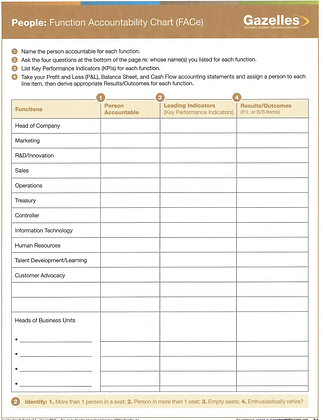 Again from the smart company article Collins notes, "The single most important executive skill to have is clearly the ability to make excellent people decisions," Collins continues that it's not about the driver, "great leadership at the top doesn't amount to much unless you have great leadership at the unit level". One of the first Growth Tools we introduce is our FACe People tool (Function Accountability Chart). It immediately identifies the roles in the company, where you have too many people occupying a position (no clear accountability), who has too many accountabilities (spread too thin), where there are empty seats (no accountability) and who you may need to replace (enthusiastically rehire). Getting the right people on the bus is the first step and helping our customers get this correct is the first step toward achieving greatness.
There are 10 more questions to explore. We'll continue with this look at Jim Collins 12 questions to move your company from Good to Great next blog.