Recently I had the opportunity to hear a group of team members extoll the leadership characteristics of one my clients through their Core Values review (discussed in this blog) Several of the team recognized his integrity, straightforwardness and absolute commitment to excellence. The messages were sincere, heartfelt and real. It was apparent they have great respect, reverence, and dedication to their leader.
We all know people like this (at least I hope you do). We all know leaders who continually fail to live up to the highest qualities of leadership. There are great books about leadership capabilities including Jim Collins insights in Good to Great on Level Five Leadership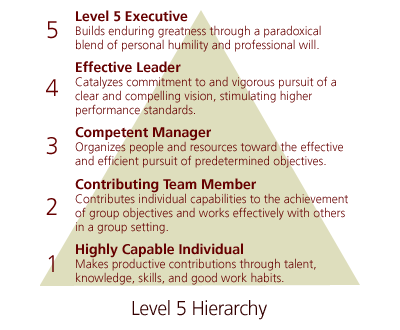 and John Maxwell's The 21 Irrefutable Laws of Leadership: Follow them and People Will Follow You.
Today I'd like to discuss what holds leadership back. I've written about it before when reviewing Patrick Lencioni's Five Dysfunctions of a Team. It's about vulnerability and yet I believe in my own development of leadership I've realized it's beyond vulnerability and extends to understanding our weaknesses.
The most powerful reason I believe this leader is recognized for his strengths is because he embraces his weaknesses. He's unafraid to tell his staff that he's not good on the details nor is he particularly strong on follow through, although he's made major strides in improving in this area. He's unafraid of his shadow. In fact in the past year by being unequivocal about his weaknesses I believe his people are ever more recognizing his strengths and the great leadership characteristics he brings to growing the business and helping them grow as well.
There's something about being unashamed of who you are that helps others embrace who they are. Real leadership exudes this. My client blossomed this year and in the process his people developed a lack of fear for their weaknesses. They've begun to develop, focusing on their strengths that they bring to the organization.
The shadow of leadership to me is when you fail to recognize what your strengths are and where you are weak. You hide behind your weaknesses and hope that others will not see them. Deceiving yourself about who you are destroys your vulnerability in the eyes of your team. It leaves you second-guessing yourself, failing to delegate properly, and often leads to indecision. Better to be clear on what you are capable of, give authority to others, or seek help to solve issues that you know you are not capable of doing the best on.
Where should you start to work on leaving your shadow behind? I recommend reading Strengths Based Leadership: Great Leaders, Teams, and Why People Follow, Tom Rath Barry Conchie. The first thing it will help you realize is that there isn't some set standard of strengths that need to be present for every leader. Rather leadership can be a combination of leadership skills that are not dominated by any specific strength. Strength Based Leadership identifies four domains

of Leadership Strength: Executing, Influencing, Relationship Building, and Strategic Thinking. There are 34 underlying strengths that fulfill these domains. What are yours?
In order to build a winning team and be a leader you must be aware of your strengths. In achieving success however the best leaders rely on others to fill in the areas where they are not strong. They are keenly aware of their weaknesses and build a team that works in harmony to bring the best out in each other.
Next blog we'll continue the leadership discussion and discuss how Strategic Disciplines' meeting rhythms are a critical contributor to the dynamic of growing your leadership capacities.