Yesterday started with good news as I got my blood work done at St Luke's Physician Clinic in Cedar Rapids, the numbers all came back well above the point where I need a transfusion. Then Dr. Hosne Begum stopped in to say, "You're Amazing!" And then added, "And your wife is more amazing!" I'd handled the fever well and despite being diagnosed with pneumonia through a CAT scan I still feel very good.
When our appointment with Dr. Carter started early afternoon at University of Iowa I could immediately sense that the news wasn't probably encouraging. He began by discussing the pneumonia, how the CAT scan discovered it and how potentially dangerous it was. There was no mention of my biopsy. Finally he got to it. The numbers showed that while my Blast (bad cancer cells) diminished from the previous biopsy (36% = 31%) he considered that statistically insignificant. Furthermore those blast with the missing 7 chromosome (what they call FISH)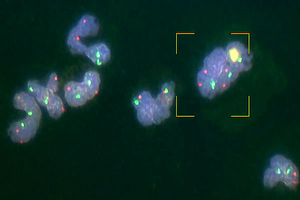 had increased from 44% to 71%. I wouldn't call the feeling devastating, but it would be close to bitter disappointment. Michelle felt awful. It's been a rough couple of weeks on her and this crashed her hopes.
After having visited the bone marrow treatment doctor, Dr. Silverman, last Friday we had been encouraged and hopeful for a better result.
What's next?
After speaking with Michelle (my wife) I spent time in meditation to recover and sort through it. Dr. Carter offered options including several clinical trials (short for experimental options – not where you'd like to be), plus possibly moving to MD Anderson in Houston a premier cancer facility. I believe I've come up with an option, provided I can put everything together. This morning I'll be working on that.
Dr. Carter tried to encourage me by stating that if he would look at 100 patients that enter University of Iowa Hospital with the conditions I have, and then trace back after 90 days to discover who of these would be able to be still working, had few fevers, and been able to overcome all this, statistically he would believe that number wouldn't be as high as one or two in a hundred. Maybe zero. I've been remarkably resilient and healthy through four sets of chemo treatment. I guess I'm one in a hundred (which is dramatically less than one in a million!)
A dear friend of mine said to me even before getting these results that, "I can't believe God would put you through all this, allow you to come through still very healthy if he didn't have a plan for you beyond this!"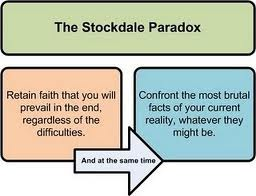 Your blog comments, emails, prayers and encouragement help me to continue. Thank you! Despite another setback I'm still resolved to live the Stockdale Paradox. "You must retain faith that you can prevail to greatness in the end, while retaining the discipline to confront the brutal facts of your current reality."
My meditation helped me to see a clear path ahead to recovery. My faith, my family, my friends and you reading this have been overwhelming in your support. I am resolved to make a complete recovery and be a healthier and most importantly a better person in the future because of this. Strategic Discipline Blogs will continue!