You don't know your customer!
Not to achieve exponential growth.
If you're happy with achieving incremental growth each year, you may be fine.
You may face extinction.
Kaihan Krippendorff, author of Outthink the Competition: How a New Generation of Strategists Sees Options Others Ignore led off the Scaling Up portion of our Coaches Summit Monday. His message: Most business don't know their core customer.
How well do you know your Core Customer?
In Strategy Statement Elements Defined – Objective, Scope, Advantage we shared Wal-Mart's customer purchase criteria to help define their advantage (Strategy Statement Element #3).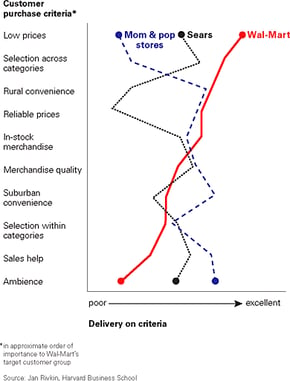 Krippendorff shared this graphic. Few companies know their customer attributes.
You think you know your customer. What are your customer purchase criteria/attributes?
If Wal-Mart managers don't receive customer complaints about sales help (see graphic on Wal-Mart's customer purchase criteria) they need to be concerned.
Do they have too many people on the floor?
Sound counterintuitive? Look at the chart. A store with few complaints about sales help very likely is fails to meet their "Advantage" attributes. Labor costs may even be too high.
Krippendorff recommends having someone (your business coach might be an option) call five of your customers and (after you've identified your customer purchase criteria)ask;
"How would you rate X company on this attribute?"
CUSTOMER PURCHASE CRITERIA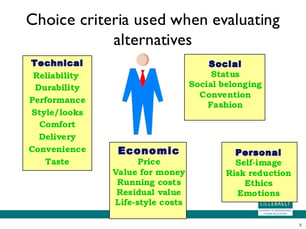 How well do you know your customer purchase criteria/attributes? Do you know why your customers purchase from you?
Do you know why customers purchase from your competitors?
You need to know to satisfy them better.
Once you know, Krippendorff recommends, "do more of what your customers like, and less of what they don't."
If you've completed the Outthinker Assessment, do you have confidence in how you are doing? What metrics did you use to assess your score to any degree of accuracy?
One of the keys to the Outthinker Strategy is having a good understanding of your customer. What are their needs? What are your strengths? What are the trends your industry/business, and customer's face?
Discover now what are your customer attributes. How does your customer rank you on each?
EXPONENTIAL GROWTH
Past strategies in today's marketplace will not drive exponential growth.
In previous blogs we share the 5 most commonly used strategies by Outthinkers to disrupt their competition, according to Outthink the Competition: How a New Generation of Strategists Sees Options Others Ignore by Kaihan Krippendorff: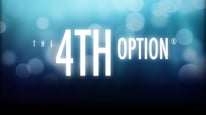 WHAT'S YOUR 4TH OPTION
The goal of the Outthinker Process is to create your 4th Option. The 4th Option can provide you with a growth strategy to produce exponential growth. It may even keep your business in business.
To begin discovering your 4th Option, read, Great Strategy: Clarity On What You Want for the five steps to follow.
Do you need a clearer understanding of WHO your customer is to achieve exponential growth? We'll be completing the first two Outthinker Process exercises at the Scaling Up Business Growth Workshop in Cedar Rapids, IA. Plan to attend. We'll also be sharing foundational principles from Scaling Up and Strategic Discipline.
Want to discuss OUTthink the Competition? Contact dwick@positioningsystems.com. Or take our Four Decisions Needs Assessment to discover how your business measures against Scaled Up companies. We'll contact you.
Ryan Holiday, The Obstacle is the Way – Next Blog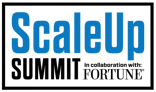 "Build a company that would put YOU out of business" ~Salim Ismail, Exponential Organization, former Executive Director, Singularity University.
The first day of the Scaling Up Summit in St. Louis offered ideas like Salim's, how to write without Bull Shit, and an inspirational story from the owner of Hammer and Nails Salon, Mike Elliot.

The definition of stoic: of or relating to the school of philosophy founded by Zeno, who taught that people should be free from passion, unmoved by joy or grief, and submit without complaint to unavoidable necessity. What does Stoicism have to do with your business? Ryan Holiday, author of The Obstacle is the Way, The Daily Stoic, and the Ego is the Enemy explained as keynote speaker at the Scale Up Summit in St. Louis.