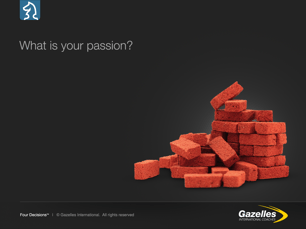 Brick Layers
Two brick layers are working laying brick. A young boy about 9 years old approaches the first brick layer, "What you doing?'
1st Brick Layer, "Laying Brick, getting union wages and double for overtime."
The boy approaches the second brick layer, "What you doing?'
The 2nd Brick layer, looks off in a far-away, misty-eyed glaze and says, "I'm building a cathedral, one whose spires will reach to the heavens, one which will serve as a spiritual inspiration for this community."
He lost his job because he was supposed to building a garage.
This is a joke I share with my customers when discussing Core Purpose in our Private Two Day Workshop with new customers.
I hope you get the intent.
Who would you rather have working in your business. The first brick layer, or the second?
My Failed Attempt to Build a Cathedral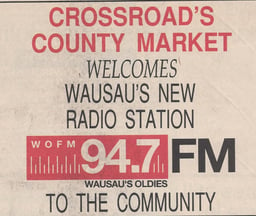 In 1991 I left my position of General Manager at a radio station to join with a number of investors to put a 50,000 watt FM station on the air in Wausau, Wisconsin.
My head and my heart was filled with grand intentions. Even before the station went on the air, I wrote Core Values, Core Purpose, with a clear intention to make this the first of seven radio stations I would be part owner of.
Just five years later, WOFM -FM sold to another radio station, Midwest Communications, just as the merger and acquisition phase of the broadcasting industry began in earnest.
As an owner I received a 300% return on my investment in less than 5 years, however the grand intentions, the ultimate goals I'd set, failed to be realized.
My cathedral was never built.
"If you are failing to plan, you are planning to fail." Tariq Siddique
CATHEDRAL BUILDING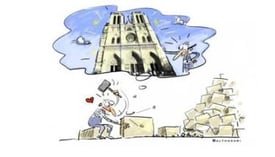 When I look back at my experience owning a radio stations, I learned a lot of lessons. Building a cathedral was part of my intention. I'd thought about owning a station for years, and how much better I would run it than the owners I worked for.
Investing in myself and training were always forefront. I had the foundations in place, however when we got stared, we didn't have meetings with our ownership group to discuss these ideas. We had consultants for radio programming, but no one to help us organize the business and strategy side of the business. We never agreed on the foundational elements for building a business. I'm pretty sure the other owners didn't even know I'd created these.
The Law of Building a Cathedral
"Great leaders must create meaning. They must connect their people with the idea that they are building something grand." ~Michael Feiner, former chief people officer of Pepsi
This quote is similar to many others I've heard including:
"..business needs a lifting purpose greater than the struggle for materialism." ~Herbert Hoover
Or
"Great minds have purpose, others have wishes." ~ Washington Irving, American Author
In Outthink the Competition: How a New Generation of Strategists Sees Options Others Ignore by Kaihan Krippendorff offers 5 of the most commonly used strategies by Outthinkers to disrupt their competition and achieve success:
Move Early to the Next Battleground
Coordinate the Uncoordinated
Force a Two Front Battle
Be Good
Create Something Out of Nothing
These strategies Krippendorff teaches come from 34 strategies developed by ancient Chinese military strategist Sun Tzu in The Art of War.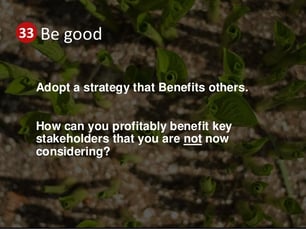 Building a Cathedral uses the strategy of Be Good.
Krippendorff offers, "The strategic rationale for being good actually has ancient military roots. Carl von Clausewitz, the great nineteenth-century Prussian military strategist, introduced us to the concept of moral force. He believed that, in addition to physical force, the best armies also have equally important spiritual and moral forces, such as dedication and a sense of sacrifice. When physical strength is not enough to win, moral force can carry the soldiers to victory."
Great military victories won by outnumbered forces use this principle.
This same moral force is the fuel that drives the success of many of the Outthinkers. These Outthinkers pursue a bigger goal, one to appeal to a larger class of stakeholders: the community, the country, and the world. When your business achieves this, everyone, as a result, cheers for you to win.
Krippendorff shares, "That is the power of being good. Your customers care as much about who you are as a company as they do about the efficacy of your product, and because they do, they want you and your product to succeed."
SUMMARY
Companies winning today talk more about doing good than their less successful competitors. it's not just talk. They are at the front of a fundamental shift from the old greed is good mentality, which sets corporations up as slaves to shareholders, to a new view that advises companies to pursue strategies that are good to a broader set of stakeholders—employees, the community, the environment, and so on. Krippendorff's research shows, statistically, that companies that embrace this new paradigm enjoy a more complete competitive advantage.
The Outthinker Strategy is a requirement to explore with all my Positioning Systems customers. As we approach Annual Planning for 2018,we will be working on the methods and principles shares in the book to find disruptive opportunities to achieve greater success. Every business needs to discover new ways to generate revenue and Outthink your competition. If you're looking for innovative ways to develop your business, contact dwick@positioningsystems.com. Or take our Four Decisions Needs Assessment and we'll contact you.

Create Something Out of Nothing – Next Blog
I'm on vacation next week.. Hope to have several blogs next week on timeless subjects. You probably are familiar with the AFLAC duck. As famous as he is, AFLAC's, a family owned insurance company in Columbus, GA, greatest strategy move was to create something out of nothing. We'll share AFLAC "Create Something Out of Nothing" in my next fresh blog on Monday, September 11th