Did you determine your Competitiveness score? Calculate Your OUTthinker Score - Assessment provides a link to download the quick assessment based on the 8 P's (dimensions) of Positioning, Product, Price, Physical Appearance, Placement, Promotion, Process, People.
This blog will help you increase your competitiveness score, by achieving Clarity on What you Want!
If you'd still like to discover and calibrate your current Outthinker Assessment Score, follow the link to download the form.
WHAT DO YOU WANT?
In the Outthinkers course, Kaihan Krippendorff, author of Outthink the Competition: How a New Generation of Strategists Sees Options Others Ignore, believes you can have anything you want from your business.
Most companies (even very large, established ones) don't know WHAT they want.
Is your strategy inspiring?
How many of us can recall getting up in the morning and going to work for a company whose strategy truly inspired us?
If you've been a part of a motivating, inspiring strategy, remember how it made you feel? The inspiration, exhilaration, and feeling that, what you did really mattered?
The intention of this blog is to help you on the path to building a strategy that matters. Great Companies Solve Problems that Matter!
This exercise should help you think differently about your strategy. Create a strategic question to inspire your business to achieve!
INCREMENTAL OR DISRUPTIVE OBJECTIVES?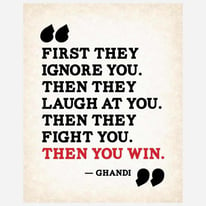 "First they ignore you, then they laugh at you, then they fight you, then you win," ~Mahatma Gandhi
What this means from a Outthinker perspective is, you must do something your customers will love, and your competition will ignore.
This is the path all Outthinkers strategy followed.
In order to achieve this, you must think, develop, and create a strategy differently from how you've created your strategies in the past.
Krippendorff calls this the 4th Option. First your competition will ignore you, then laugh at you, and by the time they begin to fight you, you're so far ahead they are unable to catch up.
The 4th Option is looking beyond the current process, how business is conducted now, and look for another, 4th Option. The principle is at the heart of all advances, militarily, sports and especially business. See Pattern Recognition- SPORTS – How OUTTHINKERS Topple Thinkers.
If you want to grow faster, disrupt your market, innovate, change the world, start looking for 4th options.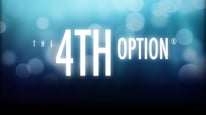 WHERE TO LOOK FOR 4TH OPTIONS
Early in my business coaching journey, as an E-Myth Coach, I learned to build better systems. The first step, is to understand/diagnosis how the present system works. Without a baseline/benchmark of how you do it currently (metrics for performance), you can build a new system, however you'll never know if your new system is better than the previous system.
Where are you today?
Most strategy discussions begin with what are our strengths, weaknesses, where are we today?
If we're growing at 10%, what can we do to grow at 12%, 15%? If we have an NPS Score of 50, can we increase it to 60? You look at where you can be in the near term.
This leads to incremental thinking. It leads to reasonable, but stretch strategic goals.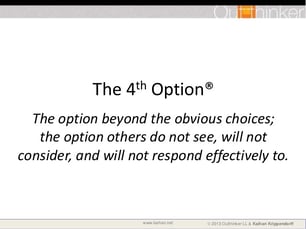 This new model, starts with where you are today, then asks you to pop out into the future.
It starts with defining where you are today, and looking ahead to 5 years from now.
What is the undesirable but realistic future if you continue with your current future?
Krippendorff calls this your "MESS." It's intended to give you a sense of urgency. To make you want something different!
Then, step out into the future again, five years. What are the trends, the environment five years from now. What should you be thinking about?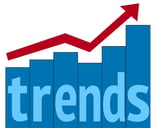 What's going on with social-economic trends, competition, regulation, new technologies?
Envision what the future context is of all these trends.
Still standing within that 5 year time frame, ask yourself: What do I want to achieve in five years? What's my ideal future for our company? What impact do you want to have on the world? What do you want people to be saying about your business?
It might sound like this, "We are the number one provider of X, or we're transforming people's lives by…"
It should be something aspirational, INSPIRING!
Then, move from this future to your near term future. Ask yourself the question, in order to achieve this future aspiration, ASK, "What must be true in the near term (12-18 months), to be sure, without a doubt, we are on the path to achieving our long-term idea?"
This is a much different question than you would under normal strategic planning.
This leads to a strategic question.
Einstein said, "If I had 60 minutes to solve a problem, and my life depended upon the answer, I'd spend 55 minutes deciding what question to ask. Because when I have the right question, I can solve it in 5 minutes."
Take your near term ideal, rephrase it as a question.
It might sound like, "How do I double our revenue, double customer satisfaction in the next 18 months?"
With the right strategic question, you're going to be able to generate ideas to answer this question.
Here are the five steps to follow: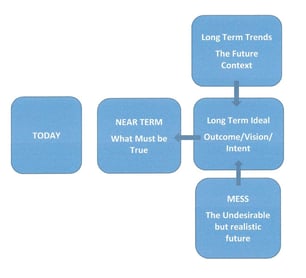 Identify the "mess," the undesirable but realistic result of you continuing on your current path.
List the key trends that will shape the long-term future.
Envision the long-term ideal outcome you want.
What must be true in the near-term for you to be confident you are on the path?
Considering the situation, ask a strategic question.
Download The Beginning of a Great Strategy - Clarity on What You Want.
Is this exercise what your business needs to do to achieve extraordinary growth for your future? Plan to attend Scaling Up Business Growth Workshop in Cedar Rapids, IA. We'll be doing this exercise on how to Outthink Your Competition our Scaling Up and Strategic Discipline principles.
Want to discuss OUTthink the Competition? Contact dwick@positioningsystems.com. Or take our Four Decisions Needs Assessment to discover how your business measures against Scaled Up companies. Then we'll contact you.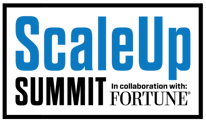 NEXT BLOG – Scaling Up Growth Summit, St Louis
I'm in St. Louis Sunday, excited to learn more from Krippendorff at our Coaches Summit, and then from the speakers featured at Scale Up Summit 2017. I'll be sharing reports on what I learned, next blog.