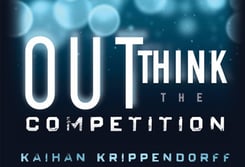 If you're the CEO, President, or an business executive team member, the following two quotes should strike fear or at the very least alert you to the critical need for your company to change and innovate to meet the 21st Century's dynamic environment.
"The companies that will prosper and outpace their competitors during the next two decades will be those that will be able to outthink their competitors strategically, not outmuscle them operationally."
~ Michel Robert, Strategy Pure & Simple II
"Truly effective strategies must be disruptive, meaning they are creative and difficult for competitors to copy."
~ Kaihan Krippendorff, OUTTHINK THE COMPETITION
At the October 2014 we wrote Disruptive Innovation – The Exponential Organization – Las Vegas Growth Summit. In it we quoted David Rose, economics professor University of Missouri-St. Louis. Author, The Moral Foundation of Economic Behavior,
"Any business still doing business as they did in the 20th century will not survive the 21st Century,"
Bill Gates warns, "Success is a lousy teacher. It seduces smart people into thinking they can't lose."
IMMEDIATE LESSON
If you don't believe the dynamics of business is changing, you need to reconsider NOW!
In this same blog, we noted the lifespan of S&P 500 company at one time was 67 years. It's dropped to 15 years. Remarkably in the 9 months that it took for Salim Ismail to write his book, The Exponential Organization, the speaker cited in this blog, this number dropped to just 12 years.
OUTTHINKER EXAMPLE
In August 2004, a two-year-old company with a brash idea was preparing to go public.
Everyone in Silicon Valley and most investors around the world were debating the same questions: Should I invest? In hindsight, of course, we know the answer.
in the summer of 2004, even smart, forward-looking investors could not predict this business' success. "I'm not buying," Stephen Wozniak, cofounder of Apple, told the New York Times in the weeks before the IPO. "I'm not buying. Past experience leaves the taste that a few people—never ourselves—will make out the first day, but that it's not likely to appreciate a lot in the near future or maybe even the long future."
Jerry Kaplan, a well-known Silicon Valley entrepreneur who proved himself as the principal technologist at Lotus and went on to launch multiple companies, said, "I wouldn't be buying (CO Name) stock, and I don't know anyone who would . . . My experience is that when you step outside the bounds of normalcy, you are in very dangerous territory. A lot of things can go wrong."
Why this hesitation? Because the company's explosive growth—from $439.5 million in 2002 to $1.46 billion in just one year—looked to many investors too much like the rise-and-fall trajectory of Netscape. It started out far ahead of slower incumbents but was soon defeated by Microsoft's Internet Explorer.
Was (Co Name) heading the same way?
Just months before the IPO, the narrative of (Co. Name) slowing revenue growth was setting in: in the quarter that ended June 2004, that growth was just 7.5 percent, compared with 27 percent the prior quarter. Randy Komisar, a well-known technology entrepreneur, said, "You can't hide the fact that this thing is slowing down. There was a year of hypergrowth, and then it rolled over."
A look at the company using traditional financial analysis supported the view that (Co. Name) IPO would fizzle.
In hindsight, of course, we know the answer. Shares that were $85 at the IPO trade are at about $500 today.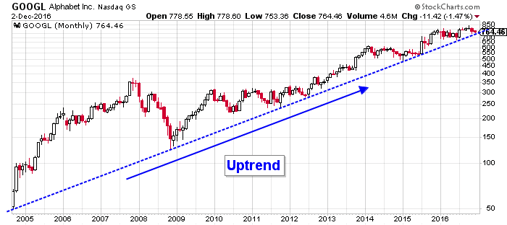 Look at what Google has achieved since going public (see recent stock chart). It positioned itself at the center of the Internet world. It transformed the advertising industry. It is the only large, profitable, publicly traded company to average more than 100 percent annual growth over the past 10 years. Its $27 billion IPO valuation in 2004, once viewed by educated investors as excessive, just a few years later is overshadowed by its market value of more than $140 billion (2010). And along the way it created thousands of millionaires.
Why didn't Google fizzle, as a lot of smart people predicted? Because its leaders looked hard at the competition and the standard model of doing things and saw there was a new way—a better way—of doing things.
It seems revolutionary now, partly because Google created a business not even imagined just a couple of decades ago. But Google was, in fact, following in some well-established footsteps, dating back centuries. At its core, finding this better way is nothing more—and nothing less—than a bold new way of thinking. In all domains of competition—from business to sports to war—breakthrough success evolves through the same pattern.
First the players fall into a routine, adopting the same practices. They are the thinkers who think inside the accepted paradigm. Then outliers, a few innovators who defy the standard practices, emerge. Kaihan Krippendorff calla them outthinkers, because that's what they do.
REVOLUTION - FOUR-STEP PATTERN LEADS TO OUTTHINKERS TOPPLING THINKERS.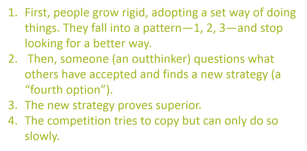 First, people grow rigid, adopting a set way of doing things. They fall into a pattern—1, 2, 3—and stop looking for a better way.
Then, someone (an outthinker) questions what others have accepted and finds a new strategy (a "fourth option").
The new strategy proves superior.
The competition tries to copy but can only do so slowly.
Outthinkers don't outmuscle their competitors, or outspend them; they out think them.
The thinkers first dismiss the outthinkers, then they ridicule them; eventually they realize the outthinkers have figured out something new and then they try to copy them. But if the outthinkers play their game right, by then it is too late. The outthinkers have won.
NEXT BLOG
One of the powerful impacts of Strategic Discipline's meeting rhythms is to utilize the number one capability of our brains: Pattern Recognition. The next several blogs we'll explore this pattern: Outthink the Competition. In War, Sports and Business Outthinking Your Competition is repetitive. Next Blog how Hannibal, Rome, and Genghis Khan's used these strategies. BTW: There is a system to OUTTHINK YOUR COMPETITION. We'll share and discover this after we first explore the patterns.