What's the purpose of developing a Strategy Statement? For more details on what is a Strategy Statement please read Is Strategy Your Tower of Babel?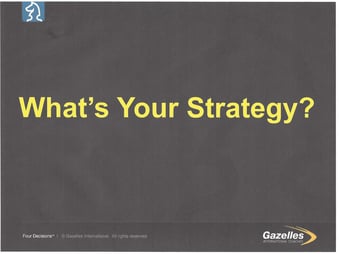 Crafting a Strategy Statement is all about Clarity.
The HBR article Can You Say What Your Strategy Is by David J. Collis and Michael G. Rukstad asks:
"Can you summarize your company's strategy in 35 words or less? If so, would your colleagues put it the same way?"
The key here is that if your colleagues can't provide a similar answer, then the question is, how clear is your business strategy?
Don't you want everyone to be clear on your business strategy?
The article offers this perspective on an unclear strategy: In an astonishing number of organizations, executives, frontline employees, and all those in between are frustrated because no clear strategy exists for the company or its lines of business. The kinds of complaints that abound in such firms include:
"I try for months to get an initiative off the ground, and then it is shut down because 'it doesn't fit the strategy.' Why didn't anyone tell me that at the beginning?"
"I don't know whether I should be pursuing this market opportunity. I get mixed signals from the powers that be."
"Why are we bidding on this customer's business again? We lost it last year, and I thought we agreed then not to waste our time chasing the contract!"
"Should I cut the price for this customer? I don't know if we would be better off winning the deal at a lower price or just losing the business."
Don't allow the obscurity of a less than clear strategy to prevent your business from success!
Today we're going to look at the key elements of your Strategy Statement: Objective, Scope and Advantage.
Objective
Many companies confuse their statement of values or their mission with their strategic objective. The HBR Article points out that, A strategic objective is not, for example, the platitude of "maximizing shareholder wealth by exceeding customer expectations for _______ [insert product or service here] and providing opportunities for our employees to lead fulfilling lives while respecting the environment and the communities in which we operate."
Your Objective should be a single precise objective that will drive the business over the next five years or so.
Defining your Objective can have a profound impact on your business. One of my customers set a heady objective in terms of business volume. They realized they would have to acquire by purchase like business in order to achieve their objective. Industry trends showed product demand static or declining. The CEO of the company put on his dashboard to contact a perspective business acquisition each month. The result? In July they purchased a business just 1 hour and 15 minutes away to move closer to attaining their objective.
Scope
From the HBR article, "A firm's scope encompasses three dimensions: customer or offering, geographic location, and vertical integration. Clearly defined boundaries in those areas should make it obvious to managers which activities they should concentrate on and, more important, which they should not do."
The last sentence should be all you need to demonstrate the value of a Strategy Statement. I will warn you determining your scope and your advantage is much more difficult than it might appear on the surface.
The HBR article shares Edward Jones' Scope. It's vastly different from large brokerage firms such as Merrill Lynch, Goldman Sachs, and Morgan Stanley. Edward Jones targets the "delegator," not the "validator" or the "do-it-yourselfer." It's one reason Edward Jones never chose not to introduce online trading.
It's another value of a strategy statement. It helps you set clear boundaries on what you will and will not do. Thus clarity about who Edward Jones' customer is and who it is not has kept Edward Jones from pursuing day traders.
Advantage
Defining your Advantage is the most critical and often most overlooked element in every business. I can't tell you how many customers I've worked with that fail to have this articulated in any fashion. This piece of your Strategy Statement is absolutely vital. A sustainable competitive advantage is the essence of strategy. Clarity about what makes your firm distinctive is what helps employees understand how they can contribute to successful execution of your strategy.
The complete definition of a firm's competitive advantage consists of two parts.
Statement of the customer value proposition. Any strategy statement that cannot explain why customers should buy your product or service is doomed to failure.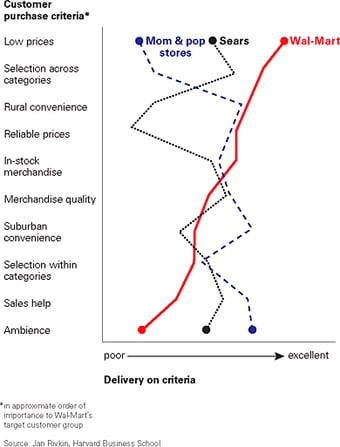 Wal-Mart's value proposition is "everyday low prices for a broad range of goods that are always in stock in convenient geographic locations." Those aspects of the customer experience Wal-Mart over delivers relative to competitors. Underperformance on other dimensions, such as ambience and sales help, is a strategic choice that generates cost savings, which fuel the company's price advantage. See the exhibit on right of "Wal-Mart's Value Proposition.
The HBR article notes, "If the local mom-and-pop hardware store has survived, it also has a value proposition: convenience, proprietors who have known you for years, free coffee and doughnuts on Saturday mornings, and so on. Sears falls in the middle on many criteria. As a result, customers lack a lot of compelling reasons to shop there, which goes a long way toward explaining why the company is struggling to remain profitable."
Captures the unique activities or the complex combination of activities allowing your firm alone to deliver the customer value proposition. This is where the strategy statement draws from Porter's definition of strategy as making consistent choices about the configuration of the firm's activities.
Take a look at the exhibit "Edward Jones's Activity-System Map." Edward Jones' value proposition is to provide convenient, trusted, personal service and advice. What is most distinctive about Jones is that it has only one financial adviser in an office, which allows it to have more offices (10,000 nationally) than competitors do.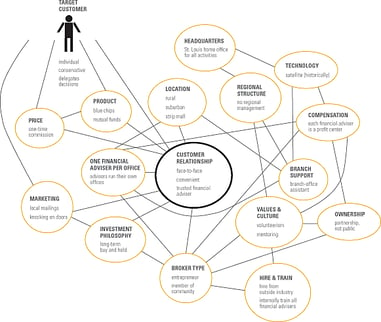 Merrill Lynch has about 15,000 brokers but only 1,000 offices. This map illustrates how activities at the brokerage Edward Jones connect to deliver competitive advantage. The firm's customer value proposition appears near the center of the map—in the "customer relationship" bubble—and the supporting activities hang off it. Only the major connections are shown.
Because the Edward Jones has 10,000 separate offices, its real estate and communication costs are about 50% higher than the industry average. However, all those offices allow the financial advisers who run them to deliver convenient, trusted, personal service and advice.
What's your Objective, your Scope and most importantly your competitive advantage? Have you determined this and put it into a concise 35 word statement? If not is it any wonder your business and your people are struggling to achieve revenue growth. Remember top line revenue growth is the result of getting Strategy, one of your businesses 4 Decisions right.
Is it time to create a strategy statement? Contact Positioning Systems for help or consider attending our November 11th Scaling Up Workshop in Cedar Rapids, IA.
Last week I had the pleasure of working with my customers Barton Publishing to create their 4th Quarter priorities in Boulder Colorado. During our work together their Marketing Director Marty Fahncke shared a video on his son a TV station in Kansas City produced. Marty's son Noah is an eagle scout. He's done this despite the fact he's deaf! 75% of deaf or hard of hearing are unemployed. Look for the video in my next blog and why Noah is someone we should admire and be inspired by.