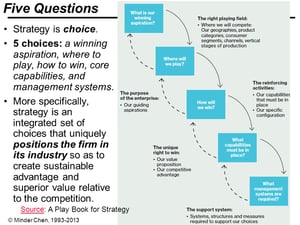 Step 5, Management Systems: What Systems Are Required, is the most neglected of the 5 steps to a Winning Strategy.
My experience tells me, this isn't because the first 4 steps aren't ignored or neglected. They are.
Step 5 is ignored because most CEO's and Leadership Teams fail to understand executing strategy relies on the systems necessary to create, review, and communicate Your Strategy.
Your Business Strategy needs structure to support its core capabilities. It needs specific measures to ensure the strategy is working. Management systems are needed to complete the strategic choice cascade and ensure effective action throughout the organization.
What Lafley explains, we reinforce in Supporting Your Brand Promise and What's a Brand Promise?
Strategy requires systems to Execute.
It's why I feel Execution is the most important of the 4 Decisions for Growth. Failure to Execute will mean you can't reinforce or achieve your strategy. All Four Decisions are critical to achieve business growth. Execution provides the foundational structure to achieve the other Decisions: People, Strategy, and Cash.
As ScaleUp Business coaches we have a tool to help you identify, review, and measure these systems: Strategic Discipline's Fourth Discipline – Work Process Flow Charts, Three Tools to Define Your Leadership Team, and briefly in this blog: Rockefeller Habits 4 Decisions Tools - People
I'll share this tool, PACe, Process Accountability Chart, in a future blog.
FEW BUSINESS HAVE A WINNING STRATEGY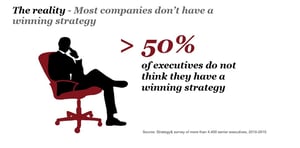 We opened these blog discussions about Strategy, agreeing with Playing to Win authors AG Lafley and Roger Martin, "far too few companies have a clear, choiceful, and compelling winning strategy in place. Too often, CEOs in particular will allow what is urgent to crowd out what is really important. When an organizational bias for action drives doing, often thinking falls by the wayside."

Strategy results in Top Line Revenue Growth.

In previous blogs we shared how to set a winning aspiration, determined where to play and how to win, define the capabilities required.

Strategy can still fail—spectacularly—when you fail to establish management systems that support those choices and capabilities.

Without supporting structures, systems, and measures, strategy remains a wish list, a set of goals that may or may not ever be achieved.

To Execute Strategy You Must Execute

In terms or a successful strategy, you need Execution. Executing your strategy is only as good as your businesses execution to support it.

STRATEGY DEFINED: Strategy is an integrated set of choices uniquely positioning your firm in its industry to create sustainable advantage and superior value relative to the competition.

In order to achieve this unique position, your business management systems must perform consistently and predictably to sustain this advantage and superior value over your competition.

"Every company needs systems to formulate, refine, and clearly communicate the essentials of the strategy choice cascade throughout the company. It needs systems to support and invest in its core capabilities. It needs systems to measure attainment of its goals. These management systems are a key piece of the strategy puzzle. While where to play and how to win represent the heart of strategy, those choices won't provide sustainable advantage without associated core capabilities that drive competitive advantage and the management systems that support the choices." ~ A.G. Lafley, Playing to Win

The beauty of the 5 steps is their integrated approach to blending all 5 steps to yield a productive approach to strategy.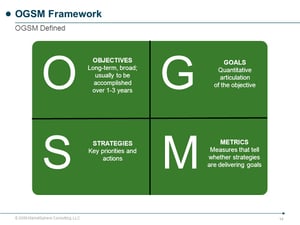 OGSM - REVIEW
The PACe, Process Accountability Chart is a great tool to guide, and evaluate how your business is executing on your strategy.
How do you review your current strategy, if you feel it's correct?
The authors' provide a tool: OGSM: Objectives, Goals, Strategies, and Measures.
The picture at the front of this section is the intention.
And an example of Procter & Gamble's OGSM based on their strategy.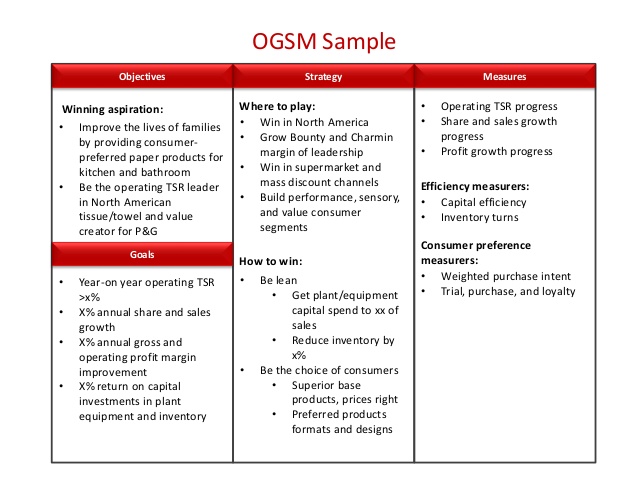 The OGSM tool will help my customers construct and evaluate/review their strategy at our annual planning sessions this 4th quarter, and our Quarterly Meetings.
Do you have a tool to check how your strategy is performing?
Do you have tools to check if your core capabilities and your management systems are performing at a level to achieve your Winning Aspiration?
If not, we'll be sharing more here. If you'd like to accelerate your ability to do so, contact me at dwick@positioningsystems.com.
Growth demands Strategic Discipline.
The 3 Strategic Disciplines: Priority, Metrics and Meeting Rhythms help your business dramatically improve your forecasting, and alignment. It empowers your team to achieve accelerated growth.
Strategy Decisions result in top line revenue growth. Positioning Systems helps you determine your best strategy for your future growth.
Positioning Systems helps your business achieve these outcomes on the Four most Important Decisions your business faces:
DECISION

RESULT/OUTCOME

PEOPLE

STRATEGY

EXECUTION

CASH
We help your business achieve Execution Excellence.
Positioning Systems helps mid-sized ($5M - $250M) business Scale-UP. We align your business to focus on Your One Thing! To achieve growth, you need to evolve in today's rapidly changing economic environment. Are you avoiding a conversation with yourself on how to can successfully grow your business? Contact dwick@positioningsystems.com to Scale Up your business! Take our Four Decisions Needs Assessment to discover how your business measures against other Scaled Up companies. We'll contact you.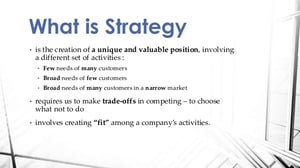 Next Blog – HOW TO MAKE CRITICAL STRATEGIC CHOICES
The five choices of the strategy choice cascade summarize and define the strategy for an organization. How do you actually make critical strategic choices? What should you consider to make informed choices? What should you think about, and when? How do you weigh competing and opposing options to come to a single smart choice? And how do you make these decisions in a group? We explore these vital questions next blog.