Is it cruel irony that for all the dedication Strategic Discipline concentrates on developing premier execution the reason your business will succeed or fail is not going to be due to how well you execute? Strategic Discipline, flawless execution of determining your priorities, following your metrics and developing consistent accountability patterns through meeting rhythms is really a means to an end.
It's another demonstration of counter intuitive business measures. In Execution or Bad Choices – Why Do Businesses Fail we discussed why Execution is not why your business will fail. Sometimes what makes the most sense doesn't apply until you digger deeper into intention.
Two important elements from that blog are from research and the other from one of the leading thinkers and business authorities of our time. Noted business consultant Peter Drucker observed, "Most business failures are not the result of things being done poorly. Businesses fail most often because the assumptions on which the organization has been built and is being run no longer fit reality." Well known management consulting firm McKinsey offered a more compelling and concise observation [McKinsey Quarterly, August 2006]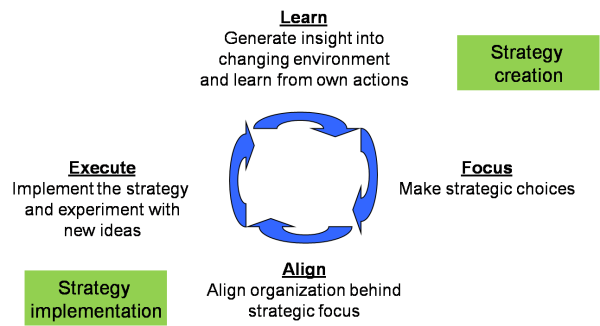 "Those who say that business success is all about execution are wrong. Bad choices trump good execution every time." (from Strategic Learning - How to Be Smarter Than Your Competition and Turn Key Insights into Competitive Advantage By: Willie Pietersen) .
How and why is Execution and the importance of Strategic Discipline connected to the core of why your business can fail.
In one of the most important books I've read on Strategy, Strategic Learning - How to Be Smarter Than Your Competition and Turn Key Insights into Competitive Advantage, Willie Pietersen, speaks to a term he calls VUCA – volatile, uncertain, complex, and ambiguous. It's today's business landscape. The day for following, "if it isn't broke, don't fix it" is passed. Willie Pietersen in Strategic Learning observed that no industry is immune from continuous change. If you name any product or service it's a guarantee that whatever lifespan it had it's getting shorter.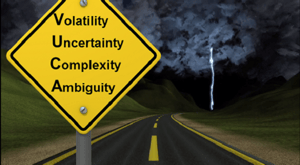 If that's the case (would anyone argue with me?) then the importance of having time to make decisions and strategize is crucial. Never getting to the strategic elements of your business is a recipe for disaster. The marketplace is changing. Your competition is changing, the people and economy is constantly changing. All these factors require more time determining what's going on, how to respond. It's one of the three barriers (People, Process & Market Dynamics) to growth Verne discusses in Mastering the Rockefeller Habits.
Market Dynamics is another example of a counter intuitive business practice. As your business grows you'd expect when you are under $10 million the tendency would be to belive you should be focused externally. Actually what is needed is more internal focus to speed growth. In Business Alignment – Why Don't Your People Get It? we looked how challenging ommunication issues expand as your business grows. Over $10 million organizational complexity pulls leaders attention inward, yet here's where external focus is required to prepare for growth and remain competitive.
The simple fact is, once you reach $10 million you're suddenly on the radar with more of your competitors. Now they are looking up at you and realizing a market that they could have as well and attempt to steal your customers and duplicate your differentiation.
How do you find time to focus on market dynamics, strategize and make sure you are making good decsions? If you're not able to execute properly and caught up in the whirlwind of day to day activities you don't have time to do this, and eventually you will fall behind.
That's why achieving Strategic Discipline at the highest level of Execution is so critical. Without a time to dedicate to strategy and the marketplace dynamics of your business you will not be able to maintain or grow your business.
Is Execution important? Yes, Critical! Yet keep in mind why you should be so focused on Executing properly. Without it you will never be able to take full advantage of the impactful opportunities that can build your business.
Watch Alan Rudy's video on the Rockefeller Habits Checklist and how he went from working 60 hours a week in the business to less then ten. It allowed him to grow Express Med from the harrowing chaos that is described in Mastering the Rockefeller Habits (fights in the parking lots) to these accomplishments:
$7 Million to $1.2 Billion in Three Years -- Alan Rudy, in his announcement of the first YPO/WPO International offering of the advanced Rockefeller Habits workshop noted "These are HABITS I have learned and used to:
Build a company from US$20M losing money to US$65M making a ton

Take another company from US$7M to more than US$1.2B in three years while still scoring the highest service rankings in our industry, and

Now resurrect a US$100M company that until six months ago was hemorrhaging cash."
Execute properly. Use Strategic Discipline to provide the tools to achieve championship execution throughout your business.
Recognize that in order to do the most critical work of strategizing and planning your business future, execution is an absolute requirement to allow you the time to dedicate to your businesses growth.
We've discussed the whirlwind previously from the description in The Four Executions of Discipline. It's the day to day stuff that gets in your way of achieving your priorities. It will absolutely suffocate you unless you have a plan. How to master it and what it looks like, most importantly some keys to making the most of your day next blog.