I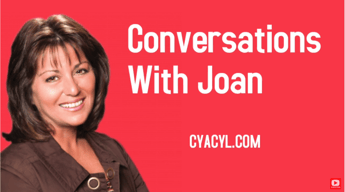 In 2012 I spent 8 months in the hospital battling Acute Myeloid Leukemia. For the past 6 years, I've been writing a book about my journey and miraculous recovery.
Two weeks ago Joan Herrmann, radio personality for NY's Am 970, The Answer, & iHeart Media CYACYL's Conversations with Joan, interviewed me to discover more about my journey through cancer and my remarkable recovery after 5 failed chemotherapies and doctors deciding I had less than a 2% chance of survival.
You can find all about Joan and her interviews here, and listen to her interview with me on YouTube: Douglas Wick: Life After Leukemia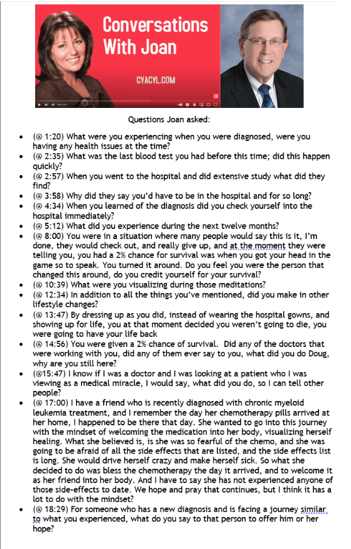 Joan's own story How Joan Herrmann Went From At-Home Mom To Major Radio Personality is compelling. She's an excellent interviewer, posing rapid-fire questions which keep her subjects on target for her short program.
Questions Asked
All the questions Joan asked me to provide information for anyone who might be diagnosed with cancer, an illness, or a situation you may feel is beyond your control and hopeless.
This is a list of the questions Joan asked and the spot on the YouTube link where you can find them.
No One Is Guilty, I Am Responsible Question Not Asked
If you listen to the interview, I share how I accepted responsibility for getting cancer. One of my earliest growth cycles came listening to an audiotape from Brian Tracy, The Psychology of Achievement. Tracy believed in accepting responsibility, and one of his affirmations he shared was, "No one is Guilty, I am Responsible." This moves us from becoming a victim, and into a position where we focus on what we can do to control our outcome.
At first, my response to this after discovering I had cancer was to beat myself up. I blamed myself. Yet once I'd scourged myself for allowing it to happen, I began focusing on a solution. I determined if I'm responsible for giving myself cancer, then I surely can also be responsible for getting rid of it.
The beauty of accepting responsibility is the feeling of empowerment it provides. One way to feel more in control was to refuse to wear the degrading hospital gowns patients are supposed to wear. Instead, I showered and dressed every day as if I was going to my office. I also was able to gain permission to work from my hospital room, thanks to a compassionate Physician Assistant, Kevin Heckman, and the willingness of my customers to work with me while I was in the hospital.
A Lesson – Question not Asked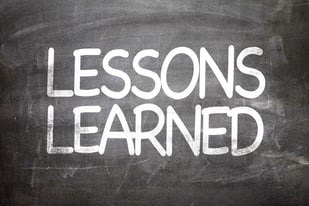 2011 had been the best year financially I've ever had. I made more money, coached more customers, and was busier than I'd ever. I had well over 30 customers, 2.5 days a week for half of that year I made a 4-hour drive to Wisconsin to help lead a radio station owners' group of radio stations because he was running for public office. During those days I would still meet with my other coaching customers on the phone and video conference in the early morning and late afternoons.
II was burning the candle at both ends. The question Joan didn't ask, was how did I get cancer in the first place?
There could be any number of reasons, physiological, psychological, and even unconsciously responsible for my cancer. I believe I was too consumed by pursuing the almighty dollar, not investing enough time with my family, and spiritually devoid of self-awareness.
A Flood Can Be a Healing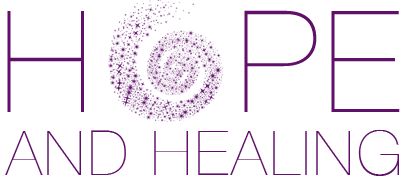 While my diagnosis was deathly serious, I was able to come through it miraculously alive. I used the tools I'd helped my coaching customers utilize, which I'd also applied to my business. Creating a dashboard, focusing on the system/activities rather than my goal, affirming health, prayer, guided meditation, envisioning my desired future, daily exercise, along with help from the Creator, all helped me regenerate my body and achieve the outcome I desired. Belief in a supreme being who loves me more than I love myself, countless support from friends and family, plus this emotional envisioning and feeling for the outcome I desired, and the compassionate, professional work of the medical team at the University of Iowa Hospital and Clinics, I survived and am still thriving today.
Next time you get caught up in achieving, whether it's money, awards, recognition, or power, remember what's most important, your health, family, and relationships.
If you have an interest in learning more about my journey through Acute Myeloid Leukemia, I wrote blogs during my time in the hospital. You can read them here. To start at the beginning you'll need to go here, starting on Page 7 since there are 62 blogs on AML
To create an environment where everyone is inspired to give their best, contact Positioning Systems today to schedule a free exploratory meeting.
Growth demands Strategic Discipline.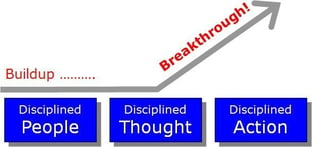 Building an enduring great organization requires disciplined people, disciplined thought, disciplined action, superior results, producing a distinctive impact on the world.
Discipline sustains momentum, over a long period of time, laying the foundations for lasting endurance.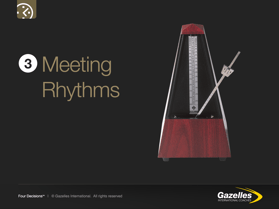 A winning habit starts with 3 Strategic Disciplines: Priority, Metrics, and Meeting Rhythms. Forecasting, accountability, individual, and team performance improve dramatically.
Meeting Rhythms achieve a disciplined focus on performance metrics to drive growth.
Let Positioning Systems help your business achieve these outcomes on the Four most Important Decisions your business faces:
DECISION

RESULT/OUTCOME

PEOPLE

STRATEGY

EXECUTION

CASH
Positioning Systems helps mid-sized ($5M - $250M+) businesses Scale-UP. We align your business to focus on Your One Thing! Contact dwick@positioningsystems.com to Scale Up your business! Take our Four Decisions Needs Assessment to discover how your business measures against other Scaled Up companies. We'll contact you.
NEXT BLOG – Customer to Avoid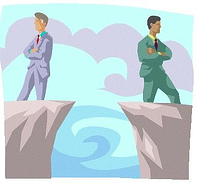 Is there a type of customer you should avoid? When I was still in radio, a sales coach shared a customer every business should avoid, revealing a method to identify them. I'll share who and how, next blog.