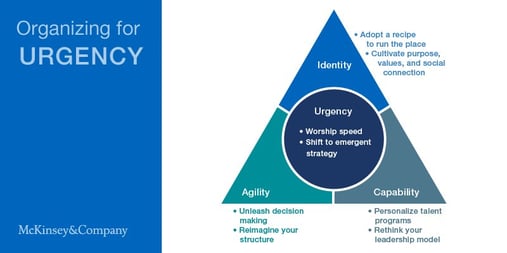 You're probably not even aware of it.
You are behind!
Some of you may already be too far behind to catch up!
In our last blog, ONLY 8% of Companies Prepared for Digital Disruption we shared a McKinsey report, Why Digital Strategies Fail, revealing only 8 percent of companies McKinsey surveyed, feel their current business model would remain economically viable if their industry continues to digitize at its current course and speed.
McKinsey & Company published another article, Organizing for the Age of Urgency, which begins with these two paragraphs:
"To compete at the speed of digital, you need to unleash your strategy, your structure, and your people.
Congratulations! Your organization is performing at or near the top of its game, or it has been in the recent past. Perhaps even better, you have a strategy to improve in the near future. Now for the bad news: the good news won't last."
REVERSAL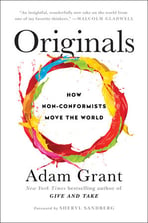 My intention for this blog, is to share with you Adam Grant's Originals research on how procrastinating helps originality and not being first has advantages.
Reading the article by McKinsey & Company reversed my direction.
Procrastinating may have helped Leonardo da Vinci prefect the Mona Lisa, The Last Supper, and his statue of St. John. It may even help you to be more original. However the days when coming in 2nd with your ideas can be successful may be long gone.
Grant calls The Discipline to Delay, or procrastination, a common habit of creative thinkers and great problem solvers. Abraham Lincoln's Gettysburg Address, Martin Luther King's I Have A Dream speech, succeeded in no small part to their waiting until the day of their speech to finish it. In King's case he was actually revising it as he approached the podium.
Four Disadvantages to Being First?
In Originals Adam Grant offers, "Being original doesn't require being first. It just means being different and better."
Grant provides four disadvantages to being first:
When originals rush to be pioneers, they're prone to overstep; In an interview Malcolm Gladwell shared, "When ideas get really complicated, and when the world gets complicated, it's foolish to think the person who's first can work it all out," Gladwell remarked. "Most good things, it takes a long time to figure them out." (Today's question: Is Gladwell still right? McKinsey & Company Organizing for the Age of Urgency suggests otherwise.)
People who choose to be late movers may be better suited to succeed. Risk seekers are drawn to being first, and they're prone to making impulsive decisions. More risk-averse entrepreneurs can watch from the sidelines, wait for the right opportunity and balance their risk portfolios before entering. (Waiting today is not the same as it was even 5 years ago.)
Those who wait can improve upon their competitors' technology to make products better. When you're the first to market, you make all the mistakes yourself. Meanwhile, settlers can watch and learn from your errors. "Moving first is a tactic, not a goal," Peter Thiel writes in Zero to One; "being the first mover doesn't do you any good if someone else comes along and unseats you." (The speed of change today, makes this view largely inaccurate.)
First moves tend to get stuck in their early offerings. Settlers can observe market changes and shifting consumer tastes and adjust accordingly. In a study of the U.S. automobile industry over nearly a century, pioneers had lower survival rates because they struggled to establish legitimacy, developed routines that didn't fit the market, and became obsolete as consumer needs clarified. Settlers also have the luxury of waiting for the market to be ready. (That was then, this is now! Major automotive companies today are behind Tesla. Toyota, Mercedes-Benz investments in Tesla indicate the need to catch-up with the leader!)
The urgency imperative (McKinsey & Company)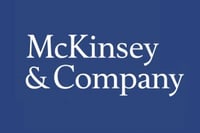 In Organizing for the Age of Urgency, McKinsey & Company not only emphasizes the need for speed, but also a requirement to organize your business differently.
A good road map can come with callouts and suggestions, and here's our first: floor it. When you compete in a marketplace that moves so quickly, the default outcome is to fall behind. If your organization is to have any hope of keeping up, it will need to be reconceived as fast, quick to turn, and even quicker to emerge from rapid pit stops and tune-ups. One could almost analogize to a race car—almost, because race cars typically run on a fixed track toward a clear finish line. Your organization's race, by comparison, is toward an unknowable destination. And that race doesn't end.
Next blog we'll explore how at the highest-performing companies, speed is the objective function, the operating model, and the cultural bias. We'll explore how you need to organize your business differently to compete with digital disruption.
Growth demands Strategic Discipline.
Digital Disruption is here. If your business is failing to move in the direction for a digital strategy, you are already behind and at risk of being obsolete.
Positioning Systems will coach your leadership team through The Outthinker Process, to provide you with a digital strategy.
Positioning Systems helps mid-sized ($5M - $250M) business Scale-UP. We help you align everyone in your business to focus on Your One Thing! To achieve growth, you need to evolve in today's rapidly changing economic environment. Are you avoiding a conversation with yourself on how to can grow your business? Contact dwick@positioningsystems.com to Scale Up your business! Take our Four Decisions Needs Assessment to discover how your business measures against other Scaled Up companies. We'll contact you.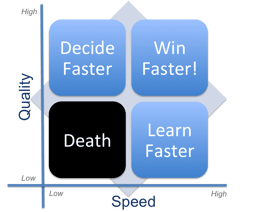 Emphasizing Speed and the Urgent Organization
Amazon's Jeff Bezos in his April 2017 letter to Amazon shareholders shared, "being wrong may be less costly than you think, whereas being slow is going to be expensive for sure." In today's marketplace, everyone competes with Amazon delivery schedule. How to organize your company and why speed in making decisions is more critical than ever, is our next blog.