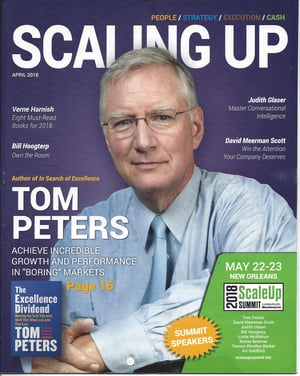 Verne Harnish, Author of Scaling Up, issued our first quarterly magazine, SCALING UP! I'm honored to be the first coach selected for the Coaches Corner highlight, which features a Gazelles coached customer who achieved success using the Scaling Up/Rockefeller Habits principles. Printed with permission by the editors of Scaling Up, and Verne Harnish, with special thanks to Elaine Pofeldt, who wrote this article, and is helping me with my book on my cancer journey, here is the article from the first issue of SCALING UP. You can visit the entire magazine here.
WHEN PHIL Lieber, then president of P&L Technology, began working with me as a coach in December 2015, his Omaha-based IT support firm was bringing in $6.8 million in revenue and turning a profit. It had grown to 46 employees since he opened it in 2004. That success had helped the company make the Inc.5000 six years in a row.
However, the company was having challenges with execution. Resolving customer calls was taking too long. Even as it added employees, its team couldn't keep up.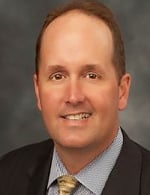 That was slowing the firm's growth. Customers who waited too long for their technology problems to be resolved were not likely to become the raving fans who would recommend it to other customers. ''We were bordering on having some client defections," recalls Lieber.
However, that situation did not continue for long. By the time Lieber sold P&L to a larger technology firm in July of
2016, he was able to command a multiple of 8x earnings before interest, taxes, depreciation and amortization (EBITDA).
What turned things around so quickly was an intense focus on execution. Lieber had been using the Scaling Up system for growing a company-then known as the Rockefeller Habits-since the company opened, but he had reached the point where he needed new ideas on how to apply it even more effectively.
To do that, he hired business coach Doug Wick at Positioning Systems. We went back to the company's strategy. Working within the One Page Strategic Plan, we set an annual goal focused on accountability: Do What You Say You Are Going to Do. Phil and his leadership team determined the critical number to measure the achievement of this objective would be average resolution time for each ticket.

To make sure P&L Technology maintained customer satisfaction while resolving calls more quickly, it relied on the NPS Score, a measure of how likely customers are to recommend your company to people they know. And to avoid burning out employees, P&L used the eNPS score.which tracks how likely team members are to recommend your company to friends as an employment opportunity. (Counterbalance)
Turning things around while meeting these requirements required a strong commitment. When we started out, the number of calls that the company was too backlogged to return that week was more than 500.
To get everyone on the same page, the company simplified the key performance indicators (KPls) for each employee. It set one KPI that everyone understood: if a customer contacted them, they had to communicate with that customer that day-and any day the ticket was still open. Employees were expected to keep working until that goal was accomplished each day. As Phil put it, "If you get 500 tickets a day that come into our call center and 10 percent of them don't get addressed, that's still 50 tickets that are a problem."
To establish accountability, each call center rep's results in meeting this communication goal were posted on a big screen on the wall and shared in a daily huddle. This renewed emphasis on tracking meant that employees had nowhere to hide if they were not following up. "This forced them to get the right tickets to the right people to get them closed," explained Lieber.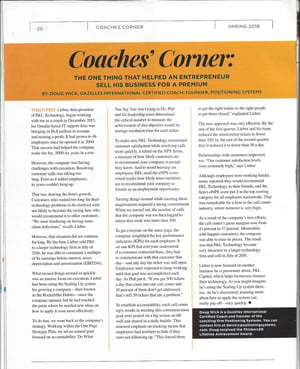 The new approach was very effective. By the end of the first quarter, Lieber and his team reduced the unanswered tickets to fewer than 100; by the end of the second quarter, they'd reduced it to fewer than 50 a day.
Relationships with customers improved, too. "Our customer satisfaction levels were extremely high," says Lieber.
Although employees were working harder, many reported they would recommend P&L Technology to their friends, and the firm's eNPS score put it in the top scoring category for all employers nationwide. That was remarkable for a firm in the call center industry, where turnover is very high.
As a result of the company's new efforts, the call center's gross margins rose from 43 percent to 57 percent. Meanwhile, with happier customers, the company was able to raise its prices. The result was that P&L Technology became very attractive to a larger technology firm and sold in July of 2016.
Lieber is now focused on another business he is passionate about, P&L Capital, which helps businesses finance their technology. As you might imagine, he's using the Scaling Up system there, too. As he's discovered, learning more about how to apply the system can really pay off-very quickly.
Doug Wick is a Gazelles International Certified Coach and founder of the coaching firm Positioning Systems. You can contact him at dwickgpositioningsystems.com. Doug received the Thinkers Lifetime Achievement Award.
Growth demands Strategic Discipline.
The 3 Strategic Disciplines: Priority, Metrics and Meeting Rhythms help your business dramatically improve your forecasting, and alignment, empowering your team to achieve accelerated growth. For more on Phil Lieber and how Positioning Systems Strategic Discipline helped P&L Technology achieve an exceptional ROI, and increase the company's value visit, What Value Do You Offer to Support Your Pricing – Scaling Up Example
Positioning Systems helps your business grow through the Four Decisions: People, Strategy, Execution, Cash.
Positioning Systems helps mid-sized ($5M - $250M) business Scale-UP. We align your business to focus on Your One Thing! To achieve growth, you need to evolve in today's rapidly changing economic environment. Are you avoiding a conversation with yourself on how to can successfully grow your business? Contact dwick@positioningsystems.com to Scale Up your business! Take our Four Decisions Needs Assessment to discover how your business measures against other Scaled Up companies. We'll contact you.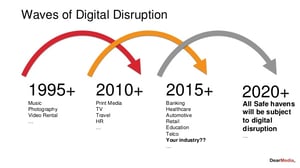 NEXT BLOG – Outthinker Process 36 Stratagems
Digital Disruption is changing business economics. Digital is defined as the nearly instant, free, and flawless ability to connect people, devices, and physical objects anywhere. What is your business doing to met digital disruption and evolving how you do business. We've explored how your business can take action through the Outthinker Process, and explored the 5 Most Common Outthinker Strategies. Next Blog we'll share 36 stratagems your business can exploit to achieve industry success in digital disruption.