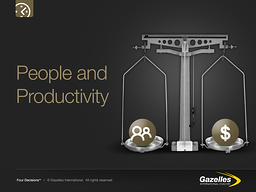 In the Dictionary Counterbalance is defined as: 1. a weight balancing another weight; an equal weight, power, or influence acting in opposition; counterpoise. 2. to act against or oppose with an equal weight, force, or influence; offset.
Why does a business need a counterbalance when completing its annual and quarterly priority?
You don't, unless you've set One Thing as your Priority for your quarter and annual plan.
FOCUS LEADS TO IMBALANCE
You've probably experienced this in life. Focusing on One Thing to the exclusion of everything else means you miss things you might not otherwise. Perhaps it's when you're driving. You're looking for an address, and in your pursuit of finding it you almost run into the curb, a mailbox, another vehicle or something far worse that's moving!
erhaps you're a workaholic. You focus on your work so intently, for long periods of time your spouse, and your family don't know who you are. We shared this concept from Gary Keller's The ONE Thing: The Surprisingly Simple Truth Behind Extraordinary Results, in this blog, Lie # 5 A Balanced Life - The Solution - Counterbalance. It contains great ideas on why and how to counterbalance your life with your work.
In Balance in Life – Should it be Your Objective we share ideas from Naphtali Hoff's blog on how people with strong work-life balance stay true to their life and work.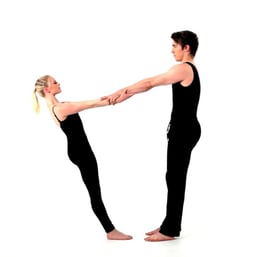 The truth of course is, when you focus on anything you get out of balance advancing to attain it.
It's why when we work with customers to discover their One Thing each year and quarter, we require a counterbalance.
Most businesses set as their One Thing a productivity/process objective. Revenue, Delivery time, Cash flow, Production targets are examples of productivity/process goals. With this focus you can easily fail to make attaining these gains translate into long term achievements by failing to recognize how this can get the opposite side of the scale, relationships/people disrupted.
In Balance – Optimism and Facing the Brutal Facts I share how General Motors, Enron failed to balance productivity with the relationship aspects of their business leading to bankruptcy and outright failure.
In the same blog, Delta drove hard to improve their on-time departures metric. They focused so hard on on-time departure (Productivity Metric) they forgot about the People they were trying to serve. By focusing only on on-time departures, they started cutting corners and frequently were unable to load all of the bags on each plane. This left the most important People – their customers – without their luggage and feeling rather angry. So Delta began measuring missing customer bags and overall customer satisfaction along with on-time departures, and it forced the company to figure out how to provide on-time departures without cutting important corners.
Your business needs to have a critical number to counterbalance your Productivity priority with the Relationship aspect of your business.
This can be customers as in the Delta example, or it could be your employees. Driving to reach a higher level of productivity risks overextending your people. A short-term gain can result in burnout, turnover, and lower morale.
When you set a high productivity goal, ask yourself what might be a negative outcome this can produce in the relationship side of our business. Might customers be negatively affected? Will our staff suffer due to extended focus, time, and energy?
COUNTERBALANCE: PRODUCTIVITY/PROCESS VS. RELATIONSHIPS/PROCESS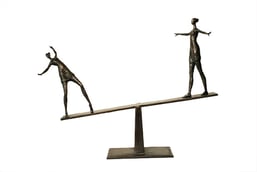 Whenever you place a focus on one side of the equation you should place an opposite measure on the opposite scale.
What's your One Thing? Is it a productivity/process objective? Most businesses are striving to achieve improvements in these measures. If you're a service business, you may wish to improve your turnaround time to reach your customers. One of my customers had 500 calls daily in their que. These were customers who they failed to get back to that day, and many days previous. Every day, the sales staff, front office, and contact center would get calls asking when the service center would return their call to solve a problem. It was serious. It threatened to hurt new customer acquisition.
Is this a productivity goal or a relationship objective? It would be easy to see this as a customer relationship issue, thus placing it on the Relationship/People side of the balance sheet.
Improving turnaround time, reducing the number of calls in the que each day, is a productivity goal.
The company chose as their Annual One Thing Number: Average Resolution Time. The Counterbalance measured each quarter: NPS, and eNPS. The first quarter this computer technology company reduced its customer que from over 500 a day to less than 100. They measured customer NPS to make sure in achieving this faster turnaround they were achieving customer satisfaction. They measured employee satisfaction to ensure this focus on the customer wasn't burning out their employees.

You can read more about this customer P&L Technology and a testimonial from CEO, Phil Lieber, in What Value Do You Offer to Support Your Pricing – Scaling Up Example
Achieving a short term or Annual priority should only be celebrated and enjoyed if there are no mitigating consequences. Developing a Counterbalance focus and critical number should prevent this.
If you need help in your business developing the One Thing Mentality, understanding, and implementing Counterbalances, or any of the other Four Decisions and Strategic Discipline resources and tools we offer to help grow your business, contact dwick@positioningsystems.com.
AUTHENTICITY
This past week I've read several blogs about authenticity and being genuine. These are great qualities for people. They are also great qualities for companies. Authenticity means admitting weaknesses. Is your business failing to be authentic? Is a weakness in your business limiting your growth? We'll explore this next blog.