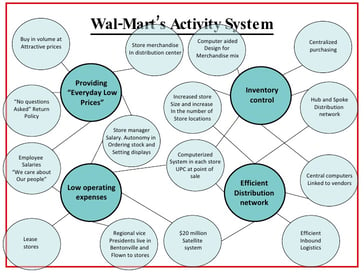 Differentiating your business is challenging. It involves dynamic competitors, changing buyer behaviors, market conditions, trends, and frequently changing technology.
Shannon Susko's 3HAG/Metronomics, creates a structured plan for 3 years, including resources and tools to define customers' differentiated strategy. It helps customers be intentional about their strategy creating "Swimlanes" for accountability and a clear vision of their intended destination.
How do companies like Walmart, Ikea, Southwest Airlines, and Edward Jones determine how to differentiate themselves? The Activity Maps for each of these businesses are great views of their differentiating activities. You can build an activity fit map to differentiate your strategy too.
3-5 Differentiating Activities.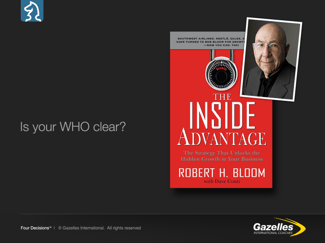 Last year on what would have been Bob Bloom's 88th birthday, Verne Harnish shared a story on how Southwest Airlines was birthed in his Bloom Agency offices in Dallas: on the first day of operations Bloom was appalled to see customers nudging and shoving each other down the aisles of the aircraft. When he reported back to Lamar Muse, Southwest Airlines founder, he described how Lamar broke into a broad grin and suggested "that's the idea, Bob, that's the idea" get the planes loaded faster!
Businesses like Southwest Airlines make conscious decisions on why they do things a certain way. Look at Southwest Activity Map. Their 6 differentiators are: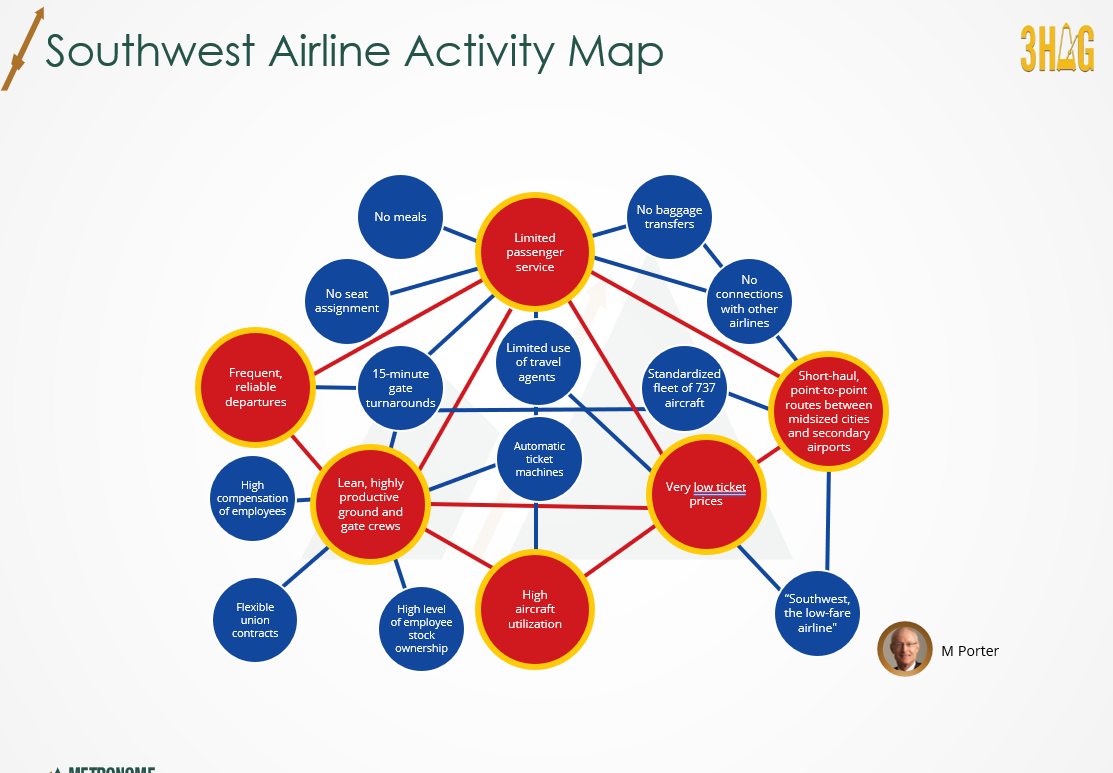 Limited passenger service.
Short-haul, point-to-point routes between midsized cities and secondary markets
Very low-ticket prices
High aircraft Utilization
Lean, highly productive ground and gate crews.
Frequent, reliable departures.
Few competitors (recent cancellation fiasco notwithstanding) can match Southwest Airlines integrated differentiators. Several airlines duplicate some of their differentiators (Frontier and Allegiant being examples), but none can duplicate all six.
Start with Key Attributions Map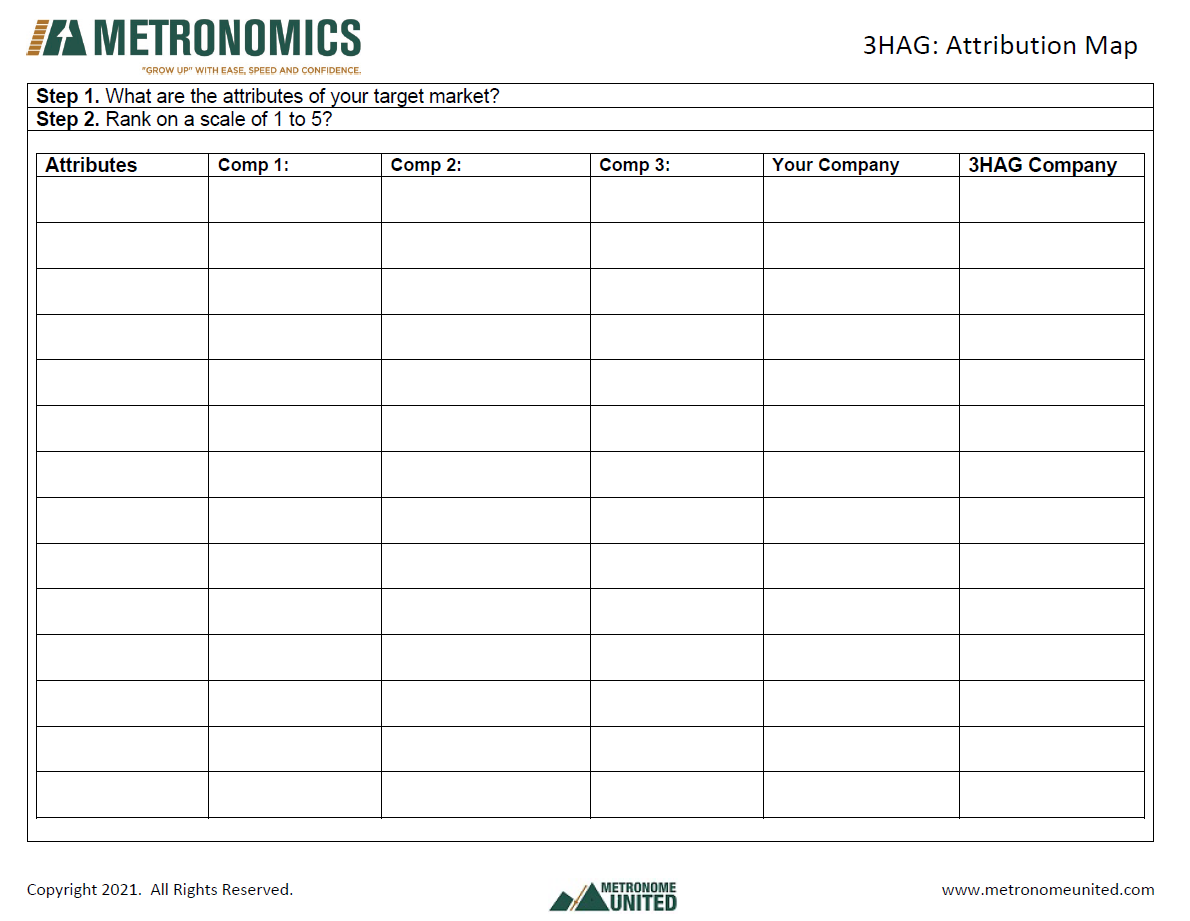 Where do you rank in the eyes of your customers? Discovery is an important first step. What are the key attributes of your target market? What criteria does your target market use to select who they buy from? For example, a hotel would likely include location. Being close to the airport, or a stadium/event center would influence your target market. Once you've determined what the 8-10 attributes your target market makes decisions on, score yourself along with two to three of your best competitors. Build a graph, by starting with your highest scores, so you can see where you rank against your competition.
This should give you a view of the playing field is, and where the "white space" is for you to occupy, to impact your target markets' decision-making, and differentiate yourself.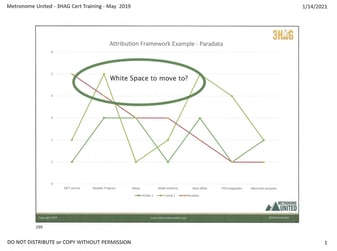 Decide which of these you plan to dominate or exceed your competitors' rankings on. Remember you don't have to be better in all your differentiators, being equal to your competitor may be enough since as Michael Porter, the founder of the modern strategy field, described Strategy as the creation of a unique and valuable position, involving a different set of activities.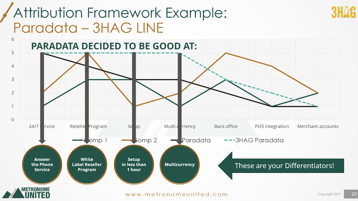 It's the integration of these activities that differentiates you and is difficult for competitors to copy.
Set up where you plan to be in 3 years, for your 3HAG LINE.
Once you've identified your attributes to differentiate, place these on a map, and brainstorm activity ideas you'll do to achieve your 3HAG LINE over the next 3 years.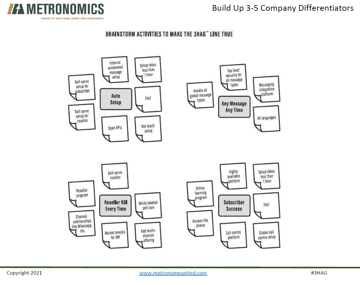 Ask each of your leadership team to share 5-7 key activities your company needs to do in order to reach your 3HAG. What activities will make your 3HAG LINE TRUE?
Once you have all these posted on the map, group similar activities together. Then specify the name for each of these groups of activities. Be as specific as you can, (note the example of Southwest above) so as to accomplish the grouping of activities you selected.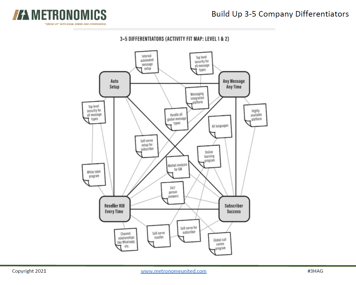 Next, determine which of these groups of activities are dependent upon other groups and draw lines to show dependency. A group can be dependent upon more than one other group.
Make this your Level 1 Activity Fit Map, the name Michael Porter gave this.
Your next step, draw your Swimlanes. Put your activities into motion to achieve your strategy.
Remember this is an iterative process. Plan to revisit this at least once a quarter. Any competitive or market changes should be reflected to keep pace with changing trends. A strategy is not stagnant, it's dynamic.
To create an environment where everyone is inspired to give their best, contact Positioning Systems today to schedule a free exploratory meeting.
Growth demands Strategic Discipline.
Why are Swimlanes so valuable? What do customers discover as they create these pathways to achieve their 3HAG LINE? We'll explore this next blog.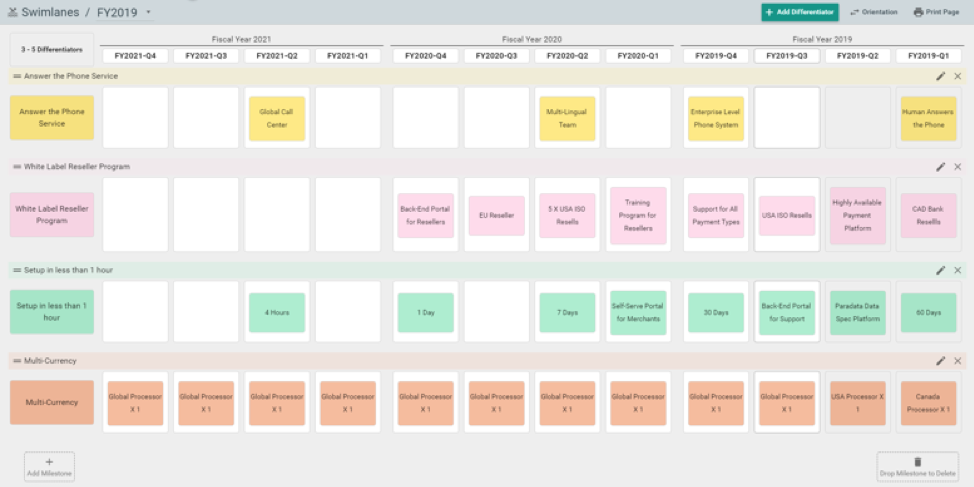 Building an enduring great organization requires disciplined people, disciplined thought, disciplined action, superior results, producing a distinctive impact on the world.
Discipline sustains momentum, over a long period of time, laying the foundations for lasting endurance.
A winning habit starts with 3 Strategic Disciplines: Priority, Metrics, and Meeting Rhythms. Forecasting, accountability, individual, and team performance improve dramatically.
Meeting Rhythms achieve a disciplined focus on performance metrics to drive growth.
Let Positioning Systems help your business achieve these outcomes on the Four most Important Decisions your business faces:
DECISION

RESULT/OUTCOME

PEOPLE

STRATEGY

EXECUTION

CASH
Positioning Systems helps mid-sized ($5M - $500M+) businesses Scale-UP. We align your business to focus on Your One Thing! Contact dwick@positioningsystems.com to Scale Up your business! Take our Four Decisions Needs Assessment to discover how your business measures against other Scaled Up companies. We'll contact you.
NEXT BLOG – The Value of Swimlanes