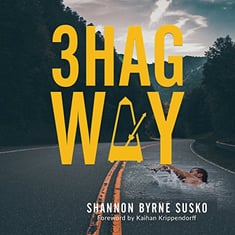 Developing a 3 Year Plan is an important part of strategic planning. We've shared several methods and tools to help you in this process including (Why Have a 3 – 5 Year Plan?) where we offered insights from Simon Sinek and Kaihan Krippendorff's Outthinker Process to help you vision bigger.
Creating a 3 Year Plan on the surface seems reasonable. However, the biggest challenge is building a structure to achieve it.
In 3HAG WAY: The Strategic Execution System that ensures your strategy is not a Wild-Ass-Guess!, Shannon Susko provides success elements and structure that helped her sell two businesses at massive returns to investors by developing a Strategic Execution System to drive confidence in predicting the future growth of your company and to make it happen.
Forecasting where you are going to be in 3 years can be a challenge. However with the right tools, and an understanding of who your Core Customer is, what the widgets (Profit Per X) driving your business are, you can build both the key capabilities and the differentiating attributes you need to be unique to avoid competing with your competitors on the same dimensions.
Strategy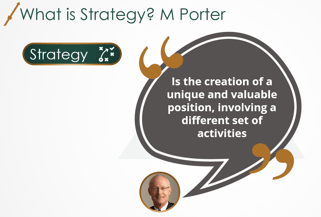 Your strategy describes how your company creates a unique and valuable position through a set of differentiating actions. The more a company competes to be unique, and not the best, the more likely it is to succeed.
Strategy is how you avoid competing on the same plane as everyone else; if you lack a strategy, then you will compete on the same plane as everyone else, and you will not realize your goals.
As we've learned in Scaling Up's Four Decisions, the result of having your strategy correct is top-line revenue growth. It means achieving higher revenue growth than your industry. If you're just keeping pace with your peers, you're not growing. A rising tide raises all ships. A unique strategy means you grow faster than your peers.
The key is to know who your core customer is.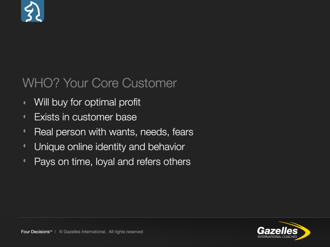 Once you've determined who your Core Customer is, lay out your market map.
One of the biggest barriers to any business growth is market dynamics. If your leadership team fails to understand your core customer, and the dynamics unfolding in your market, you can't expect your front-line people to meet the specific customer needs your business solves. Market dynamics are constantly changing. Keep abreast of changes and discover how they might impact your core customer and your competitors. What really matters to your customer? Do you have a clear understanding of what they really want?
3-5 Key Capabilities
If you've forecasted your revenue (a better number is widgets), the next step is to ask, what are the Key Capabilities your organization needs to achieve these numbers in 3 years? Will you need to add more locations, new technology, more capacity, or new functions, more employees, new hiring, or training methods? What key capabilities either need to be expanded or developed to achieve the leap you intend to achieve?
Key Attribution Framework
To create a unique and valuable position offering a different set of activities from your competitors you need to challenge your team to look at how you can position your company to best serve the needs of your core customers.
According to Michael Porter's research, there are three generally accepted ways to create a differentiated strategic position:
Serve the broad needs of a few customers
Serve some needs of many customers
Serve many needs for many customers in a super-specific market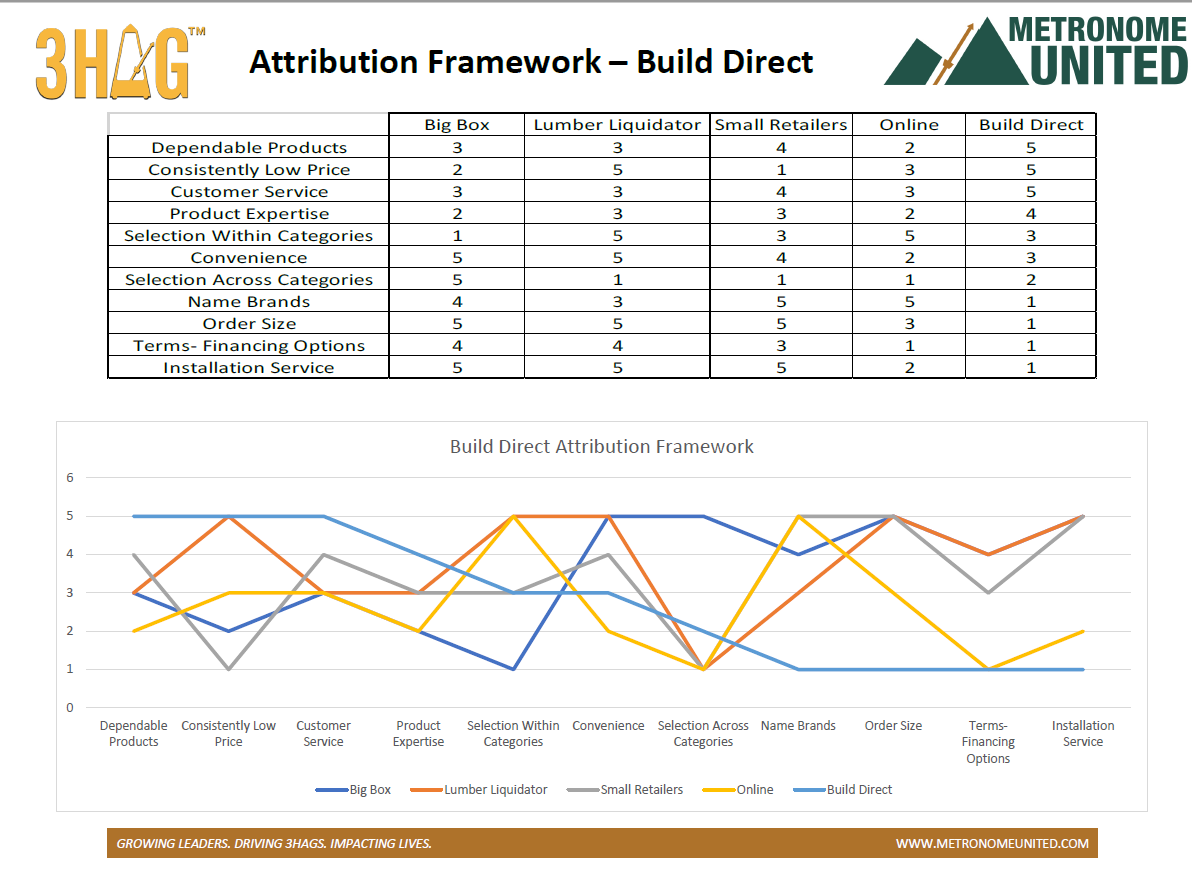 As shared in Find Your White Space - Key Attribution Framework, this exercise helps you discover not only where you can be uniquely differentiated, it provides the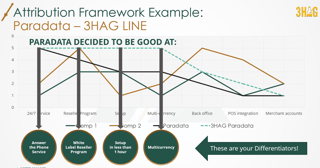 groundwork to identify the key activities to focus on to achieve differentiation against your competitors, to develop benchmarks in your swim lanes, and provide the goals and structure your team needs to be confident you will achieve your 3 Year plan.
Next blog details on completing your swim lanes.
To create an environment where everyone is inspired to give their best, contact Positioning Systems today to schedule a free exploratory meeting.
Growth demands Strategic Discipline.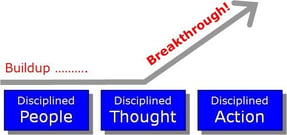 Building an enduring great organization requires disciplined people, disciplined thought, disciplined action, superior results, producing a distinctive impact in the world.
Discipline sustains momentum, over a long period of time, laying the foundations for lasting endurance.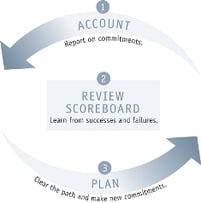 A winning habit starts with 3 Strategic Disciplines: Priority, Metrics, and Meeting Rhythms. Forecasting, accountability, individual, and team performance improve dramatically.
Meeting Rhythms achieve a disciplined focus on performance metrics to drive growth.
Let Positioning Systems help your business achieve these outcomes on the Four most Important Decisions your business faces:
DECISION

RESULT/OUTCOME

PEOPLE

STRATEGY

EXECUTION

CASH
Positioning Systems helps mid-sized ($5M - $250M) business Scale-UP. We align your business to focus on Your One Thing! Contact dwick@positioningsystems.com to Scale Up your business! Take our Four Decisions Needs Assessment to discover how your business measures against other Scaled Up companies. We'll contact you.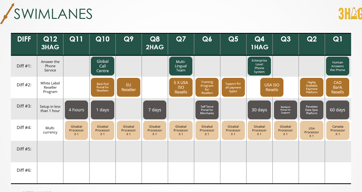 NEXT BLOG – Swimlanes: When You Know Where You're Going, You Know You're Great
Chapter 7 of Shannon Susko's 3HAG WAY: The Strategic Execution System that ensures your strategy is not a Wild-Ass-Guess! Provides details on how to build your swimlanes. To achieve any goals you need discipline and structure. If you really want to achieve your 3HAG, your team needs to focus and build out your 3HAG Swimlanes and 36 Month, month-over-month Rolling Forecast. How to build your 3HAG swimlanes next blog.