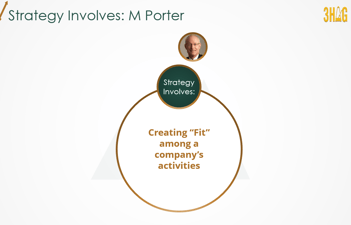 You can't be everything to everyone. The greatest example of winning is choosing not to do what everyone else is doing and to focus on something unique.
Your Activity Fit Map results from discovering where you can be unique and different and then building key activities to clearly show your customers how you do it.
Differentiating Example: Southwest Airlines
Southwest Airlines is an example of a business differentiated from its counterparts and the most successful airline in the world.
Look at Southwest's different positioning from full-service airlines.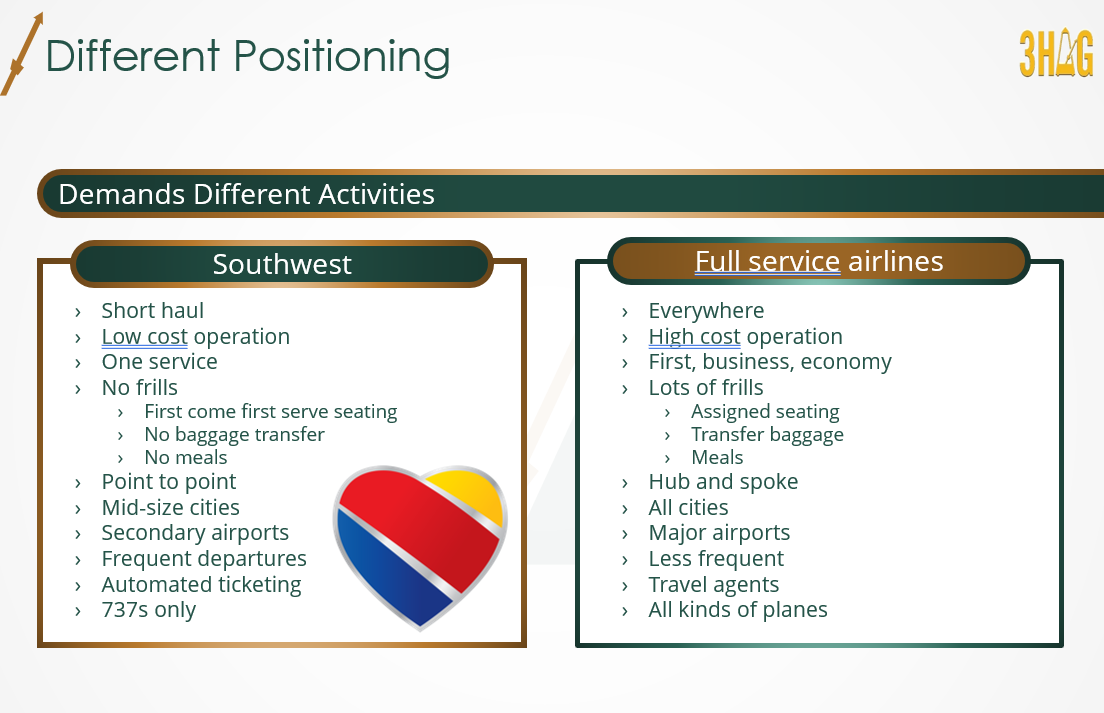 Southwest's differentiators were Limited Passenger service, Frequent reliable departures, Lean, highly productive ground and gate crews, High Aircraft utilization, Very Low Ticket prices, and short-haul point-to-point routes between mid-sized cities and secondary airports.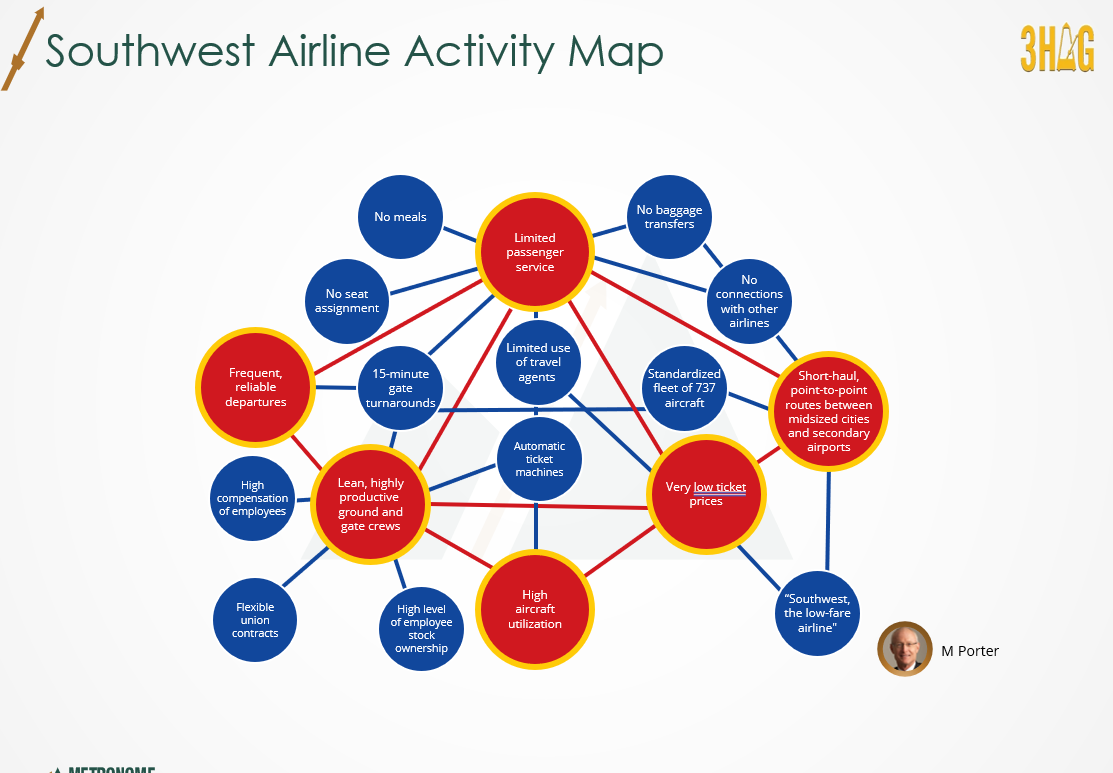 You can see these clearly identified in the large red circles on their activity fit map shared here.
The smaller blue circles contain the activities Southwest does to accomplish each of these in detail.
Another example of this is IKEA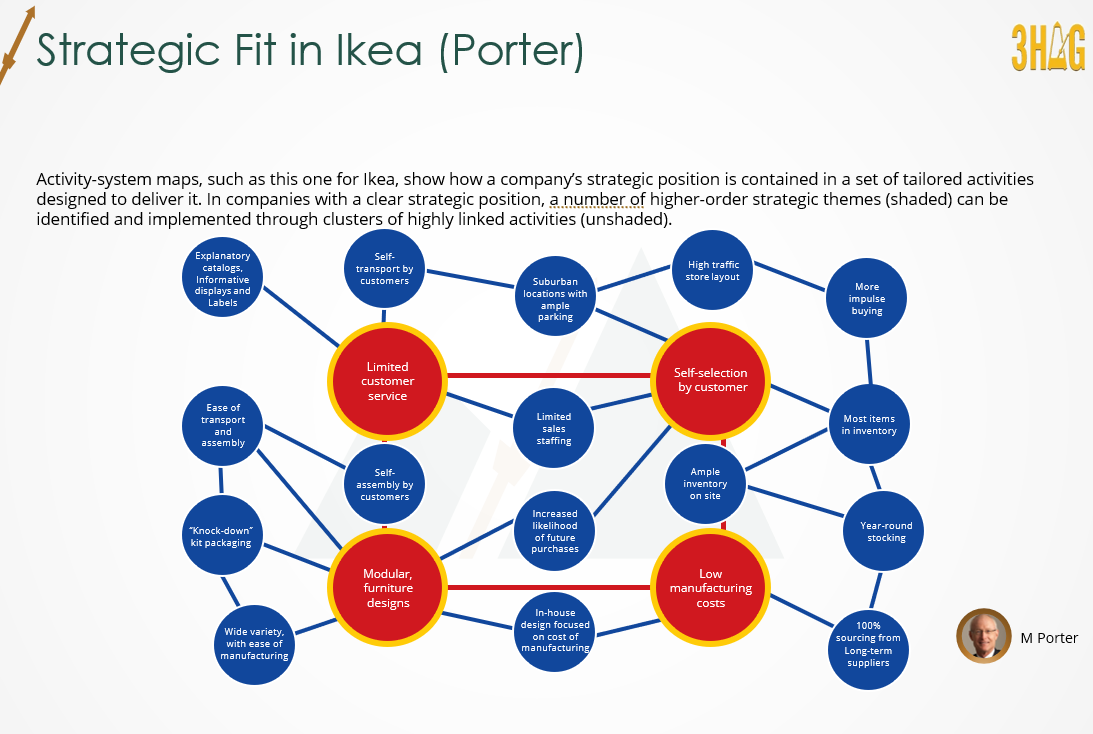 I share the same fit map for IKEA to illustrate the power of this process, as well as to reveal you can do the same with your business.
When you compete, you need to decide what to do, as well as what not to do. The latter is often most difficult because it feels like you need to chase everyone and everything to maintain customers. When you know who you are and what you're good at, and feel confident, having completed the Key Attribution Framework, you quit chasing everything.
Where to Start?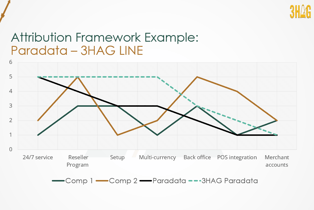 In Find Your White Space - Key Attribution Framework we shared the steps to move from competing to be the best to competing to be unique. You must decide to discover 3-5 differentiating attributes, your customers want, that you can be known for.
Once you've accomplished this you need to determine what activities will support these differentiating activities. Fit these into your 3HAG in swimlanes, and you've not only built your strategy, but you've also given you and your team a clear path on how to meet your 3-year goal and differentiate yourself from your competition.
Working on these together gives clarity and confidence to achieve your goal.
This simple framework gives you the ability to differentiate your business. While the path is clear, the discussions, decisions, and the dynamics of the market won't make this as clear a path. You'll need to have many discussions when choosing the differentiators, deciding where to put your resources to make these the differentiators for your business, and then stay abreast of what your competitors are doing month over month, or at least quarter over quarter, to ensure your strategy is on course.
Three Barriers to Growth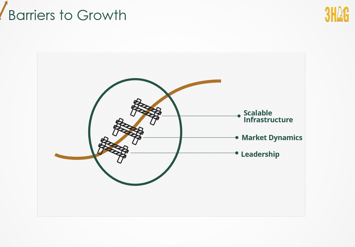 There are three barriers to growth for every mid-sized business: Leadership, Market Dynamics, Scalable Infrastructure. The leadership of your business determines how the rest of your firm works. Team members understand each other's differences, priorities, and styles, meet frequently (weekly is best) for strategic thinking, participate in ongoing executive education (monthly recommended), and be able to engage in constructive debates with all members who feel comfortable participating. (See Patrick Lencioni's Five Dysfunctions of a Team). Most of all your leadership team should be comprised of "A" Players. Read BE 2.0 – The Number One Metric You're NOT Measuring to understand why Jim Collins feels this is critical.

For this discussion, Market Dynamics is most important. In many organizations, the leadership team is unaware of their competition, their competitive advantages, or who their core customer is. A leadership team without this understanding, without eyes and ears on the market dynamics, will fail to develop competitive differentiation, and even if they have, fail to sustain it. Often this comes from the leadership failing to recognize how quickly the market changes. You should be reviewing your Market Map, and your Key Attribution Framework each month to discover any changes, and how they are impacting your business.
The final barrier, scalable infrastructure, is precisely why every business needs a 3HAG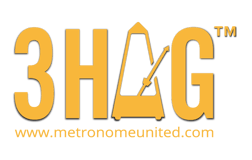 (3 Year Highly Achievable Goal). When you plot out your growth, you will discover when and where you need to build infrastructure to support it. Adding people, identifying new platforms and technology's necessary for expansion. These should show up on your 3-5 key capabilities when building your 3 Year Plan.
Building a successful business requires forethought, discipline, discussion, discovery, and exploration.
To create an environment where everyone is inspired to give their best, contact Positioning Systems today to schedule a free exploratory meeting.
Growth demands Strategic Discipline.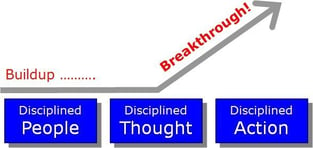 Building an enduring great organization requires disciplined people, disciplined thought, disciplined action, superior results, producing a distinctive impact in the world.
Discipline sustains momentum, over a long period of time, laying the foundations for lasting endurance.
A winning habit starts with 3 Strategic Disciplines: Priority, Metrics, and Meeting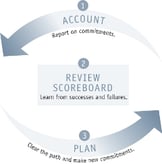 Rhythms. Forecasting, accountability, individual, and team performance improve dramatically.
Meeting Rhythms achieve a disciplined focus on performance metrics to drive growth.
Let Positioning Systems help your business achieve these outcomes on the Four most Important Decisions your business faces:
DECISION

RESULT/OUTCOME

PEOPLE

STRATEGY

EXECUTION

CASH
Positioning Systems helps mid-sized ($5M - $250M) business Scale-UP. We align your business to focus on Your One Thing! Contact dwick@positioningsystems.com to Scale Up your business! Take our Four Decisions Needs Assessment to discover how your business measures against other Scaled Up companies. We'll contact you.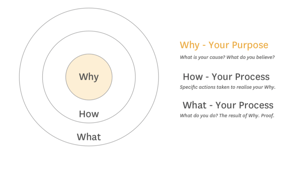 NEXT BLOG – Core Purpose
The great resignation or turnover crisis has been identified as a cultural crisis among businesses. Businesses with a strong culture appear to have evaded this resignation crisis, while those who don't have severely suffered. Simon Sinek is known for his videos and book on starting with Why. Do you know how he discovered this formula? That's our next blog.