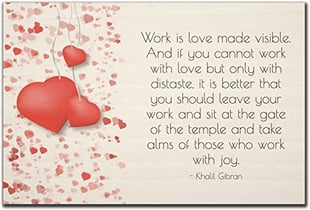 "Always you have been told that work is a curse and labour a misfortune. But I say to you that when you work you fulfill a part of earth's furthest dream, assigned to you when that dream was born, And in keeping yourself with labour you are in truth loving life. And to love life through labour is to be intimate with life's inmost secret."
"Work is Love Made Visible."
~ Gibran Khalil Gibran, On Work
If you're a CEO or business Leader challenged to believe culture makes a significant difference in growing your business, read The Heart of Business, by Hubert Joly. Or, watch Verne Harnish's hour video interview with Jolly Jolly last week here.
Jolly did not always consider work in the positive light he shares with Khalil Gibran now. Since the early 1990s, his attitude shifted as he was asked by two friends to journal with them on the philosophy and theology of work. His research, including studying the Bible, philosophers, and work experiences, led him to an unexpected conclusion: work is a fundamental element of what makes us human.
Until then he believed, work is a bad thing, to be endured by the unfortunate who must make ends meet, and to be avoided by the lucky few who can afford to do so.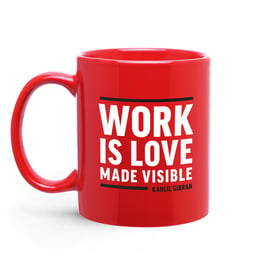 His discoveries led him to realize fulfillment from work comes from doing good things for others—and in so doing, contributing to the common good.
Work carries a deeply spiritual meaning rather than something we do to fulfill basic needs.
Sociologists consider work an essential part of our humanity. Most of us can't exist without human connections. (Why is solitary confinement considered a form of torture?) Work is a way to nurture these connections. Through work, we develop human interactions, deal with colleagues, customers, suppliers, and so on.
Jolly shares how difficult losing a job is—job loss is more distressing than divorce—not just because of the economic and financial hardship it creates, but because it affects our sense of self-worth and, critically, cuts us off from that network of social connections.
Research supports this, asked what would be extremely or very important to them as adults, 95 percent of teens in Pew Research Center survey, picked having a job or career they enjoy, ranking ahead of anything else, including helping people in need, having a lot of money, or having children.
Discovering Your Purpose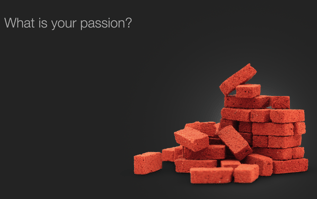 In Build A Cathedral – OUTthinkers Strategy: BE GOOD, I share the story of two bricklayers, emphasizing the importance of purpose. My own journey for purpose started a long time ago, reached a summit when I was an E-Myth Coach, and then reached a higher apex during my journey through cancer.
Jolly believes understanding your own purpose is one thing. It's just as critical for leaders to understand what drives the individuals around them—and, how it connects to the purpose of the organization. To find out what drove each member of Best Buy's executive team, Jolly organized a dinner in 2016, as part of one of their regular quarterly retreats. Everyone was asked to bring pictures of themselves as babies or young children, and to tell a personal story about that picture and about growing up.
The goal was to find what gives you energy, what drives you, what you truly and profoundly aspire to, and what stands the test of time.
Bringing the Purpose Question to Work
"What drives you?" is not a question often asked in corporate environments. Jolly believes asking it more can help us connect with a purpose, to determine how we relate to our work. Best Buy employees are encouraged to reflect on that question. "What drives you?" is a central element of the Best Buy Holiday Leadership Meeting, gathering some 2,000 managers to kick off the holiday shopping season.
The simplicity and humanity of the answers striking. Watch Jolly in 3 minutes explain leading with purpose.
Examples:
For a market retail field trainer, it is "being able to see the corners of the world with Grandma Shirley, my favorite person on this planet."
For a district manager, it is "helping employees and customers fulfill their hopes and dreams."
For a senior HR manager: "teaching, developing, growing and inspiring [people] to do more than they ever thought possible."
Jolly feels it made a huge difference in helping Best Buy shape their ambitious and meaningful purpose for Best Buy, a purpose driving sustained success in the subsequent years.
To create an environment where everyone is inspired to give their best, contact us today to schedule a free exploratory meeting.
Growth demands Strategic Discipline.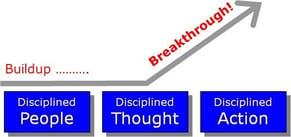 Building an enduring great organization requires disciplined people, disciplined thought, disciplined action, superior results, producing a distinctive impact in the world.
Discipline sustains momentum, over a long period of time, laying the foundations for lasting endurance.
A winning habit starts with 3 Strategic Disciplines: Priority, Metrics, and Meeting Rhythms.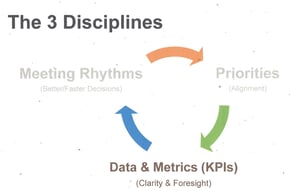 Forecasting, accountability, individual, and team performance improve dramatically.
Meeting Rhythms achieve a disciplined focus on performance metrics to drive growth.
Let Positioning Systems help your business achieve these outcomes on the Four most Important Decisions your business faces:
DECISION

RESULT/OUTCOME

PEOPLE

STRATEGY

EXECUTION

CASH
Positioning Systems helps mid-sized ($5M - $250M) business Scale-UP. We align your business to focus on Your One Thing! Contact dwick@positioningsystems.com to Scale Up your business! Take our Four Decisions Needs Assessment to discover how your business measures against other Scaled Up companies. We'll contact you.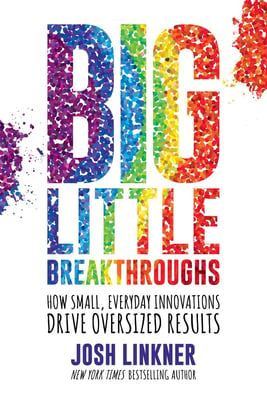 NEXT BLOG – EIGHT OBSESSIONS OF EVERYDAY INNOVATORS
In Big Little Breakthroughs: How Small, Everyday Innovations Drive Oversized Results, Josh Linkner shares 8 Obsessions everyday innovators follow. He shares why companies like Facebook, Amazon, and Google succeed by following the 10,000-experiment rule Harvard Business Review contributor & author Michael Simmons feels is a far more valuable metric of success. We'll explore why this works and discover how LEGO used one of these Everyday Obsession Innovation rules, Break it to Fix It, to expand their toy business