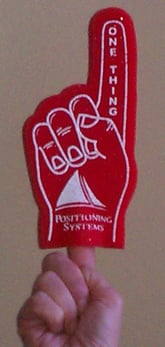 In Love is Free. Guac is Extra: How Vulnerability, Empowerment, and Curiosity Built an Unstoppable Team, Monte Moran, Chipotle's Co CEO from 2009 - 2016 dedicates an entire chapter (7) to priorities.
Moran decided to focus on three core things:
Hiring the Right People
Ensuring Excellent Operations
Creating a Strong Culture
Moran explains why priorities are so critical, "It seems obvious that a leader should focus on those things that are most important. But what is less obvious is how powerful it is to focus on only the very top priorities, all of the time. The top few priorities, in my experience, tend to be more important than all the rest put together. In other words, failing to advance one of the top priorities, and getting the next twenty right, is usually a worse result than getting the top few right, and nearly ignoring the next twenty. The key when picking priorities is finding the things that, if done well, will affect the most positive change in all areas of the company. Also, it is important to pick priorities you know can be improved and will have a long runway."
In our Scaling Up February Summit, Monte shared how one person couldn't do much to affect the business. He recognized by empowering others to be their best he could do much more than simply being HIS BEST. After spending time in the field, talking to his people, he realized the best way to make a difference was to make the manager position at Chipotle a great position. To do that he had to change the culture.
Moran decided to make his top priority, his One Thing Focus, building a team of empowered top performers: The result? A healthy culture.
Choosing Your Priorities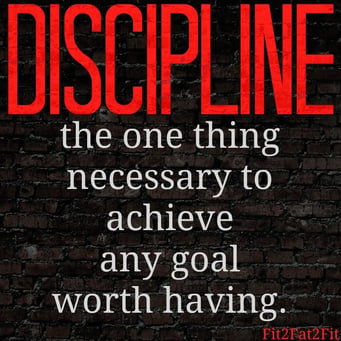 Moran shared how he determines his priorities, a practice like how we coach our customers to choose their top priority for the year and each quarter. "A worthwhile exercise is to write down the top ten things that you think you can do to improve your business. Then, take the time to prioritize them in terms of their potential impact. Look to see if any of them, if completed, would advance other priorities on your list. For those, put them at the top. Once they're in order, you should devote your time to the top two or three. When you invest a lot of work into the top two or three, it will have a huge impact on the business. Then, after working on those priorities for a time, do the same exercise over again. It's perfectly likely that the top two or three most important ones are the same, over and over again, and that's OK! Just keep assessing and keep focusing on the top few."
Don't get discouraged choosing the same priorities each year or quarter. Just because they're repetitive doesn't mean they're not your priority. I've seen remarkable growth and achievement when customers focus on the same One Thing each year.
How To
Choosing a Priority requires developing a set of activities to measure your success. Building a team of empowered top performers governed the majority of Monty's actions. Early actions included:
Acknowledged publicly, and to all of our leadership team, that the general manager was the most important position in the company.
Created the Restaurateur Program, to ensure our best GMs were acknowledged, rewarded, and empowered to build great teams.
Made sure it was clearly understood what the Restaurateur position entailed and what it took to earn it.
Made sure we had appropriate financial rewards for our best GMs.
Made sure we hired GMs from within, since this attracted stronger candidates, and data showed that our GMs who came from within were much better and less likely to quit.
Made sure we gave our GMs the best tools with which to do their jobs.
Listened to the feedback of our GMs and made sure that we were acting on that feedback.
Ensured that the corporate office staff was aware that their primary responsibility was to take care of our GMs, and to give them the tools, data, and support they urgently needed to do their jobs well.
Publicly sang the praises of the best GMs, and celebrated their success throughout the company, so that everyone knew what we were looking for and could strive to achieve it themselves. Created an excellent field leadership system to support our managers and our restaurant operations.
Scrutinized every facet of our restaurant operation to improve food quality, taste, safety, and every aspect of the customer experience.
Revamped our training systems and tools to make sure that our people were confident in their ability to do great work.
Activities like these are the backbone of measuring your results. Use a dashboard to Measure activities to ensure your success.
To create an environment where everyone is inspired to give their best, contact us today to schedule a free exploratory meeting.
Growth demands Strategic Discipline.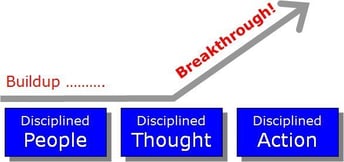 To build an enduring great organization, requires disciplined people, disciplined thought, disciplined action, to produce superior results, and make a distinctive impact in the world.
Discipline sustains momentum, over a long period of time, laying the foundations for lasting endurance.
A winning habit starts with 3 Strategic Disciplines: Priority, Metrics and Meeting Rhythms.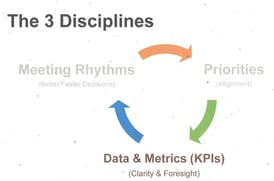 Forecasting, accountability, individual, and team performance improve dramatically.
Meeting Rhythms achieve a disciplined focus on performance metrics to drive growth.
Let Positioning Systems help your business achieve these outcomes on the Four most Important Decisions your business faces:
DECISION

RESULT/OUTCOME

PEOPLE

STRATEGY

EXECUTION

CASH
Positioning Systems helps mid-sized ($5M - $250M) business Scale-UP. We align your business to focus on Your One Thing! Contact dwick@positioningsystems.com to Scale Up your business! Take our Four Decisions Needs Assessment to discover how your business measures against other Scaled Up companies. We'll contact you.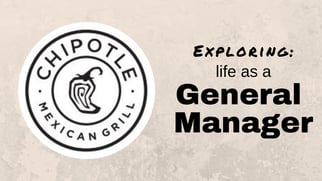 NEXT BLOG – Prioritizing Chipotle's General Manager
Monte Moran believed the general manager was the most important position at Chipotle. If every GM became a great leader, Monte knew Chipotle would have profound success. Why expectations are so important and how Monty achieved this through the Restaurateur Program next blog.