Our final blog on Execution Decisions focuses on displaying and monitoring your metrics. In the Four Executions Disciplines of Execution by Chris McChesney, Sean Covey, Jim Huling, their Fourth Discipline is Dashboards.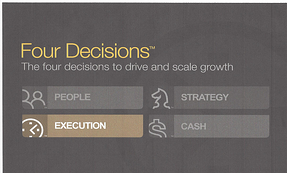 In Positioning Systems and Gazelles Coaching we include dashboards within the execution discipline of metrics.
Decisions Equals Success. As we explained in Execution or Bad Choices – Why Do Businesses Fail most businesses don't fail as the result of things being done poorly. They're the result of making poor decisions. The Four Decisions you must get right or risk leaving significant revenues, profits, and time on the table, are People, Strategy, Execution and Cash.
Let's take a look at two important Execution Growth Tools to help you respond quickly and make better decisions.
Dashboards: Are you currently using a visual dashboard each week or month to help you drive the business? What format do you use?
We have found that there are 3 key benefits achieved by using a visual dashboard:
Avoid being blindsided by something in the business that you could have seen coming
Focus on the right things that will drive your success (i.e. "major on the majors, not the minor issues")
Spend more time solving problems and less time in verbal status updates – a good dashboard will typically reduce status updates significantly and you can then reinvest the time saved into solving problems or executive education (learning together).

Have you ever gone to a sports event and struggled to know what the score is? Usually the most prominent fixture in the arena or stadium is the Scoreboard. In fact stadiums have become famous for their scoreboards. Think Fenway Park and the left field wall that holds theirs. And the Dallas Cowboys Stadium, AT&T Stadium with their giant scoreboard, the fourth largest high definition video screen in the world, smack dab in the center of the field. Why are scoreboards so prominent? Because everyone wants to know the score.
In Four Characteristics Of A Compelling Players' Business Dashboard we offered four questions you should asked to determine if a scoreboard is likely to be compelling to your team:
Is it simple? It has to be simple. Think about the scoreboard in a football game. There are usually just six distinct pieces of data are displayed: score, time, quarter, down and distance, and time-outs. How many pieces of data is the coach tracking on the sideline? Lots more! The list goes on forever. Coaches need this data to manage the game, but the scoreboard on the field shows only the data needed to play the game.
Can I see it easily? It has to be visible to the team. The scoreboard at a football game is huge and the numbers gigantic so everyone can tell at a glance who's winning. If your scoreboard sits on your computer or hangs on the back of your office door, it's out of sight, and out of mind for the team. Remember that you are always competing with the whirlwind and it's a tough adversary. Without a visible scoreboard, your top priority and lead measures will be forgotten in a matter of weeks, if not days, in the constant urgency of your day-to-day responsibilities (Whirlwind). Visibility drives accountability. The results become personally important to the team when the scoreboard is displayed where it can be seen by everyone.
Does your dashboard show lead and lag measures? It should show both the lead and lag measures. Bring your dashboard/scoreboard to life. The lead measure is what the team can affect. The lag measure is the result they want. The team needs to see both or they will quickly lose interest. When they can see both the lead and lag, they can watch the bet play out. They can see what they are doing (the lead), and what they are getting (the lag). Once the team sees that the lag measure is moving because of the efforts they have made on the leads, it has a dramatic effect on engagement because they know they are having a direct impact on the results. As mentioned in previous blogs Positioning Systems recommends utilizing two leading indicators for every one lagging indicator in your business.
Can I tell at a glance if I'm winning? It has to tell you immediately if you are winning or losing. If the team can't quickly determine if they are winning or losing by looking at the scoreboard then it's not a game, it's just data. Check your next report, graph, scorecard, or scoreboard before you dismiss this as obvious. Glance at the spreadsheets that show the weekly financial data. Can you instantly tell if you are winning or losing? Could other people tell? The authors call this the five-second rule. If you can't tell within five seconds whether you're winning or losing you haven't passed this test. In essence, you and your team make a bet that you can move the lead measures and that those lead measures will move the lag measure. When it starts to work, even people who have shown little interest become very engaged as the entire team starts to see that they are winning, often for the first time.
There's one other reason that Dashboards are critical to success. If you've not heard of Pearson's Law by now, if you're in business, you need to memorize it to help you drive performance and success in your business.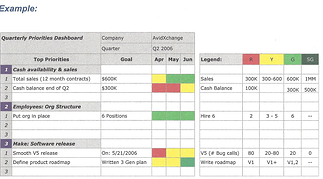 Pearson's Law: "When performance is measured, performance improves. When performance is measured and reported back, the rate of improvement accelerates."
Dashboards are your measurement tool to report back to yourself and your people. If you're not using dashboards, expect dramatic improvement in the results you and your team achieve when you begin utilizing them.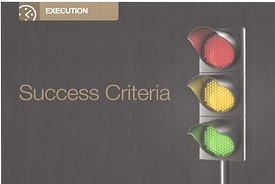 Success Criteria: Developing dashboards includes making sure you can quickly tell if you're winning or not. (See #4 above) When you set a specific priority or goal or KPI, you measure success based on reaching or exceeding it. Similar to a stoplight, at Positioning Systems we recommend using a familiar color scheme to indicate your progress. We use Green to visually signal accomplishment of the goal; we use yellow to visually signal that we have made progress (but are short of the goal); and we use Red to visually signal that we missed the goal, below an acceptable level. Finally we use Super Green to indicate you're making exceptional progress, exceeding your expectations.
Using these colors to measure clearly how each priority is performing helps immensely in moving your meetings along. Whether it's a weekly, monthly or quarterly meeting the success criteria on your dashboard clearly signals whether there's a need to discuss the progress you're making or not. Greens and Super Greens can be quickly dispatched, although don't fail to notice success, applauding, and recognizing the efforts of those who are doing well. Yellows and Reds demand explanation and perhaps discussion in the Collective Intelligence portion of the weekly meeting agenda. They may even merit greater examination in the Learning, Planning, Solving portion of the monthly meeting agenda.
Again you don't need to invest much time on areas that are doing well. The priorities your people are struggling with, especially if they are a high priority need to be addressed or you and your team risk missing your objectives for the quarter. Often the input and feedback from your executive team can get the priority back on the rails and moving forward to success. Collective Intelligence offers perspectives that the leader and team members may not recognize because they're too close to the issues.
The value of the Success Criteria is clarity. We can quickly see which priorities are on target and which are not. Time is critical for everyone. Invest your energy on those areas that need attention through the use of the Success Criteria color formula.
If you have questions on establishing success criteria please feel free to contact me at mailto:dwick@positioningsystems.com.
We've now covered the Growth Tools for three of the four Decisions your business needs to get right or risk leaving significant revenues, profits, and time on the table: People, Strategy, and Execution. Next the Growth Tools for Cash which yield oxygen and options. We'll discuss more what that means and the critical nature that Cash plays in your business next blog.