Freedom. It's what almost everyone wants, whether it's your staff, leadership team or you.
Where does a sense of freedom come from?
It comes from absolute clarity!
It comes from being clear to everyone in the organization what your number one priority is for each quarter and the year.
Last blog Organizational Health Meets Pearson's Law, Patrick Lencioni's book The Advantage shared the critical nature of clarity in building Organizational Health. His four steps are:
Discipline 1: Build a Cohesive Leadership Team
Discipline 2: Create Clarity
Discipline 3: Over-Communicate Clarity
Discipline 4: Reinforce Clarity
Is the use of Clarity redundant here?
No! Imagine your business with a team of people all inspired and completely clear on exactly what is expected of them. They're clear on the direction the company is moving in, and clear about their expectations. In fact they develop their personal position priorities each quarter and then create dashboards to monitor their progress to ensure the company achieves its goals. A fairy tale?
Again the answer is no. It's the Power of the One Thing.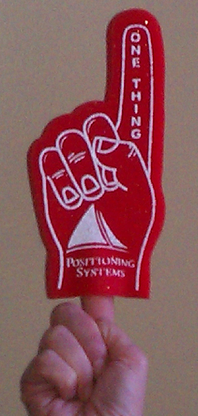 Positioning Systems Strategic Discipline and our Rockefeller Habits fundamental principles help your business to determine your priorities, what metrics to measure them against, and then set a disciplined set of meeting rhythms to ensure communication is reached to achieve these priorities.
Clarity is liberating.
Every day I wake up and I know what my number one priority is. It's to recover my health. Some of you may feel that's a lousy thing to have to remedy. It's the hand I've been dealt. Yet every day I know I need to focus on it, protect myself from bacteria and germs, get feedback on my metrics from my doctors and follow the path of treatment we plan. No shortcuts, no deviations. Health, and even my life depend upon it. If you don't know how good it feels to understand and live that, then you've never experienced the power of determining your One Thing.
Sunday is my final chemotherapy treatment for the clinical trial I'm currently going through. In about ten days I'll discover whether or not this treatment made any progress on my rare form of AML (monosomy 7). I've chosen my words carefully in terms of deciding how to deal with cancer. I don't believe you defeat cancer, rather you recover from it.
Many of my friends and family have the feeling that I have a tendency to look at conditions and events in my world and act overly responsible. In other words my belief is that if something came into my life, whatever it is, than somehow I am accountable and responsible for it showing up. Something I did, omitted or unconsciously acted upon caused this to occur. I'm not trying to convince you that this is right. I've just found it to be a principal I can live with and make sense of the world.
The bad news in believing this is I'm responsible for getting AML. That can lead to blame and shame. I choose not to go there. Instead I believe that if something I did (didn't do) led to this trial, then that means the answer for recovery is also something I can control.
That's what I've been working on daily in my meditations. How do I need to change to get my cancer in remission and live the life I feel I'm intended to from this point on? My belief is I will recover. My belief is that this will be the defining moment in my life that only good things will come from.