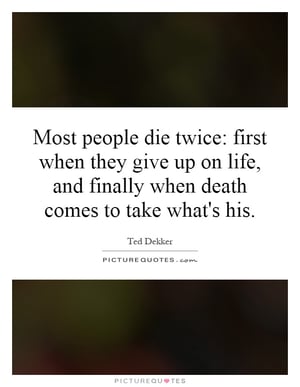 When do most people die?
It's a startling fact: MORE PEOPLE DIE MONDAY MORNING AT 9 A.M. THAN ANY OTHER TIME.
Why?
In Jon Gordon's, The Energy Bus, the perky bus driver tells the protagonist, George this, "Monday at 9 A.M. is when people start their workweek. "People would rather die than go to work. It sounds funny but actually it's quite sad. People feel like they don't have a choice. So they give up. But I am here to tell you today that you do have a choice."
YOUR CHOICE
This is not just about your choice. It's the choice for the people you lead, manage, and influence every day.
Jon's answer is, "You don't have to sit passively by like so many other unhappy souls who let life create them. You can take the wheel and choose to create your life, one thought, one belief, one action, one choice at a time. It's your bus and you're the driver and you choose where you are going and the kind of ride it's going to be."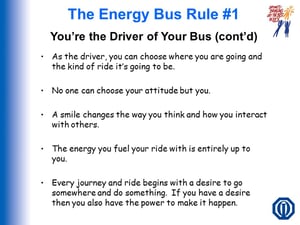 When I struggled in my first job as a radio sales person for a radio station in Fond du Lac, Wisconsin I learned the importance of attitude.
I created a winning habit each morning. I'd listen to Earl Nightingale's Lead the Field audio.
The most important lesson: "Your attitude at the beginning of a task, more than anything else determines the successful outcome of that task!" Earl Nightingale
I chose my attitude.
Act enthusiastic and you'll be enthusiastic.
If you've taken the Dale Carnegie Course you've heard that phrase repeatedly.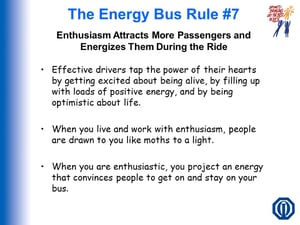 At the beginning of each meeting, our Dale Carnegie instructor, Judy Meyer, would pump us up by repeating this phrase over and over. You might start the first repetition out lethargic and listless, but by the 9th or 10th recitation you'd be more enthusiastic.
Do your people know and understand this principle?
How to become CEO
CEO stands for Chief Energy Officer. That's what you need. It's what your people need. If you're not succeeding, the first place to look is you and your people's energy.
The Energy Bus explains, Why energy? Because energy is the currency of personal and professional success today. If you don't have it you can't lead, inspire, or make a difference. And the great thing about being a Chief Energy Officer is that anyone in your company including you can become one. Deciding to become a Chief Energy Officer means that you share positive, powerful, and contagious energy with your co-workers, employees, and customers! It means you communicate from the heart.
Emotional Intelligence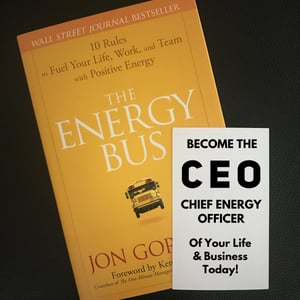 Research indicates Emotional Intelligence is responsible for 80 percent of adult success.
Emotional Intelligence (EI) really is tapping the power of your heart when you lead, sell, and communicate. Emotional Intelligence and heartfelt leadership are one and the same. Communicate effectively and contagiously.
Simplified this means people like you, respect you. They want to follow you.
Enthusiasm is Rule #7 for the Ride of Your Life: Enthusiasm Attracts More Passengers and Energizes Them During the Ride.
Chief Energy Officers live and work with enthusiasm, tapping the power of their heart by getting excited about being alive, by filling up with loads of positive energy, and by being optimistic about life and work. They don't let fear stop them. They look at challenges as an opportunity to learn, grow, and succeed.
It's helpful to understand Enthusiasm comes from the Greek word entheos, which means 'inspired' or 'filled with the divine.'
WHY Enthusiasm and Energy are so important
When you are excited and enthusiastic about your life and work you bring this powerful divine energy to everything you do. People notice. They can see it and feel it. When you're enthusiastic, people want to get on your bus. Your bus is energized and people say, "Hey, I want to get on that bus." You get a reputation as someone people want to work for. Customers want to work with you. Salespeople come to you for advice. They look for enthusiastic energy to increase their sales. When you live and work with enthusiasm, people are drawn to you like moths to a light.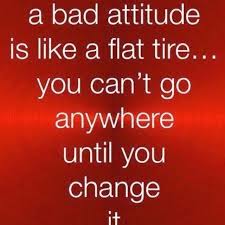 Walt Whitman said, we convince by our presence. When you are enthusiastic you project an energy that convinces people to get on and stay on your bus.
When you feel good, others around you feel good.
Negativity Reduces Performance
The converse is also true.
Negative people often tend to create negative cultures. Positive corporate cultures are created by positive people. The energy of a company or team is cultivated by the energy and enthusiasm of the leaders and each person in the organization who contributes to the collective energy and culture of it. In turn this collective energy influences each person's energy in the organization creating a perpetual cycle of positive energy or negative energy.
Daniel Goleman, author of Emotional Intelligence explains that a positive company with a positive corporate culture will outperform their negative counterparts every time.
Is it time you hired a coach to help you change the direction of your bus?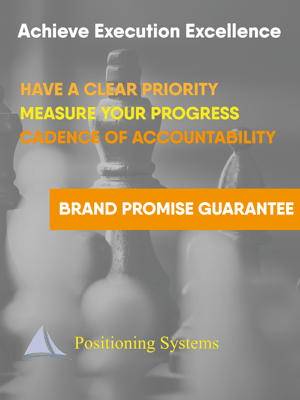 Growth demands Strategic Discipline.
Strengthening your teams performance and accountability requires developing a Winning Habit!
Positioning Systems is obsessively driven to improve your business and your team's execution. A winning habit starts with 3 Strategic Disciplines: Priority, Metrics and Meeting Rhythms. Your business will dramatically improve forecasting, accountability, individual, and team performance by creating alignment.
As an Execution Decision, Strategic Discipline increases your Profitability.
Positioning Systems helps your business achieve these outcomes on the Four most Important Decisions your business faces:
DECISION

RESULT/OUTCOME

PEOPLE

STRATEGY

EXECUTION

CASH
We help your business Achieve Execution Excellence.
Positioning Systems helps mid-sized ($5M - $250M) business Scale-UP. We align your business to focus on Your One Thing! To achieve growth, you need to evolve in today's rapidly changing economic environment. Have you been avoiding a conversation on how you can successfully grow your business? Contact dwick@positioningsystems.com to Scale Up your business! Take our Four Decisions Needs Assessment to discover how your business measures against other Scaled Up companies. We'll contact you.

Next Blog: Can You Change Your Strategy?
We've discussed changing your energy. Is it possible to change your strategy? A company dedicated to being first in technology, changed their approach to customer service. The decision to change Rackspace's strategy next blog.