As today's Fortune Growth Summit came to a close one of the coaches next to me, Howard Shore, whispered that this might be the best Growth Summit yet. I'd have to agree. Verne Harnish always wraps up the show with a short conclusion, several sponsor messages and today a comedian who is also a Jewish Rabbi. Rabbi Stephen Baars offered excellent comedic relief as well as an exceptional message on thinking. More of that in another blog. Todd Klein, author of Built to Change and Sally Hosghead, consultant and author of Fascinate: Seven Triggers to Persuasion and Captivation had great messages and ideas all share in the coming weeks.
Dr. Travis Bradberry cofounder of Talent Smart and author of Emotional Intelligence provided insightful ideas on leadership and the importance of EQ over IQ.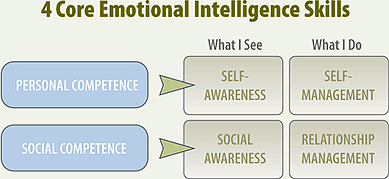 There is good news and bad news in his presentation. Let's define EQ. Emotional Intelligence is your ability to recognize and understand emotions in yourself and others, and your ability to use this awareness to manage your behavior and relationships.
The good news, Emotional Intelligence increases as we age. Plus anyone can increase their Emotional Intelligence. From supervisors to CEO's, Emotional Intelligence accounts for 60% of job performance. 90% of high performers have high EQ. The latter two figures provide a good testimony to the value of Emotional Intelligence.
The bad news? As you can see by this chart,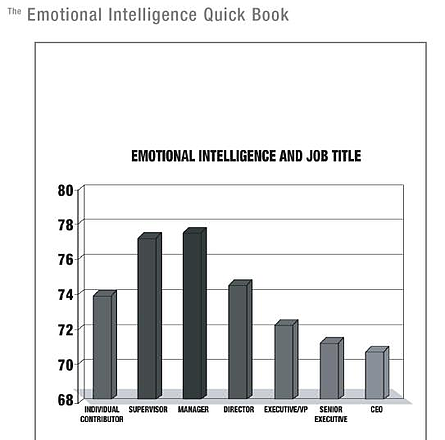 Emotional Intelligence peaks in middle management sliding down to where CEO's have some of the lowest EQ's.
Why then is Emotional Intelligence so important? If so many CEO's have low levels doesn't it suggests you don't have to have high Emotional Intelligence to become a CEO. True, however what if you want to be a good CEO? The difference is in the correlation of high performance and EQ scores for CEO's. The highest performing CEO's have much higher Emotional Intelligence scores.
Emotional Intelligence has a track record of success. A 2003 case study with Therma Tru Doors provides substantial evidence of Emotional Intelligence affect on performance.
Our emotions control us or we control them. Emotions affect decisions whether we are aware they do or not. In fact only 35% of people can accurately assess the effect emotions have on them. By recognizing our emotions and how they affect our performance in areas like decision making and relationships we can improve our performance. Best of all while IQ is stable [doesn't increase as we age – thus it is inborn talent] EQ can be developed and increased. The ability to improve your Emotional Intelligence can have a measurable effect on your leadership capacity, thus the growth of your team and business. I'll provide more on Emotional Intelligence, the discipline and methods to improve it in a future blog.
Todd Klein studied companies that transform their industry. He provided eight keys to success. You might expect transformational companies to be fearless and risk takers. Evidence for this and four of the eight my next blog.