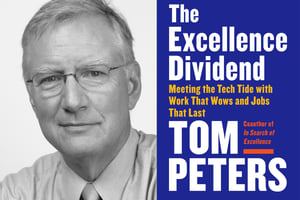 Much like the handouts Tom Peters provided in the program for the New Orleans ScaleUp Summit, Peters message was a rambling journey, punctuated by outbursts of emphatic annoyance, indignation, exasperation, outrage, and passion. At the heart of his message is Execution Excellence.
Peters moves from one subject to the next, loses his notes, and infrequently stops to share his disorganization with his audience.
Peter's showers his audience with thoughts, ideas, and powerful recommendations on what makes businesses work and succeed.
This deluge is captured in his recent book The Excellence Dividend.
SHOTGUN
Peters' loaded up and sprayed his thoughts like shotgun blasts, several times making eye contact with audience members who may or may not been guilty of the transgressions he admired or abhorred.
What is Tom Peters angry about?
Facebook for one, and their invasion of privacy!
However Peters narrowed his ire to organizations who fail to realize their people are their advantage, and to the multitude of companies who are still failing to hire women and elevate them to leadership positions.
The picture you see here in this blog, is one burst of information Peters sprinkled throughout his oratory: The 24 Rules.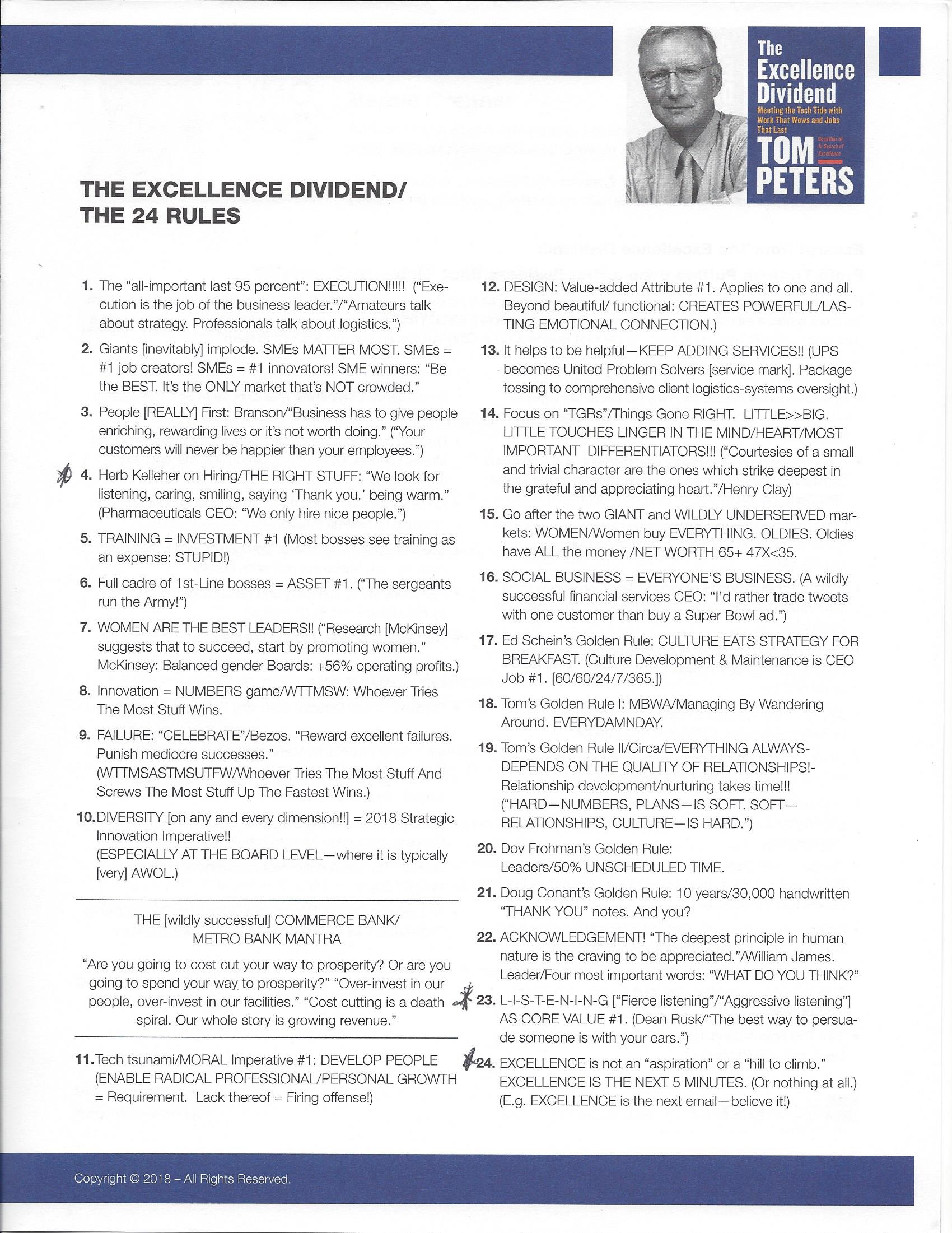 He praised our audience as job creators, and dissed the Fortune 500. Since our audience is SMEs (Small and medium-sized enterprises) these comments were met with applause and laughter.
He shared a joke about a man who asked how to start a small company. "What should I do?" he asked. "Buy a large company," answered Peters, "and wait!"
He noted Fortune 500 companies only employ 6% of the employed. It's the businesses in attendance who employ the largest number of people, and continue to grow our national economy.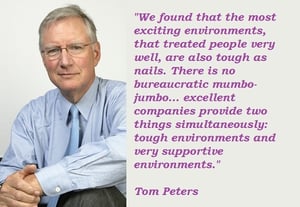 LISTENING
Peters urged the audience to make listening a Core Value. He shared Dean Rusk's quote, "The best way to persuade is with your ears!"
Peters found Richard Branson's Finding My Virginity, (120 of its first 300 pages are on listening) particularly insightful. Listening can be trained. It's practical. Furthermore he noted, women are better listeners than men.
To win the hearts and minds of your people, you need to listen.
PEOPLE: Hard is Easy, Soft is Hard
He admonished us, "There's no excuse whatsoever for not making your business a great place to work," insisting every leader has a moral obligation to make the person they hire better by the time they leave.
Peters isn't fond of having your people leave.
Managers fear investing in training, believing they're just training their people to leave for their next position.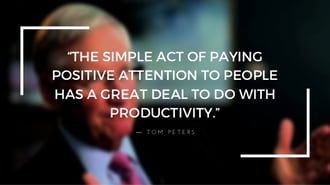 Peters' recommendation?
"Train them so well enough they can leave, treat them so well they won't"
Peters praised management as the pinnacle of human achievement when it helps team members grow and flourish. A manager's job is to enhance lives.
He asked our audience why it is that the Army, Navy, and Air Force obsess about training.
Training he emphasized should be the number one investment in any organization.
Why don't businesses get the People stuff right? Peters believes the really hard stuff is the People stuff. "Hard is easy, soft is hard," Peters acknowledged.
Acquiring Soft Skills: You Gotta Practice the Scales, convincingly shares "soft is hard" idea, in the training aspect!
WOMEN #1 WINNING FORMULA
Citing McKinsey, articles and research, (See: Why Women Are More Effective Leaders Than Men, Are Women Better Leaders than Men? (HBR), Women Are Better Leaders Than Men, Study of 3000 Managers Concludes) Peters still finds it difficult to understand how companies with products and services predominately purchased by women, fail to have women in leadership positions.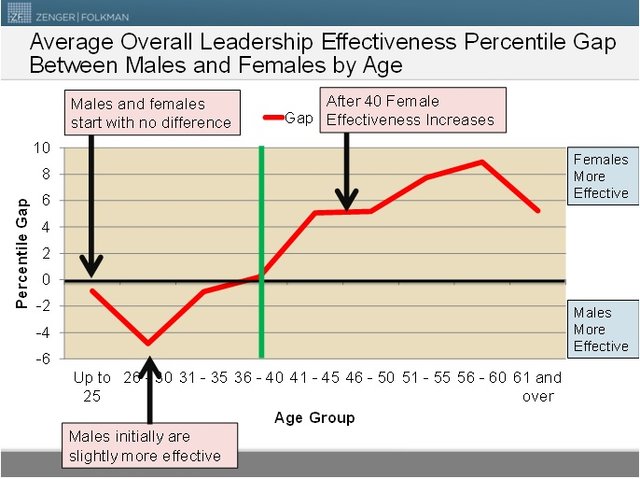 According to McKinsey, companies with gender balance outperform male dominated boards/leadership achieving 56% more operating profit.
Women buy everything. Women buy 85% of the goods and services. If your leadership isn't representative of the market your selling to, you're making a grave mistake.
Excellence pays dividends. Excellence is about execution.
The Excellence Dividend contains business stories from company's achieving Excellence. Metro Bank gives out dog bowls, pooper scoopers, and dog biscuits to their customers. Metro wants customers to come into their locations. This is counterintuitive to banking trends. Yet Metro Bank is growing like crazy in England. I'll share more on The Excellence Dividend in future blogs.
Growth demands Strategic Discipline.
Positioning Systems helps your business grow through the Four Decisions: People, Strategy, Execution, Cash. We'll help your business achieve Execution Excellence.
Each of the Four Decisions Produces a specific outcome. In our coaching process, we repeat examples and the definitions of the Four Decisions frequently to make sure our customers remember the value and result each decision produces for your business.
DECISION

RESULT/OUTCOME

PEOPLE

STRATEGY

EXECUTION

CASH
If you're business is failing to achieve industry leading results in any of these areas, that Decision should be your One Thing.
Positioning Systems helps mid-sized ($5M - $250M) business Scale-UP. We align your business to focus on Your One Thing! To achieve growth, you need to evolve in today's rapidly changing economic environment. Are you avoiding a conversation with yourself on how to can successfully grow your business? Contact dwick@positioningsystems.com to Scale Up your business! Take our Four Decisions Needs Assessment to discover how your business measures against other Scaled Up companies. We'll contact you.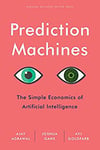 Next Blog – AI is a Prediction Machine
Avi Goldfarb, Co-Author of Prediction Machines: The Simple Economics of Artificial Intelligence shared how and where you should utilize AI now in your business. Better prediction means less uncertainty. Need to predict events/outcomes in your business? Don't miss our next blog.