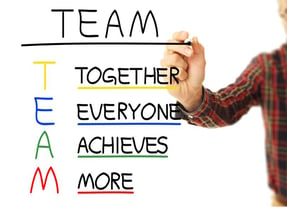 If you've played competitive sports you experienced the thrill of your teams victories, perhaps even the excitement of winning a game you had no right to given your team's talent level. In Alignment – How Will 2012 Play Out for You? I shared my experience playing basketball at a small school in Princeton, Wisconsin, and the need for your teammates to be aligned on your priority.
In Teams or Individuals – Scrum Lessons we explained how the best Yale students perform at a 10 to 1 ratio to their slower compatriots. Meanwhile teams of students perform 2000 to 1 faster than their comparative teams.
The challenges with teams can partially be explained by size as we offered in Scrum - When Size Matters. The larger a team gets the slower it performs and the harder it is to communicate. Perhaps this explains football popularity. Its 11 team members each on offense and defense need to perform at a high level in order to achieve excellence.
Growing up in New England area, author Jeff Sutherland, Scrum: The Art of Doing Twice the Work in Half the Time, is a fan of the New England Patriots and Boston Celtics. He points to games for the latter where Larry Bird, John McHale, and Robert Parrish played flawlessly together, knowing where the other person would be on the court even before they got there.
My favorite example of great teams would be an earlier version of the Boston Celtics coached by Red Auerbach. His Boston Celtics won 9 NBA championships, 8 in a row. Of course my favorite team would be the Green Bay Packers coached by Vince Lombardi. While many of Lombardi's players are in the NFL Hall of Fame, my belief is they wouldn't be there if those Packer teams he coached hadn't won an unprecedented number of championships.
Lombardi's love for his players, his discipline, and passion for excellence drove his players to perform at a higher level together than they would have achieved individually. These are the qualities of any great coach, and the characteristics of any great team.
"He can take his'n' and beat you'rn', and he can take you'rn' and beat his'n'....." This was Florida A&M Coach Jake Gaither's evaluation of Paul Bryant as a head coach. This quote is also attributed to now deceased NFL coach Bum Phillips.
Consider that for a minute. How is it be possible to take a team you'd just beaten, put them under your coaching system and then go out and beat the team you'd coached?
It would arguably mean you are either a better coach or you have a better system. Scrum provides you with the better system. If people perform better without criticism (as we outlined in Steps 3 & 4: Positive Reinforcement: "Make Others Feel Important") and the natural tendency is to blame others when things go wrong as explained in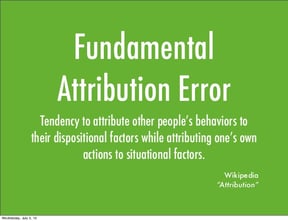 Human Reactions to Systems – Understanding Fundamental Attribution Error, think of the advantage teams that don't participate in these two morale diminishing characteristics enjoy. Scrum employs positive reinforcement and eliminates blame.
Bill Belichick, "Do Your Job!" is a classic example of a system focus.
Sutherland describes a visiting a European friend who is a big soccer fan, …then came this moment: the score was tied, the seconds were ticking down, and his team had the ball. From maybe a quarter of the way down the field, without looking at where his teammates were, a forward kicked the ball into a mass of players in front of the goal. The problem was, none were on the kicker's team. For an instant I felt deflated; then, suddenly, a player on my friend's team appeared—at just the right place and time, and headed the ball into the goal. The player had run full speed from midfield into the mass of opponents in front of the goal, where he seized the opportunity to head the ball. It was a total surprise. The forward who'd originally kicked the ball had faith, though, that his teammate would be where he was supposed to be. And that teammate had faith that the ball would be placed where he could do something with it. It was the kind of synchronicity that is inspiring to watch.
Sutherland believes that's a place Scrum can help people to reach. "It's not impossible. It's not only the elites and athletes and special people who can do this. It's about setting up the right framework with the right incentives and giving people the freedom, respect, and authority to do things themselves. Greatness can't be imposed; it has to come from within. But it does live within all of us".
I've always believed the best in people. The best leaders do. They see what others don't see. They not only witness, they encourage, support and inspire the people they lead to achieve more than they believed they could achieve. It's the greatest feeling in the world to achieve more than you thought you were capable of, and even better is being the person to inspire that.
Isn't this what you want to feel as a leader?
Scrum can help you achieve it.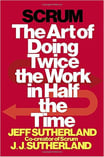 Here are THE TAKEAWAY's from Chapter 3, Scrum: The Art of Doing Twice the Work in Half the Time
Pull the Right Lever. Change Team performance. That has much more impact—by several orders of magnitude—than individual performance.
Transcendence. Great teams have a purpose that is greater than the individual; e.g., burying General MacArthur, winning the NBA championship.
Autonomy. Give teams the freedom to make decisions on how to take action—to be respected as masters of their craft. The ability to improvise will make all the difference, whether the unit is reporting on a revolution in the Middle East or making a sale.
Cross-functional. The team must have every skill needed to complete a project, whether the mission is to deliver Salesforce.com software or capture terrorists in Iraq.
Small Wins. Small teams get work done faster than big teams. The rule of thumb is seven team members—plus or minus two. Err on the small side.
Blame Is Stupid. Don't look for bad people; look for bad systems—ones that incentivize bad behavior and reward poor performance.
Time is the ultimate limiter of human endeavor, affecting everything from how much we work, to how long things take, to how successful we are. We'll look at how Scrum improves efficiency as well as look at Scrum's Daily Stand-Up meeting and how it compares to Rockefeller Habits Daily Huddle next blog.