Twelve tired, sweat covered young men shuffle through the hall toward a classroom. Each chooses a desk to sit in, plops themselves down for an unexpected respite from a grueling first week of basketball practice. The group looks around, engages in small talk, with one team member shouting out, "Wick, do you know what this is about?" I shrug my shoulders.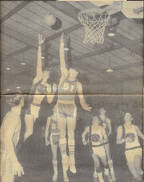 It's a first time experience for me as well as the rest of the team. Shortly thereafter, the new head coach enters his biology classroom where the boys have taken up temporary residence. Coach Belke strikes a commanding appearance. He's about 6'2" with a barrel chest, large thick forearms, and looks every bit like the man who supposedly had a try-out with the Chicago Bears. Immediately the room falls silent, such is the presence he dictates. While Coach Belke has coached football and basketball before at Princeton High School, it's been nearly a decade since he's done either. He volunteered to take on the task of coaching basketball this year when our coach of the past three years unexpectedly left for a better teaching position. After years of dismal sports performances, this team is expected to do well. Our sophomore year our team won the first game a Princeton basketball team had won after 37 consecutive losses. The following year (our junior season) our team finished 13-6, 3rd place in the conference. Expectations are high.
Coach Belke distributes a small sheet of paper to each boy. He then asks us to write on the piece of paper our expectations. Where do you expect the team to finish in conference this year? In just a few minutes he collects the forecasts, reviews and then gives the results. Ten boys vote first place, two 2nd place.
History gives us the prescience of how our team actually finished that season.
Where do you believe our team finished my senior year in high school?
Was it first place as ten of the twelve boys predicted, or 2nd place as two forecast?
If you said first place, you as I turned out to be, would be disappointed. My senior year our team finished 16-4, second place in our conference.
This story is to remind you of the critical need to have all of your team aligned with the vision and priorities of your business. As Verne Harnish points out in Mastering the Rockefeller Habits, Success is 1% vision, 99% alignment.
It's critical you spend time now in strategy and planning sessions for your business. It's critical to invest time in determining your SWOT each year, to look at your strategic elements and forecast for 3-5 years, your annual and first quarter plan. Ultimately your team should determine its ONE THING for 2012 and the ONE THING for the first quarter.
Is your team aligned? Do they know what the plan is for 2012? Do they have alignment on what each need to contribute for the company to achieve its priorities and most importantly your company's #1 priority for 2012?
Do you want to finish in 2nd place?