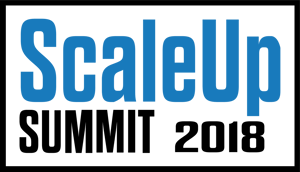 Donald Trump doesn't get much credit for his achievements as president. Many would ask, what achievements?
Yet as business owners, we all know the frustrations we feel the government weighs on us, with over regulation, taxes, and burgeoning paperwork.
Placing Linda McMahon, the wife of Vince McMahon co-owner with husband Vince McMahon of the WWE, in the position of Administrator of the US Small Business Administration, would be one of his best decisions.
Three Myths of the SBA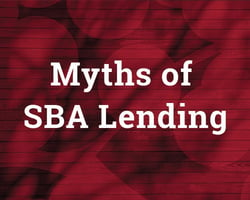 Just ahead of Linda McMahon's interview with Verne Harnish, out New Orleans ScaleUp Summit audience was given a brief presentation sharing 3 myths about SBA Loans
The S.B.A. Lends Money. The S.B.A. is a government guarantee program; it loans no money, but issues guarantees to lessen the risk for the many banks (and a handful of nonbank lenders) who actually make the loans.
When the S.B.A. Guarantees a Loan, There is No Need for Collateral. Many small-business owners believe if the S.B.A. backs the loan, there is no need for them to put up collateral. This is not the case. Lenders are required to take all available collateral and take a blanket lien on all company assets when making a loan. The government is guaranteeing a large percentage of the loan, but it will honor that commitment only if the borrower is willing to put his or her neck on the line, too.
Your business may not qualify for an S.B.A. Loan. Many companies believe SBA loans are only for small mom & pop businesses. The reality is the SBA guarantees loans for all types of sizes of business and your business could qualify.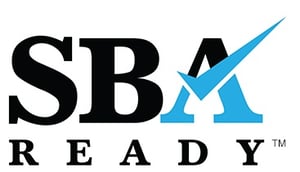 Best Kept Secret of SBA Loans
Verne introduced Linda and asked her questions about the SBA and specifically the actions she's taken to improve the SBA.
One of the best kept secrets is just how much in loans the SBA guaranteed. The current number is $30 Billion Dollars! The SBA is also on the ground when disasters occur. SCORE, retired business owners supply resources to businesses who otherwise can't afford business advice. The SBA offers small business development, veteran's outreach and in particular helps women in business.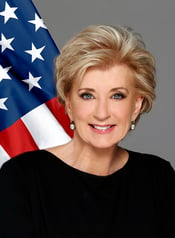 One of the first things McMahon did was to visit every SBA office and establish metrics for performance.
She shared her own background with growing WWE with her husband Vince, how close they were to going out of business several times. They come a long way from having to lease a typewriter for $12 a month to save on cash flow to taking the company public in 1999.
WWE Lessons
McMahons lessons from her struggles with WWE included consciously nurturing a personal relationship with the bank, paying attention to the little things (the big things she found take care of themselves!), treating every day like it was your first day on the job, being a consumer of your product, and making sure when you don't know the answer, you say so.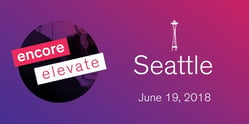 Her first tour as Administrator of SBA she branded the "Igniter Tour" She initiated a leadership conference titled the "Spark Conference." This, her second year she's initiated the theme "Elevate."
She realized when she began the position it would require time to realign the SBA. She gave her team 6 months to prepare, then she hardwired the new measures, and evaluated them over the next 6 months. It required a full year to reimagine the SBA.
Her lesson she took from the constant challenges at WWE, she is impacting at the SBA is, take risks! "It's not how you fall, it's how you get up!"
Growth demands Strategic Discipline.
Positioning Systems helps your business grow through the Four Decisions: People, Strategy, Execution, Cash. We'll help your business achieve Execution Excellence.
Each of the Four Decisions Produces a specific outcome. In our coaching process, we repeat examples and the definitions of the Four Decisions frequently to make sure our customers remember the value and result each decision produces for your business.
DECISION

RESULT/OUTCOME

PEOPLE

STRATEGY

EXECUTION

CASH
If you're business is failing to achieve industry leading results in any of these areas, that Decision should be your One Thing.
Positioning Systems helps mid-sized ($5M - $250M) business Scale-UP. We align your business to focus on Your One Thing! To achieve growth, you need to evolve in today's rapidly changing economic environment. Are you avoiding a conversation with yourself on how to can successfully grow your business? Contact dwick@positioningsystems.com to Scale Up your business! Take our Four Decisions Needs Assessment to discover how your business measures against other Scaled Up companies. We'll contact you.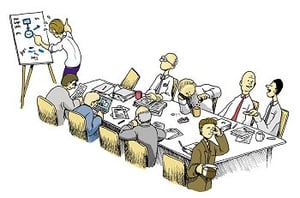 Next Blog – How to Avoid Killing Ideas
As a ScaleUp businesses coach, Positioning Systems recommends daily, weekly, monthly, quarterly and annual meeting structures to our customers. The formats are best practices to be efficient, help leadership learn the businesses DNA, how to make decisions and get team contribution through Collective Intelligence. Despite these best intentions, your meetings still may stifle ideas. Inc Magazine recently published an article detailing how to avoid killing employees best ideas. We'll share these next blog.