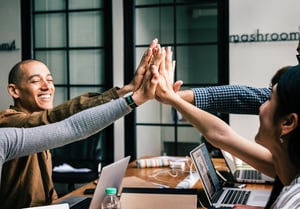 Several customers has told me how frustrating it is to manage and work with millennials.

A few weeks ago a young lady, Karoline Clarke, approached me with an article on Millennials. She asked if I'd be willing to publish her article on my blog.

This week I traveled to Illinois Tuesday and Atlanta Thursday to help two customers develop their Flywheel. In addition I just received a new computer, and this weekend my computer expert, Brian March, is getting my data downloaded to my new computer.

It's the prefect time to present Karoline's work and share some insights on millennials.

Millennials, also known as Generation Y or Gen Y, are the demographic cohort following Generation X and preceding Generation Z. Researchers and popular media typically use the early 1980s as starting birth years and the mid-1990s to early 2000s as ending birth year. (I have 3 sons who could be all considered as millennials)

As you can see by Karoline's insightful article, if you're frustrated by millennials, get over it! Discover how to work with them, and get the most from their special abilities.

First Simon Sinek's unique 12 minute video observation on millennials:

Here's Karoline's insights:

Millennials are currently the largest generation in the workforce, accounting for more than one in three of your employees or colleagues. With that figure set to rise to 75% by 2025, it's crucial that leaders learn how to manage and motivate this force effectively. By taking the time to understand this group's approach to life, you can set realistic project goals, incentivize your staff appropriately, and maximize their enthusiasm and energy, ultimately for the good of your business.

Mentorship and support

Studies have found that millennials value mentorship and regular feedback over traditional hierarchies. Managing this group successfully means recognizing their ideas and strengths, and coaching them to achieve them. Does this mean you can't set deadlines or targets? Absolutely not. However, adopting a more democratic or coaching style of management will yield better results with your millennial employees. Consider 360 appraisal processes, mentor schemes for high achievers, or open door policies so that your employees - millennial or not - feel part of your company's growth and success.

A balancing act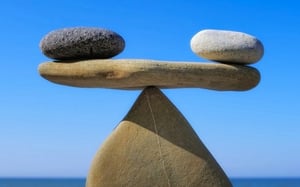 Millennials are big believers in achieving a work-life balance, with 77% claiming that flexible schedules would make them more productive.It may be more effective (and financially viable) for your company to offer flexible working or days in lieu, instead of increasing salaries, particularly when company budgets are tight. Equally, a commitment to mental health would demonstrate a care for the individual wellbeing of your employees, which supports millennials' drive for better balance. (One of my customers discovered "Flex Time" to be a benefit their employee's love!)
Experience chasers
A recent Harris Poll found that 78% of millennials prioritize spending on experiences or events over material possessions. As a leader, you can attract and retain more talent by helping your employees to achieve their dreams. (See One Thing – The Dream Manager) Consider whether it's feasible to offer placements in other offices in the network, investigate employee discount schemes with travel or event companies, or look into offering sabbaticals to reward long-term service. In return, you should receive loyalty and a buzz about your business.
As a significant percentage of your workforce, the modern millennial holds a lot of power, but also a huge amount of potential. With their tech-savvy, experience-hungry optimism, your company can benefit from their fresh thinking and enthusiasm. By learning to lead this group more effectively, and reward them in terms they'll appreciate, you can be a step ahead of your competition, winning and retaining new talent and ultimately energizing your business.
*contribution by Karoline Clarke
Growth demands Strategic Discipline.
To build an enduring great organization you need disciplined people, engaged in disciplined thought, to take disciplined action, to produce superior results, making a distinctive impact in the world.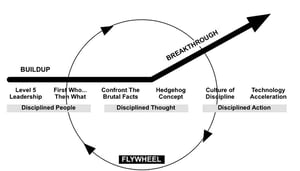 Discipline sustains momentum, over a long period of time, to lay the foundations for lasting endurance. It's the framework for Good to Great:
Stage 1: Disciplined People
Stage 2: Disciplined Thought
Stage 3: Disciplined Action
Stage 4: Build Greatness
Positioning Systems is obsessively driven to elevate your teams Discipline. A winning habit starts with 3 Strategic Disciplines: Priority, Metrics and Meeting Rhythms. Your business dramatically improves forecasting, accountability, individual, and team performance.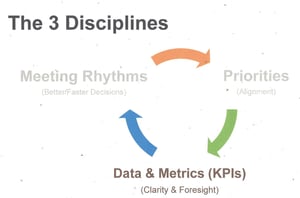 Creating Execution Excellence demands creating/defining, understanding, with creativity and DISCIPLINE your Flywheel.
Meeting Rhythms achieve a disciplined focus on performance metrics to drive growth.
Positioning Systems helps your business achieve these outcomes on the Four most Important Decisions your business faces:
DECISION

RESULT/OUTCOME

PEOPLE

STRATEGY

EXECUTION

CASH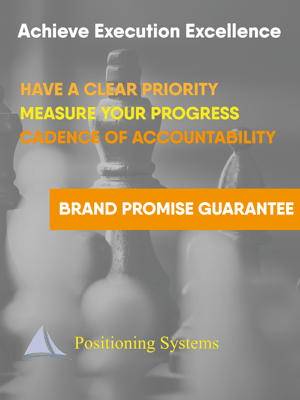 We help your business Achieve Execution Excellence.
Positioning Systems helps mid-sized ($5M - $250M) business Scale-UP. We align your business to focus on Your One Thing! Contact dwick@positioningsystems.com to Scale Up your business! Take our Four Decisions Needs Assessment to discover how your business measures against other Scaled Up companies. We'll contact you.
Next Blog: Customer Flywheel Example
Last week's Flywheel development with two of my customers was energizing, both for me and my customers. The insight gained from working on their flywheel, generated enthusiasm, clarity and deep understanding of how their business works. More importantly it demonstrated to them how powerful they can become by following their flywheel to generate more momentum, and growth. Next week I'll share insights from these two development exercises, and an example of one of my previous customers flywheel.