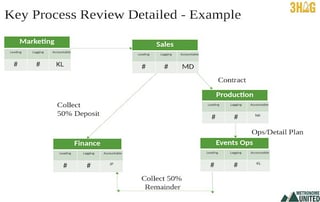 How does money flow through your organization? How do customers flow through your business?
This question begins with how you acquire customers, how you retain them, and whether they come back to purchase again.
What could be more important?
KFFM (Key Function Flow Map)
The KFFM is the foundation for everything in your business. What flows through the KFFM is widgets, which are the non-fiscal things your people control in your business. This view helps you recognize the key elements your business needs to make better, faster decisions. The Key Function Flow Map is the foundation for how your company makes money.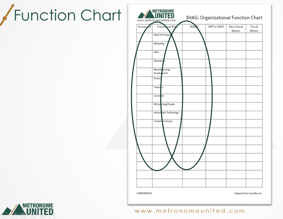 Identifying your Key Function Flow Map begins with identifying the key functions in your business. (see function chart here.) You must recognize who is accountable for what.
As you can see in this Level 1 example (below) the boxes represent the function responsible for each movement of cash/customer from marketing through sales, then Operations, to the finance area.
This example indicates metrics and effectiveness along with the initials of the person responsible. Special thanks to Metronomics Coach Ged Roberts for allowing me to share this view of one of his customers KFFM's. Discover more from Ged on KFFM here.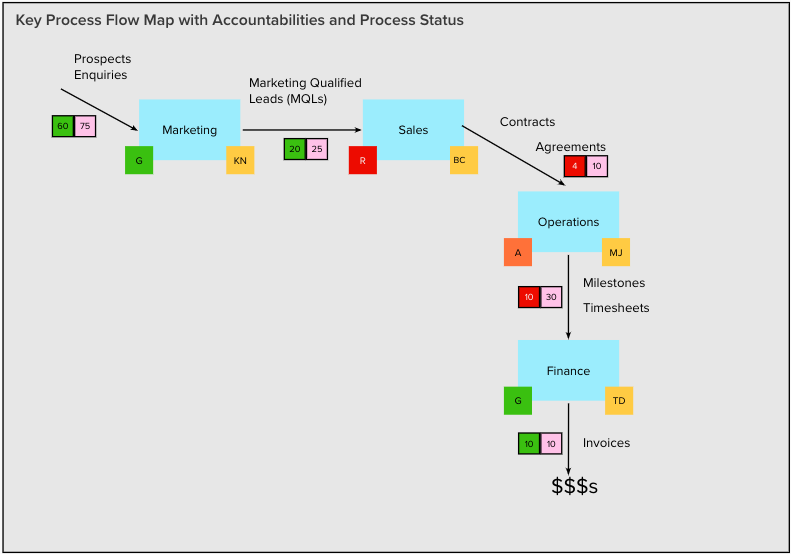 For marketing, KN is responsible for generating 60 leads which right now indicates it's being successful (the G box on the left). Qualified leads move from Marketing to Sales. The number of leads required is 25, with 20 being a green (success level). BC (initials) is responsible for this function (Sales) and currently, Sales are not generating enough R (Red success criteria). From sales, contract agreements flow to Operations. In all these metrics the blue number indicates the upper goal to target, while the number before it represents by the color Red = failing, Yellow = not hitting but time still left; Green = meeting or exceeding the target. The Agreement metric shows 4 in red to indicate they're failing currently to reach their target.
Consequently, operations while functioning well (Green A), they are not achieving their milestones, possibly due to the lack of sales.
Finally, finance is green, with TD as the person responsible, and they are achieving their metric (10 green)
What's Working, What's Not?
The Key Function Flow Map provides a high-level view of the critical functions in your business to help you see quickly what's working, and where the bottlenecks are in your business.
Mapping this correctly enables you to zero in on performance issues and invest time to correct the process so your business can grow consistently and predictably.
The KFFM is a tool that should be updated no less than weekly or daily if your business information changes quickly. Retail would be an example of where a daily update would be valuable since weather, and marketing messaging can greatly affect traffic and sales counts.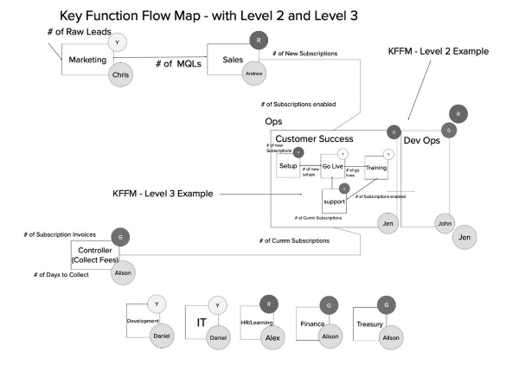 Each accountable function can also dive deeper into its function creating several levels of KFFM's to monitor their internal processes, helping more team members contribute and monitor its success. In this way, you're also training the next leader.
The KFFM is also the first step to recognizing what your Flywheel is. What drives your business? Looking at your business at this high level you can begin to understand the forces attracting your customers to you. It's critical to understand this to discover your profit per X.
Profit per X ultimately reveals what drives your business. Once my car wash customer discovered his profit per x was profit per membership customer, he was able to change his entire business model to focus on growing his membership customers (customers who sign up for unlimited car washes each month and auto-billing). It dramatically changed his team's focus and the business's growth trajectory.
KFFM Value
The KFFM answers several essential questions for your business. How do customers/cash flow through your business? What functions are critical to money/customers flowing efficiently and predictably through the business? How is each function performing? Where are the opportunities to improve, and which functions are bottlenecks to growth? What is our Profit per X?
Another value to the KFFM is setting leading indicators for each function that will focus on achieving your daily, weekly, monthly, quarterly, and annual metrics. Leading indicators are the best targets to set for achievement. At least one of your metrics for each function should be a leading indicator.

Too often we fail to forecast ahead to the numbers and activities we need to achieve to reach our goals. The KFFM will monitor efforts to achieve the key activities as well as how the system is performing in meeting your targets.
To create an environment where everyone is inspired to give their best, contact Positioning Systems today to schedule a free exploratory meeting.
Growth demands Strategic Discipline.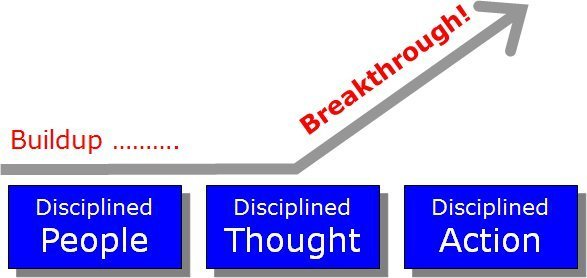 Building an enduring great organization requires disciplined people, disciplined thought, disciplined action, superior results, producing a distinctive impact in the world.
Discipline sustains momentum, over a long period of time, laying the foundations for lasting endurance.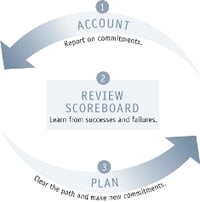 A winning habit starts with 3 Strategic Disciplines: Priority, Metrics, and Meeting Rhythms. Forecasting, accountability, individual, and team performance improve dramatically.
Meeting Rhythms achieve a disciplined focus on performance metrics to drive growth.
Let Positioning Systems help your business achieve these outcomes on the Four most Important Decisions your business faces:
DECISION

RESULT/OUTCOME

PEOPLE

STRATEGY

EXECUTION

CASH
Positioning Systems helps mid-sized ($5M - $250M) business Scale-UP. We align your business to focus on Your One Thing! Contact dwick@positioningsystems.com to Scale Up your business! Take our Four Decisions Needs Assessment to discover how your business measures against other Scaled Up companies. We'll contact you.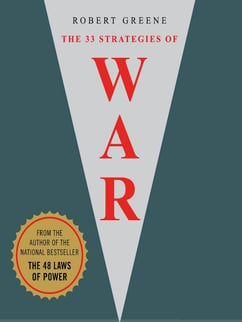 NEXT BLOG – THE CHAIN-REACTION STRATEGY
I've finished reading The 33 Strategies of War by Robert Greene. He closes the book with a chapter on terrorism. In 33 chapters he shares strategy stories about the Vietnam War, The Iliad, Napoleon's genius, and strategic failures in Russia and marrying Josephine. The final chapter on terror illustrates perhaps the most critical factor leadership requires. We'll explore this, next blog.