"I'm never coming back to Cedar Rapids, Iowa, Doug!"
My customer Sat Singh, from Autopia Car Wash, expressed his disappointment on Wednesday morning about to fly back to his home in Concord, California that the temperature was -17 degrees.
Still the two day workshop he attended provided his business with the foundation to change some of their practices and ultimately discover not only their Profit per X, but also their X Factor. This was in 2009 when Gazelles Public workshops were still two days. (Interested in attending our one day Scaling Up Workshop on November 2 in Cedar Rapids, check it out here.)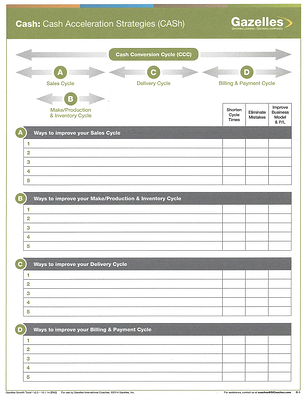 During the first day of the workshop I introduced the Cash Conversion Cycle to the participants. As we discussed the critical value of Cash in your business a lightbulb suddenly came on for Sat.
Sat had been discouraged by the number of car wash memberships his administration staff had to call each month to update their credit card in order to receive their payments. No one was clearly responsible for making these calls. In turn it was always a last minute fire drill to call, contact, and collect the information to re-bill these members again.
While the credit card issue wasn't going to go-away, Sat realized these customers were increasingly valuable. First they paid in advance for his services. Second they paid whether or not they used the number of car washes they paid for.
In my explanation of the crucial value of cash in a business, I often offer this comparison: When a baby is born, love is like oxygen to them. They desperately need the love and affection, the caring, compassionate tenderness from their mother. Cash to a business is just as grave.
Recognizing his car wash members were providing him with cash ahead of using his services opened Sat's eyes to the value of his membership club member's contribution.
X-FACTOR
When Sat returned to California, he began to run the numbers to analyze just how valuable these car wash memberships were to his business. What he discovered surprised him.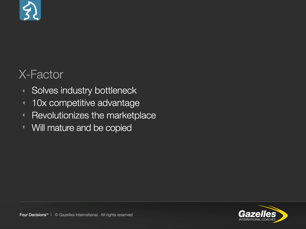 As part of the two day workshop we shared tools in each of the Four Decisions. The Cash Conversion Cycle is a CASH tool we do an exercise in the workshop on to get everyone attending to understand how valuable CASH is to your business.
As we continued we shared several tools on STRATEGY. One of these is your X-Factor. An X-Factor provides a 10X advantage over your competition. Read Strategy Decisions - Actions to Live By, Catalytic Mechanism, X Factor to discover Outback Steakhouses X-Factor.
When Sat crunched the numbers he discovered that his car wash members where…?
If you guessed 10X more valuable than a one-time car wash customer, you are correct.
Not only had Sat discovered his card carrying membership customers were providing significant sums of cash flow to his business, he discovered they were his most valuable customer!
PROFIT PER X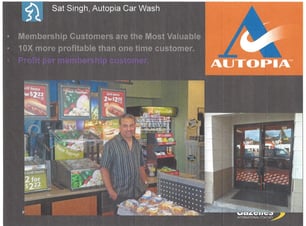 Once Sat discovered this we quickly made memberships his ONE THING. He adjusted the role of his individual car wash managers to focus on customer satisfaction and each of his locations began pushing the membership concept to every customer. Signs were displayed all over the washes. The cash register attendants had signs next to the register promoting the advantages of membership, and each employee serving in this capacity has required to ask customers to become members, and were paid a commission on their success.
Sat told me months later that this completely transformed his business. As he noted, "Doug I'm not in the car wash business, I'm in the membership business!" Imagine the insight understanding with crystal clear clarity what you need to have everyone in your organization focused on.
Profit per Membership card member became Sat's Profit Per X ratio to concentrate on!
Rarely do these important Strategic elements come together this quickly. In Sat's case this process took about 10 – 12 months. It was a process of absorbing and analyzing the data on their customers. Then it was sharing it with his people, particularly the leadership team. In annual planning for the following year it became the company's One Thing.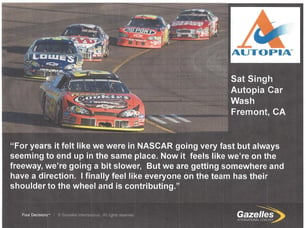 Sat offered as you see in this picture, understanding how valuable his membership card members were to his business was a transforming moment in his business. Autopia Car Washes have enjoyed great revenue and expansion due to this key understanding of the critical nature of Cash, their X-Factor and his profit per X.
Sat races his BMW's competitively. The following quote is convincing proof of the power identifying these elements made in his business.
HEDGEHOG CONCEPT
Profit per X is a challenging element to discover. The biggest reason is we're often stuck in the industry standard dictum. If you're using the industry standard as your Profit per X, chances are you've not dug deep enough. How crystal clear is your focus if you're using the same standard every other business is using in your industry to judge your profitability? No one in the Car Wash industry is using car wash membership as their profit per X. It works for Autopia in California; however that might not work for a Midwestern or East Coast car wash.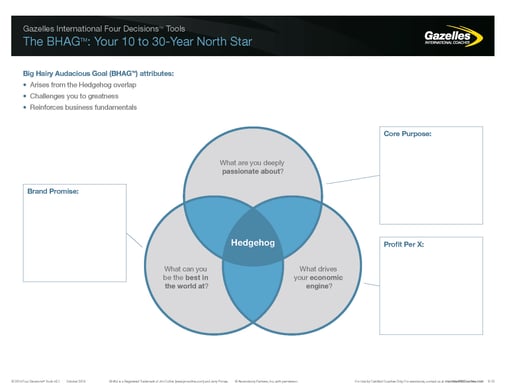 Your Profit per X should give you valuable insight into your business and how to do business. Check out Strategic Discipline blog Four Decisions Strategy –7 Strata, WHO, Brand Promise, Profit Per X to discover Southwest, Wells Fargo and New Systems Laundry to understand their Profit per X ratio.
One of the more difficult and often seldom attempted elements of the Hedgehog Concept is, "what can you be best in the world at?" We identify this as your Brand Promise on the One Page Strategic Plan.
Brand Promise and Brand Promise guarantee truly tell your customers and the world we're the best at this. We're so confident we're willing to guarantee it. In fact I'm so confident of my Brand Promise I'm willing to bet my life on it. In fact I did.
Learn more on Brand Promise, the third component of the Hedgehog Concept, next blog.