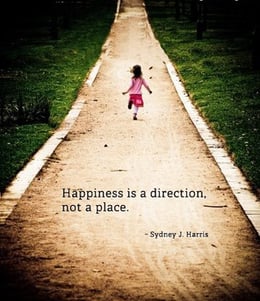 How often do you invest time making the simple complicated?
Why is deciding annually, quarterly, each day, and week what your top priority is, so important?
Sydney J. Harris sums it up pretty well:
"Happiness is a direction, not a place."
Sydney Harris was a journalist for the Chicago Daily News and the Chicago Sun-Times. In case you question the soundness of his quote consider these other quotes attributed to Harris:
"The time to relax is when you don't have time for it."
"The whole purpose of education is to turn mirrors into windows."
"When I hear somebody sigh, 'Life is hard,' I am always tempted to ask, 'Compared to what?'"
PRIORITY – YOU & Y0UR COMPANY'S ONE THING
We've recommended and written a number of blogs on the critical value of determining you and your company's One Thing. In fact our Strategic Discipline blog contains 53 blogs related to the idea of One Thing. Most recently we shared a number of ideas on The ONE Thing: The Surprisingly Simple Truth Behind Extraordinary Results by Gary Keller, Jay Papasan.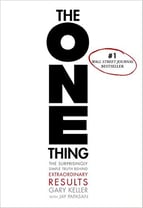 If you agree Happiness is a direction, then finding, exploring and moving in A direction is vital to you and your company's happiness.
How many people do you know that are unhappy?
How many businesses do you know that fail to have people who are engaged and appear genuinely happy in their work?
You can go to any restaurant and discover a waiter, a hostess, or a bartender who is often on either side of this fence.
Find a restaurant that all three of these customer service people are happy and chances are you are going to go back consistently.
Find a happy person, a happy business. The commonality? THEY HAVE DIRECTION!
When a business gets everyone rowing in the same direction the growth, harmony and success they achieve is dramatic.
Patrick Lencioni states this much better in The Five Dysfunctions of a Team: A Leadership Fable.
"If you could get all the people in an organization rowing in the same direction, you could dominate any industry, in any market, against any competition, at any time."
In order to get everyone rowing in the same direction, first you must identify the direction you wish to move toward. This is where the principles of Strategic Discipline impact the business.
Annually and quarterly meetings expressly identify your business' One Thing. Failing to identify your One Thing robs you and your organization of productivity. In Gary Keller's The ONE Thing: The Surprisingly Simple Truth Behind Extraordinary Results Keller shared Six Lies that prevent you from achieving your One Thing. Just as there are the Six Lies that will deceive and mislead you, there are Four Thieves that can hold you up and rob you of your productivity. Discover these in Hijacked - Four Thieves of Productivity.
You and your team must get into the habit of discovering your One Thing annually and quarterly to create the direction to make everyone "happier!"
Yet once you've achieved this, it can't stop simply with identification. You need to measure your progress against your One Thing, and you must communicate it consistently, cascading it to the front lines, and ensuring that everyone in the organization achieves measurements that produce the outcome your One Thing is. It's why customers we work with providing Strategic Discipline – Why It Guarantees Success meet or exceed their priorities consistently. It's because Strategic Discipline Harnesses Powerful Forces. It's why even if you fail to achieve success one quarter or even multiple quarters, you're learning, and eventually the compounding effect of your efforts generates powerful results.
Even if you fail to achieve your annual One Thing twice, the force of persistence and the clarity of direction eventually means you achieve overwhelming success. If you don't believe this read What's Your One Thing (3X).
STRATEGY IS DIRECTION FINDING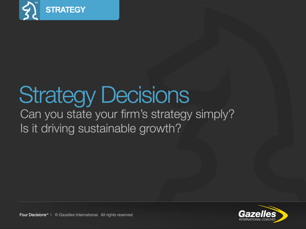 The result of getting Strategy right in your business is Top Line Revenue Growth. Strategy tools help our customers develop direction. Consider Your Strategy Statement, BHAG, Core Purpose, Core Values, 3-5 Year Plan and Capabilities, Profit per X, and Core Competencies. Each is directional, especially if your company fails to have these already identified for your team.
Is more direction, more context, and clarity about your business' vision a good or bad thing?
Patrick Lencioni wrote a book, The Advantage, about the value of clarity.
When you're traveling do you want more clarity on your path or less? Would you like a very good GPS or a poor one?
If direction really is the key to happiness, then doesn't it make sense to give your business, your team of followers, as much clarity about your direction as possible?
One of my customers is working through the process of crafting their Core Values. Patrick Lencioni new book, The Ideal Team Player: How to Recognize and Cultivate The Three Essential Virtues suggests Humble, Hungry, and Smart as strong considerations for your Core Values. We'll explore these next blog.