We're exploring the Four Decisions resources and Growth tools Positioning Systems and Gazelles coaches provide to our customer to help you become familiar with how you can ramp up the growth of your small to mid-sized business.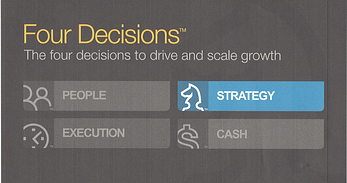 Strategy challenges are indicated by a slowing in top line revenue growth. If revenue is not growing as quickly as you like, then it's time to re-examine your strategy i.e. what you're selling to whom. Decisions equal success - and there are four decisions, in growing your business, that you must get right or risk leaving significant revenues, profits, and time on the table. These four decisions: People, Strategy, Execution, and Cash.
Previous blogs in this series included:
Rockefeller Habits 4 Decisions Tools - People
Rockefeller Habits 4 Decisions Tools – People Continued
Four Decision Growth Tools – Strategy Yields Top Line Revenue Growth
Four Decision Growth Tools – Strategy for Top Line Revenue Growth (Cont.)
There are still several tools to offer in Strategy. We're often asked, "What is it about our tools that customers find most valuable and useful?" The clear feedback trend is that the Gazelles Tools (e.g. Growth Tools and the One-Page Strategic Plan), are SIMPLE, PRACTICAL and ACTIONABLE. By that we mean:
SIMPLE – Easy to use without complex instructions.
PRACTICAL – They make a difference.
ACTIONABLE – The tools can be acted on (used) right away.
A key operating principle we advocate is to have a "bias toward action" When in doubt, don't overthink a situation – TAKE ACTION and move forward; or as one thought leader has shared – move forward and if necessary, fail forward by taking action.
Let's look at several more Strategy Growth tools today.
Seven Strata of Strategy
Verne continuously polls growth company leaders in regard to which of the Four Decisions is most gnawing on them – the one they feel needs important focus, consideration and development. Through time the answers, trends and patterns change with changing economic, political and social forces changes
In the recent economic downturn of 2008-2011 ("The Great Recession"), the clear pattern in CEO feedback was the Strategy Decision – primarily due to the impact of the recession had been deep and fundamental for many companies. They began asking the question all over again, 'What is our strategy and what are the elements of strategy for our company to grow and succeed?'
As Verne pondered the question, he continued his regular dialogue with thought leaders, and conducted his own personal research. Here is what has transpired: The development of what Verne calls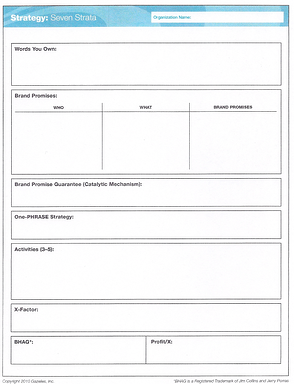 'The Seven Strata of Strategy' – the 7 key elements to have a solid, comprehensive Strategy for a mid-market growth company, and of course, all on one page!
For more from Verne Harnish, and a specific example from BuildDirect.com, check out THE 7 STRATA OF STRATEGY: GROWING YOUR BUSINESS. You can also explore Positioning Systems series of blogs on each of the 7 Strata here.
WHO: Your Core Customer
Bob Bloom is the author of The Inside Advantage and a Gazelles summit speaker and faculty member. In Bob's book and workshops, he has a four-step process that is repeatable and simple to help clients determine their Core Customer. The process includes determining your
Who? (Core Customer)
What? (you are selling)
How? (you position and sell it),
Imaginative Acts? (Special activities that differentiate and make your process successful).
The end outcome is a simple, one-page statement encompassing the four items above – simple, but compelling and elegant.
The question here is, is your WHO clear? You must think of your customer or potential customer in the singular – as one living and breathing person. It must be a person you can get to know and develop a close relationship with. It's very helpful to form a mental picture of the customer you are trying to sell. You don't sell your product or service to a demographic. You must clearly identify the customer who purchases. WHO is the Core Customer most likely to buy your product or service in the quantity required for optimal profit?
Positioning Systems once again explored this entire process starting with your WHO in a series of blogs you can explore HERE. You find a lot more details on how and why this is such an important decision to make for your business.
Brand Promise
A Brand Promise is the key factor that sets you apart from all your competitors and it's brings customers to you. It must be both competitive and measurable. It's great to create a wonderful slogan or advertising message, but if your operation can't deliver on it, you gain absolutely no differentiation in the marketplace. It's a mistake to create a Brand Promise that is not what your clients need.
No matter what your Brand Promise is, you first should recognize what your customer needs and how you intend to be different in the marketplace. You must identify the key activities that will support your Brand Promise, then, even before you develop the slogan or unique selling proposition, you should determine how you will measure whether or not you are hitting the target you have set. As you'll see by the examples (For More on Brand Promise, including specific examples, check out Positioning Systems Brand Promise Blogs HERE (for successful Brand Promises, without a measuring stick these promises have no potential to succeed since they weren't rigorously quantified. What's the point of promising your customers you will deliver an outcome that is different if you aren't measuring the consistency of providing it?
Profit Per X – Economic Engine
As we move closer toward the creation of your BHAG, you need to learn about the economic denominator that best drives your economic engine: Profit per X. As you discover when we reach discovering your BHAG, what drives your economic engine is an important component in your Hedgehog Concept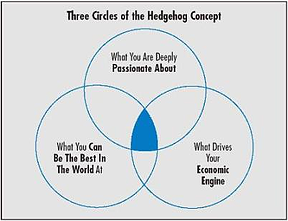 (along with what you can be best in the world at, and what you are deeply passionate about) in crafting a powerful and meaningful BHAG (Big Hairy Audacious Goal).
This "X" must be measurable, bring passion to your core employees, promote discipline and truly drive the economic engine. It is also a unit of scale, that is, would you want to have as many X's as possible to scale the business? Or not?
Examples are "Profit per Airplane" (Southwest Airlines), Gross Margin per Delivery (New System Laundry), and "Profit per Employee" (Wells Fargo). All are metrics that align with the respective organizations' long term goals and are ones that are used when focusing on Strategic Decisions such as product decisions, service level decisions, customer strategies, employee development strategies, etc.
Also note that "Profit" can be Net Profit, Gross Profit, as well as other key metrics such as Cash Flow and Revenue, again financial metrics that make a difference.
As you consider what your Profit per X might be, here are some key questions to ask in the discovery process:
What is your industry's standard benchmark?
What products and services drive your top line?
What costs drivers are critical to profit that you can control?
What "units: (X's)" would you want more of versus less of?
What "units: (X's)" can you optimize

and

competitors are not focused upon?
Often, your Profit per X is a derivative of your industry's standard benchmark, optimized for your ability to influence revenue and control cost.
For example, in the airline industry, for years the key industry benchmark was "Total Revenue per Available Seat Mile (TRASM)." whereas Southwest Airlines focused their Profit per X on "Profit per Airplane."
Remember, the goal is to choose a Profit per X that you can control or influence strongly (revenue and cost) and in units of "X" that you can scale. Positioning Systems has several blogs on this subject, perhaps the most insightful is Find Your Economic Denominator Profit per X in which we share Walgreens Profit per X, garnered from Jim Collins' Good To Great. Check it out along with Step 7: Seven Strata of Strategy – Measure Profit per X and BHAG, and What's Your Passion? What Are You Best At? (Hedgehog Concept).
Is this providing you with a lot of ideas on how you generate Top Line Revenue Growth through Strategy? Well hold on. We still have more to come. Strategy Growth tools still to discuss include: Actions to Live By, Catalytic Mechanism, X Factor, 3-5 Year Plan and the Innovation Window. We'll cover these growth tools next blog. Please join us!