The challenge in almost every business, small to mid-size, growing or static, is to initiate or continue revenue growth. Of the Rockefeller Habits Four Decisions, People, Strategy, Execution and Cash, Strategy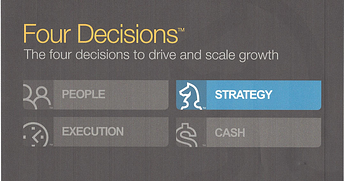 is the Decision that produces revenue growth.
We explored several of the resource and tools that Gazelles Coaches and Positioning Systems use to help our customers develop top line revenue growth in Four Decision Growth Tools – Strategy Yields Top Line Revenue Growth. We continue with these tools and discussion today with:
Core Competencies
Whereas Core Values reflect the fundamental character of your organization, and Core Purpose your reason for being, your Core Competencies are operational activities that you do very, very well and that give you a competitive edge.
In Gary Hamel and C.K. Prahalad's Harvard Business Review (HBR) article Core Competence of the Corporation, their research shares 3 key tests of a Core Competency to prove it is real and valuable within a company.
1) Does it provide access to a wide variety of markets? Think of Starbucks and its core competency of 'Building a warm, appealing and memorable brand' – now, how is it that Starbucks was able to move out of selling coffee in coffee shops (retail locations) and into other diversified venues like bookstores, grocery stores, airports and hotels? The Core Competency of branding opened up access to new markets for Starbucks.
2) Significant contribution to the customer's perceived benefit of the end product. Once again, think of Starbucks. Twenty-five years ago people would not pay more than 75 cents for a cup of coffee, but today the average revenue per customer (RPC) in Starbucks is closer to $2.50. Customers' perception of the value of a cup of coffee (specialty drink) today is much greater with the green Starbuck's mermaid on it than in a plain old white Styrofoam cup!
3) It is difficult for competitors to imitate – since it has taken years to develop and hone a Core Competency, don't expect competitors to believe they can master it overnight! It would also take them years to imitate it and by the time they did, you could develop newer, more relevant competencies.
A competence which is central to the business' operations but which is not exceptional in some way should not be considered as a core competence as it will not differentiate the business from any other similar businesses.
How does a Core Competency differ from a Competitive Advantage? Core Competency is generally internal – Competitive Advantage is generally external (what a customer sees/experiences).
Let's define what Core Competencies are within a company by looking at their attributes. Think of great companies and what they do well – then consider the following three aspects of a Core Competency:
Core Competencies are often (complex) compilations of processes, systems and activities within the operations of a company
Core Competencies may appear simple on the surface to the casual or outside observer – but on further and deeper investigation they have been honed to near perfection over a period of years within the organization
Core Competencies balance productivity and people – that is, they result in productivity (efficiency and effectiveness) while working in harmony with bringing out the right skills, talent and experience in the people that contribute to and lead their development.
Another example of Core Competencies would be Nordstrom's – Customer Service.
SWOT:
We recommend each year the middle management team – those that execute the day-to-day business – conduct a thorough SWOT analysis using a rigorous, yet efficient, process.
The process we recommend uses an outside facilitator (Coach) to ensure full, balanced sharing and concludes with the middle management team providing an executive briefing of their outcomes to the senior leadership team. This is a vital step in a successful annual planning process for a growth company.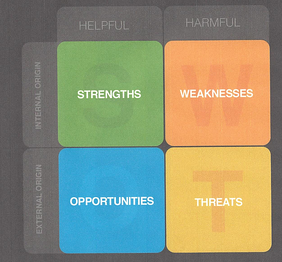 As you can see in the picture on the left there are two variables: On the left side, the origin of the SWOT item; attributes that come from within the company or from external influence; and on the top of the matrix, attributes that are helpful to the company's growth and those that can be harmful. The resulting intersection of each attribute creates the unique set of Strengths, Weaknesses, Opportunities and Threats for a company's foundation.
In our private and public workshops we provide examples of companies who have used this tool to provide dramatic influences to their company's strategy. They've helped short term and long term growth. Space prevents me from offering these here. Contact us for help with this exercise and developing your strategy.
SWT
Whereas the SWOT analysis comes from within the middle management team – those executing the day-to-day operations of the – the Strengths, Weaknesses, Trends (SWT) analysis is to be conducted by the senior leadership team and connects to "Strategic Thinking" and planning for the business.
In Leadership Team Exercise SWOT vs. SWT – Strengths, Weakness & Trends I shared the difference between SWOT and SWT and why this process is so critical in the In a VUCA [volatile, uncertain, complex and ambiguous; see The Pace of Change Requires Strategic Discipline] world, your organization needs the ability to make sense of the changing environment through powerful tools that generate superior insights into market trends, the evolving needs of customers, and the organization's own realities. See Leadership Team Exercise SWOT vs. SWT – Strengths, Weakness & Trends for how to conduct this valuable exercise.
Words You Own
Has there ever been a time when a company needs to become distinctive in the minds and hearts of the core customers they wish to attract, serve, and retain than the current environment? Think Google and customer searches. The right words mean you get found or not on the Internet today. It all begins with the Words you Own in their mind's eye. Perception is reality.
It is important that each company discover words you can own in your customer's mind so that you can attract the right Core Customer and retain your best customers too. What are "Words You Own and how do you use them?
There are five key aspects of the Words You Own:
1) They connect and align directly with your Brand Promise: the unique value proposition you make (and keep…and measure) to your Core Customer.
2) The small set of Words You Own is most powerful when combined, working together to create the ownership of an idea or place in your customer's mind.
3) They often – but not always – include what you do and/or how you do it (we will illustrate with an example shortly).
4) As you develop the Words You Own – which takes time and collaborative effort – you will test, measure and refine them as your market gives you feedback and as they impact your Search Engine Optimization (SEO) results on the web.
5) They are often descriptive, they differentiate you, and they embody motion (movement, action) and/or elicit a sensory or emotional response.
To discover the Words you Own as a company can be challenging. The first time you do this, you'll likely get frustrated or discouraged if you cannot come to full agreement. Like developing a BHAG or Core Values, this is an iterative process and matures through time and effort.
Hope you're beginning to see both the value of Strategy and the complex challenge this is to develop growth in your business. Ultimately clarity of your strategy to your team is crucial to implementation. That's why Strategic Discipline and the Execution aspect of the Rockefeller Habits is so important.
We still have a lot to cover yet in Strategy. Still ahead Seven Strata of Strategy, WHO: Your Core Customer, Brand Promise, Core Processes, Profit Per X, Actions to Live By, Catalytic Mechanism, X Factor, 3-5 Year Plan and the Innovation Window. Join us next blog.