It's Labor Day 2020.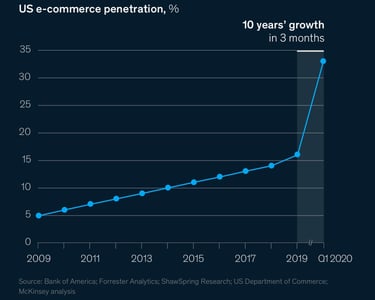 It's an appropriate time to discuss what technology advancements amid COVID19 mean to business and to employment for the future.
COVID19 has accelerated technology's advancement.
According to The quickening We just jumped ten years forward in 90 days' time (McKinsey Quarterly) this graph from McKinsey shares some alarming numbers.
How fast is the world moving around us? US e-commerce penetration increased in percentage by 10 years' growth in 3 months!
McKinsey shares these examples of fast paced change:
Redeploying talent. A global telco redeployed 1,000 store employees to inside sales and retrained them in three weeks.
Launching new business models. A US-based retailer launched curbside delivery in two days versus the previously planned 18 months.
Improving productivity. An industrial factory ran at 90-percent-plus capacity with 40 percent of the workforce.
Developing new products. An engineering company designed and manufactured ventilators within a week.
Shifting operations. Coordinating with local officials, a major shipbuilder switched from three shifts to two, with thousands of employees.
Jobs lost: Some occupations will see significant declines by 2030
In McKinsey's AI, automation, and the future of work: Ten things to solve for work: Ten things to solve for offers - half of the activities (not jobs) carried out by workers could be automated.
Automation will displace some workers. McKinsey have found that around 15 percent of the global workforce, or about 400 million workers, could be displaced by automation in the period 2016–2030. This reflects our midpoint scenario in projecting the pace and scope of adoption. Under the fastest scenario we have modeled, that figure rises to 30 percent, or 800 million workers. In our slowest adoption scenario, only about 10 million people would be displaced, close to zero percent of the global workforce (Exhibit 2).
Workers will need different skills to thrive in the workplace of the future
This video, Robot Dogs Escape Boston Dynamics' Lab provides a possible frightening view of how AI and Robots are changing the landscape of work.
Keep Perspective
Yet this same article cautions to keep some perspective.
For centuries technology both excited the human imagination and prompted fears. In 1589, Queen Elizabeth I refused to grant a patent to a stocking frame invented by one William Lee because Her Majesty was concerned about the effect it would have on the livelihoods of those who knitted stockings by hand.
We fear change yet, when ATMs became as common as vending machines in the 1970s, the number of bank tellers actually increased.
McKinsey points out for 100 percent of continuous 10-year periods in the United States, technologically driven productivity gains have gone hand in hand with rising employment. Even when measured in one-year snapshots, productivity and employment have risen together four years in five.
McKinsey measured how many jobs were lost and how many gained in the United States between 1980 and 2015 because of the diffusion of computer technology. Several hundred thousand bookkeepers and auditing clerks, secretaries and typists lost jobs.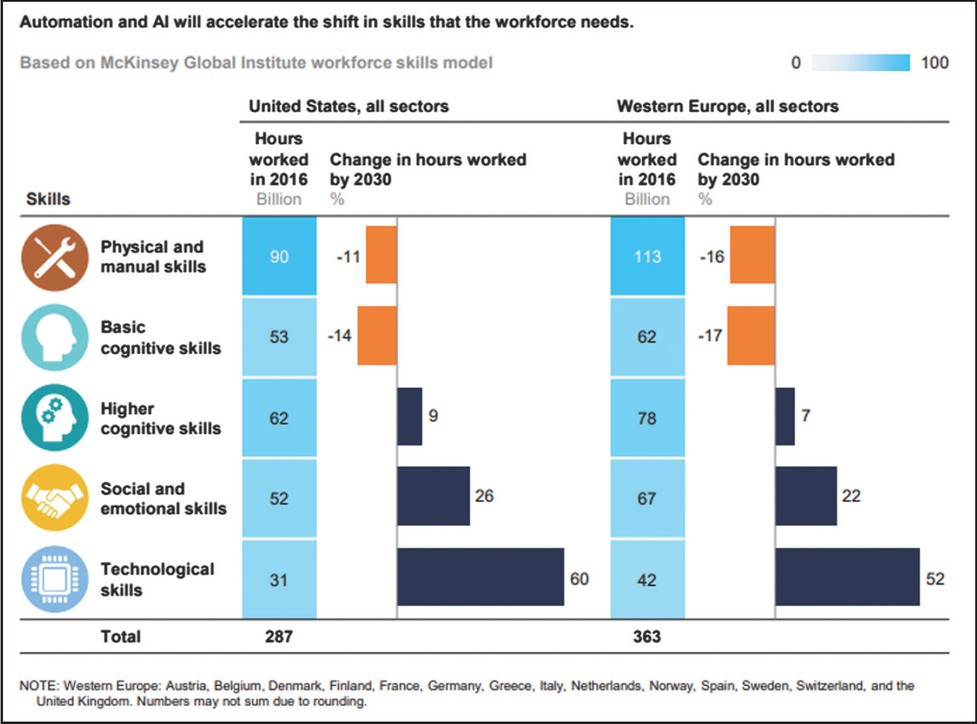 The overall balance was strongly positive: the desktop/laptop computer created more than 19 million jobs in industries ranging from computer hardware to enterprise software to online retail sales, against the loss of about 3.5 million jobs — a net gain of 15.7 million. That figure amounts to 18 percent of all the net U.S. employment created in the period — almost one in five jobs.
The future of work looks set to be not a tale of machines replacing humans, but of machines complementing humans in the workplace.
Technology is the best way forward. Embrace automation technologies for the productivity benefits they bring, even as we deal proactively with the workforce transitions that will accompany adoption. Given that demographic trends — increased longevity, low birth rates — are rapidly increasing the dependent population, our societies really need a productivity boost.
People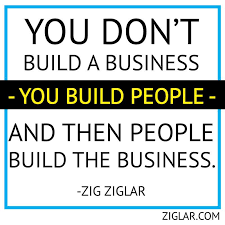 As powerful as technology's impact is, my oldest son trip to Mayo clinic with his mother-in-law for a shoulder operation revealed people's value. In our Friday weekly family video conference, he shared how professional, courteous, prepared, and superior the people were to any other medical clinic he'd ever been.
One of the greatest signs of respect and professionalism occurred in the surgery schedule. Everything precise, on time. With surgery complete and recovery time up, Dan walked to the recovery area to meet his mother-in-law. His medical alarm was to alert him Connie was ready. It had not gone off. The nurse informed him; recovery can take a little longer depending on response to anesthesia. Within 2-3 minutes the alarm sounded to notify Dan he could take Connie home.
Are people and execution important elements to the success of your business? These are two of the Four Decisions we provide tools for growth. Contact us today to schedule an exploratory meeting.
Growth demands Strategic Discipline.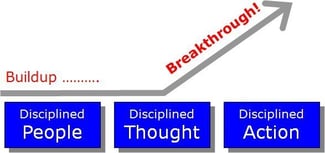 To build an enduring great organization, requires disciplined people, disciplined thought, disciplined action, to produce superior results, and make a distinctive impact in the world.
Discipline sustains momentum, over a long period of time, laying the foundations for lasting endurance.
A winning habit starts with 3 Strategic Disciplines: Priority, Metrics and Meeting Rhythms.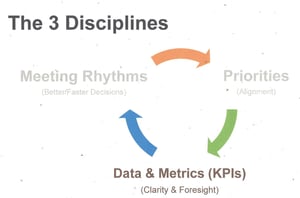 Forecasting, accountability, individual, and team performance improve dramatically.
Meeting Rhythms achieve a disciplined focus on performance metrics to drive growth.
Let Positioning Systems help your business achieve these outcomes on the Four most Important Decisions your business faces:
DECISION

RESULT/OUTCOME

PEOPLE

STRATEGY

EXECUTION

CASH
Positioning Systems helps mid-sized ($5M - $250M) business Scale-UP. We align your business to focus on Your One Thing! Contact dwick@positioningsystems.com to Scale Up your business! Take our Four Decisions Needs Assessment to discover how your business measures against other Scaled Up companies. We'll contact you.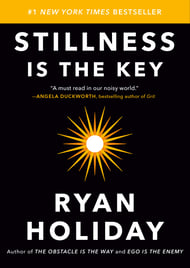 NEXT BLOG – Stillness is the Key
Many of us during COVID19 may have failed to take time to be still, recharge, focus, and plan. Ryan Holiday's book Stillness is the Key offers ideas to help. We explore these ideas next blog.