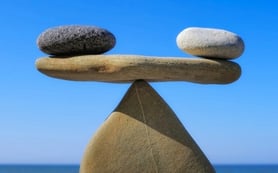 Balance is an important part of the equation in your business.
When we ask our customers to set a One Thing Priority we always create a Counter Balance for the Quarter and year to insure the business doesn't achieve extraordinary success in one area of the business only to fail dismally in another.
We shared this concept several times in these blogs, Balance Productivity and People, Balance and Strengths – Lessons from Ben Hur, and Metric Balance - Key Element in Priority Setting.
There are two drivers in your business which we isolate on the top of the One Page Strategic Plan: Process/Productivity and People/Relationships.
When you focus on one you better have a counterbalance in the other to ensure your business isn't getting out of balance.
Career and Personal Life Balance?
It would make sense then for our lives and our career to stay in balance as well right? In Naphtali Hoff's blog Walking the tightrope of life he shares 8 characteristics of Folks with strong work-life balance.
Lead purposeful lives.
Adjust as needed.
Carve out time
Develop personal definitions of success.
Turn off distractions.
Tap into their spiritual sides
Engage in relaxing and rejuvenating activities.
Hold short- and long-term views.
Read the article to discover the context and texture of these. We've discussed many of these same ideas here in our blogs.
In The One Thing, Gary Keller provides LIE #5: A BALANCED LIFE as we pointed to in Lie # 5 A Balanced Life - The Solution - Counterbalance.
David Rendall, The Freak Factor, offers the same advice regarding balance, it produces mediocre results.
The point is that to achieve anything in life you need to focus. You need to decide what your One Thing is for your business, for your life. You need to discover and live your purpose, which provides the required energy to achieve your ONE THING.
Yet focusing on balance will not bring achievement of Your One Thing, unless your One Thing is to be in balance. Balance will not bring achievement of your One Thing.
Even in Positioning System's Strategic Discipline model, counterbalance is required against your One Thing. ONLY! It's not a balance focus throughout the organization. It's impossible to achieve anything notable by focusing on balance.
The truth is you can't please everybody. In fact trying to please everybody is a recipe for failure.
David Rendall points out, "Building our strengths doesn't make us one-dimensional because our strengths have many dimensions." He offers this quote as well, "I cannot give you the formula for success, but I can give you the formula for failure, which is to try to please everybody." - Herbert B. Swope
Think of the pressure you put on yourself for living a balanced life. What if you determined a balanced life isn't attainable? Isn't foolhardy to consider it if it isn't? Isn't it unreasonable to expect to live a balanced life if you have some things that are of great priority in your life?
DON'T PLAY IN THE MIDDLE - COUNTERBALANCE
Is there a middle ground to this balance life,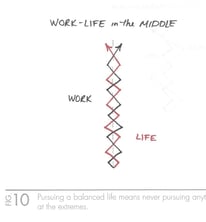 One Thing top priority and counter balance idea?
In the One Thing Gary Keller notes, "When we work too long, eventually our personal life suffers. Falling prey to the belief that long hours are virtuous, we unfairly blame work when we say, 'I have no life.' Often, it's just the opposite. Even if our work life doesn't interfere, our personal life itself can be so full of 'have-tos' that we again reach the same defeated conclusion: 'I have no life.' And sometimes we get hit from both sides. Some of us face so many personal and professional demands that everything suffers. Breakdown imminent, we once again declare, 'I have no life!'"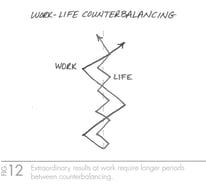 Achieving balance is a lie. What do you do? Counterbalance. Again read Lie # 5 A Balanced Life - The Solution - Counterbalance. Or pick up Keller's The One Thing. Replace the word "balance" with "counterbalance" and what you experience makes sense. Keller notes the things we presume to have balance are really just counterbalancing. He offers the ballerina as a classic example. When a ballerina poses en pointe, she can appear weightless, floating on air, the very idea of balance and grace. A closer look would reveal her toe shoes vibrating rapidly, making minute adjustments for balance. Counterbalancing done well gives the illusion of balance. It's the same illusion that occurs on the balance beam in the Olympics.
Keller cites a research study on the effects of failing to counterbalance. An 11-year study of nearly 7,100 British civil servants concluded that habitual long hours can be deadly. Researchers showed that individuals who worked more than 11 hours a day (a 55-plus hour workweek) were 67 percent more likely to suffer from heart disease. Counterbalancing is not only about your sense of well-being, it's essential to your being well.
Many of you are thinking, but how do I not balance my work and my family? How can I live with myself if I'm not putting my family in a position to be important in my life? The key is counterbalancing your One Thing with your family time and events.
Keller offers this idea that I believe is a splendid way to consider the importance of counterbalance. In his novel Suzanne's Diary for Nicholas, James Patterson artfully highlights where our priorities lie in our personal and professional balancing act: "Imagine life is a game in which you are juggling five balls. The balls are called work, family, health, friends, and integrity. And you're keeping all of them in the air. But one day you finally come to understand that work is a rubber ball. If you drop it, it will bounce back. The other four balls—family, health, friends, integrity—are made of glass. If you drop one of these, it will be irrevocably scuffed, nicked, perhaps even shattered."
Many of us have learned the painful lesson of dropping one of the other four balls. I've lost two wives and the togetherness that came with those two families. Was it because I focused too much on work? Arguably there were a lot of other contributing factors to my two divorces. I submit had I done a better job of counterbalancing, understanding the critical nature of this idea, it's possible I could have mitigated my relationship issues possibly attaining a different outcome.
Marriage and business require communication. General Stanley McChrystal offered insight on what happens when we don't communicate properly. We'll share McChrystal's wisdom next blog.