You're leading your business through an unprecedented time in history and our world economy.
How are your employees feeling?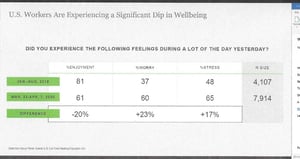 According to a recent Gallup poll, your employees enjoy their job less, have more worry and stress than a year ago.
Friday's Gallup Webinar Maintaining Employee Wellbeing Through the COVID-19 Disruption shared this graphic.
It's not surprising. I'm sure you are experiencing the same increases in stress and worry.
A week earlier Gallup presented What Employees Need from Leaders During a Crisis. This blog shares the most important elements of their findings to help you understand your employees needs through this event to maintain their engagement and commitment to your business.
What Your Employees Need Most Now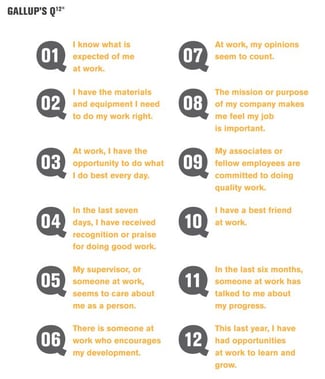 Gallup is the leader in Employee Engagement having first identified 12 questions (Q12) which indicate the levels of your employee's engagement at work in their groundbreaking book, First Break All the Rules. The 12 questions, also known as Q12 help you to not only identify how well your team is engaged, they specifically help you and your mangers focus on what they need to improve upon to help your team become more engaged. Review the 12 Questions in the photo here.
The top three questions/answers should be your focus right now. First….
I know what's expected of me at work
I have the materials and equipment I need to do my work right
At work, I have the opportunity to do what I do best every day.
Let's explore why they're so important now:
I know what's expected of me at work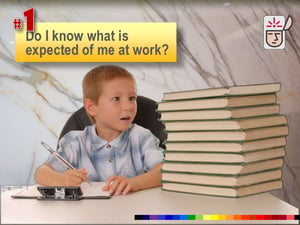 Working at home, both the company's priorities, and your employee's priorities have changed. If they have children balancing this and their work is a challenge. Do your people know how their job and priorities have changed? Have they changed? Are you having them focus on anything different than when working from the office? Are you doing a daily huddle? Is your manager meeting and speaking with each team member daily? Several of my customers managers have shared how critical this is now. Making sure they know what's expected of them at work is ties in with the 3rd question as well. Why is this so important? It helps them to focus! And to focus on the right things!!
I have the materials and equipment I need to do my work right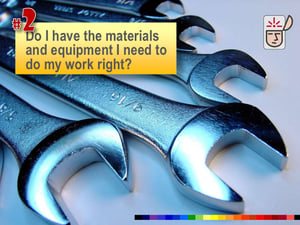 The COO of one of my customers, shortly after they decided to close their offices, went to their office to load up the staff's monitors and any necessary equipment his staff needed to personally deliver to his employee's homes. Your team needs the proper equipment now to work productively. Many will not have an office set up. They'll be working from their kitchen table, a small desk in a guest room, or perhaps the couch in their living room. Why this is important? To free your team from unnecessary stress.
At work, I have the opportunity to do what I do best every day.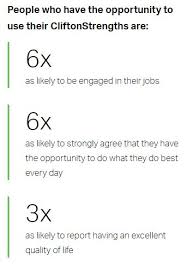 This really ties in with the first question. Engagement, enjoyment, and fulfillment at work requires us to be doing what we do best. When we're doing what we do best we're more engaged and feel more rewarded. This is where your managers' really need to be doing their job (See It's the Manager) See Raise the Bar – Methods & Ideas to Improve Employee Engagement. Now more than ever your people are asking you to help them see their importance. They want to know how they're contributing to your company, and how their position gives security in this changing and uncertain economy. Make sure you know them, what they do best, then reinforce this with them to let them know so they continue to make significant contributions to your business.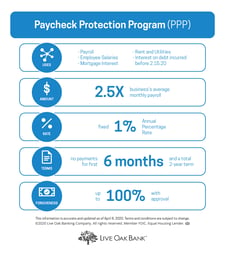 In a recent Fortune article, Honeywell's ex-CEO successfully navigated the Great Recession, CEO David Cote outlined how he's approaching the coronavirus crisis. One of the major steps he learned form 2008's recession was to keep workers employed for the rebound.
The stimulus package has provided a way for many businesses to keep their teams together. It won't be enough to just keep them; the real winners will keep them engaged and ready to emerge stronger once the economy regains momentum.
Growth demands Strategic Discipline.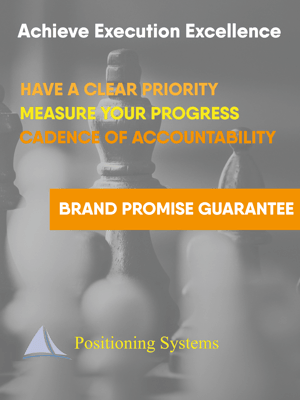 To build an enduring great organization, requires disciplined people, disciplined thought, disciplined action, to produce superior results, and make a distinctive impact in the world.
Discipline sustains momentum, over a long period of time, laying the foundations for lasting endurance.
A winning habit starts with 3 Strategic Disciplines: Priority, Metrics and Meeting Rhythms. Forecasting, accountability, individual, and team performance improve dramatically.
Meeting Rhythms achieve a disciplined focus on performance metrics to drive growth.
Let Positioning Systems help your business achieve these outcomes on the Four most Important Decisions your business faces:
DECISION

RESULT/OUTCOME

PEOPLE

STRATEGY

EXECUTION

CASH
Positioning Systems helps mid-sized ($5M - $250M) business Scale-UP. We align your business to focus on Your One Thing! Contact dwick@positioningsystems.com to Scale Up your business! Take our Four Decisions Needs Assessment to discover how your business measures against other Scaled Up companies. We'll contact you.
NEXT BLOG – WILLFUL BLINDNESS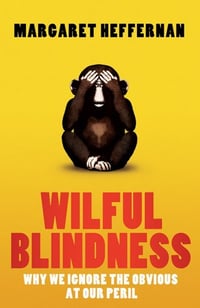 Are the measures we're taking too much risk at the expense of our economy? Is Coronavirus a Chinese Communist plot for world domination? Margaret Heffernan, author of Willful Blindness: Why We Ignore the Obvious at Our Peril presented at our ScalingUp Re-N-Vent Summit Thursday, April 2nd. Her book shares ideas, concerns, and applications for you. Her insights, next blog.