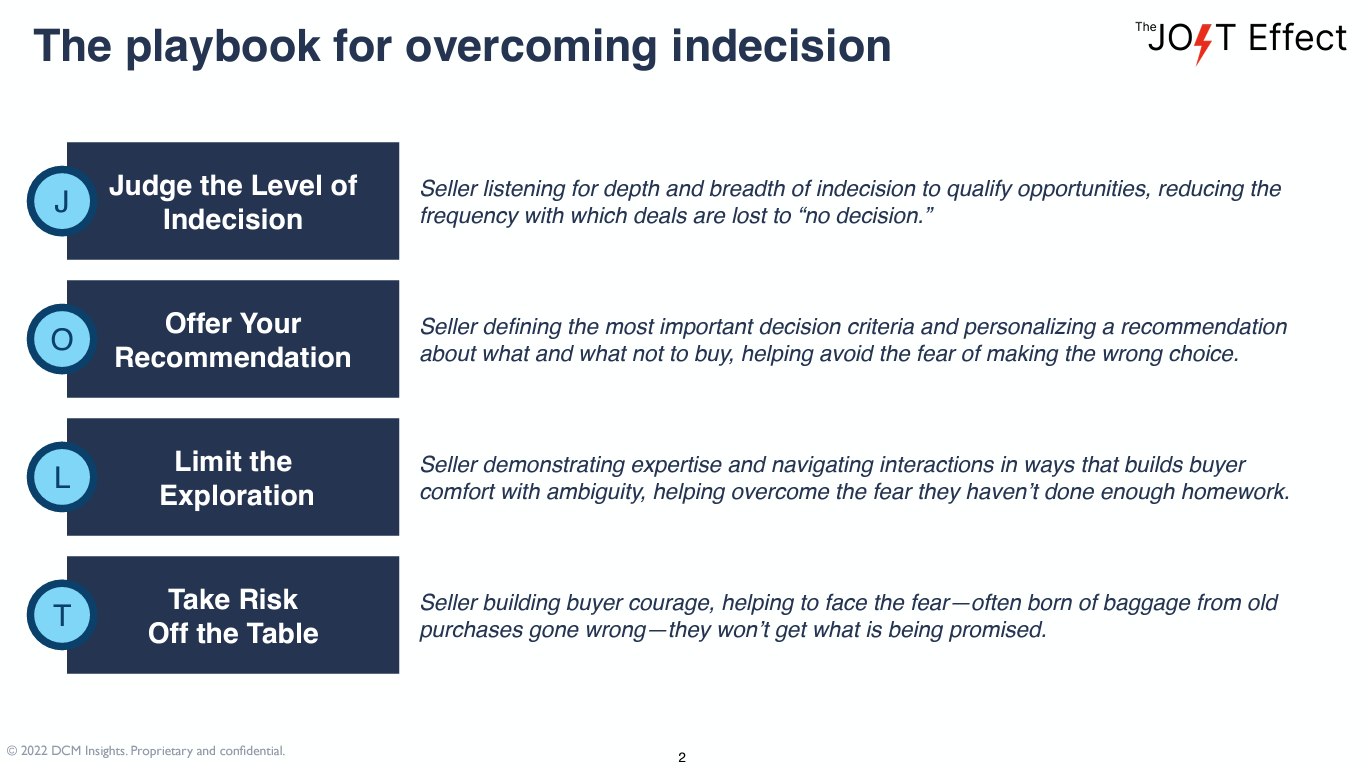 Buyer's indecision is fear of not receiving the benefits expected from purchasing. Leaders don't get fired for omission as often as for commission mistakes. Removing buyer indecision includes taking risk off the table.
The Jolt Effect research discovered High Performers use four techniques to conquer buyer indecision.
Judge the indecision,
Take risk off the table.
De-Risk the Purchase
Bad memories of a poor purchase decision keep a prospect from deciding. Better to do nothing, than make a decision that costs them. High performers know the best way to convince a prospect to move forward isn't to make them feel bad about not deciding to purchase. It's better to make them feel good about deciding to walk into it. High performers instill feelings of confidence. They make it okay for the prospect to say yes now. They know the only way to make it happen is to take risk off the table.
High performers use three key techniques to de-risk the purchase decision:
Set expectations,
Offer downside risk protection,
Start smaller.
Set Expectations
Average salespeople push gaudy ROI projections from the start of the sales conversation. They believe this is irresistible, believing customers exhibit maximizer tendencies. High performers focus less on "maximum impact" and more on setting realistic, "believable impact" expectations early on.
The Jolt Effect research discovered setting expectations had one of the most dramatic impacts on win rates of any behavior tested.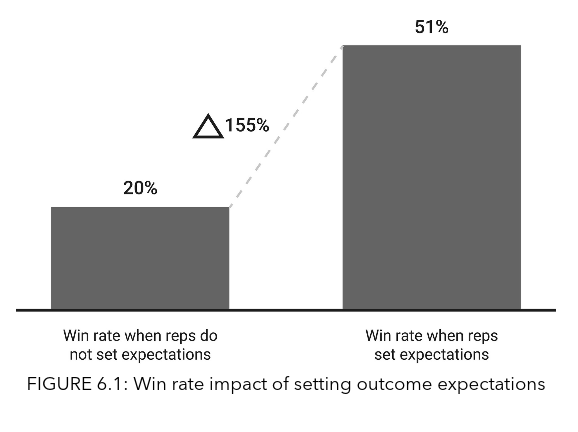 When reps don't properly set expectations, win rates are only 20 percent. Six points below the average (see Figure 6.1).
Reps avoided setting any type of expectation with the customer on 81 percent of calls!
When they set expectations, win rates nearly doubled the average, to 51 percent. A 155% increase!
Offer Downside Risk Protection
Average sellers resort to "FUD" (fear, uncertainty, and doubt) when a customer is not ready to move forward. High performers understand offering the customer a safety net is more effective than pushing the customer toward the ledge.
When a customer's concern is whether they'll attain the objectives they desire, they need confidence givers, not fearmongers.
Offering this sort of assurance to the customer would appear to be a no-brainer. You'd think reps would do it on a regular basis.
Ironically, reps rarely rely on this confidence giver. In transactional sales calls studied, reps use this less than 15 percent of the time.
WHY?

The first explanation lies in the way reps are compensated.
The second explanation is fear bringing up an opt-out clause and guarantees will indicate they aren't confident in their product or service.
Many reps are so reliant on using FUD to scare customers into action (e.g., "I can't imagine you'd go another day continuing to use the product you're currently using") that suddenly changing course can come off as awkward.
Some reps don't have the ability to offer free cancellation windows or money-back guarantees.
Top reps relied on professional services support to offer a form of purchase insurance to the customer.
"Our top reps understand the bigger concern customers have is not getting the value they expect, and recommending they add a professional services component to the contract gives them the confidence they won't be alone on the journey." noted one sales leader.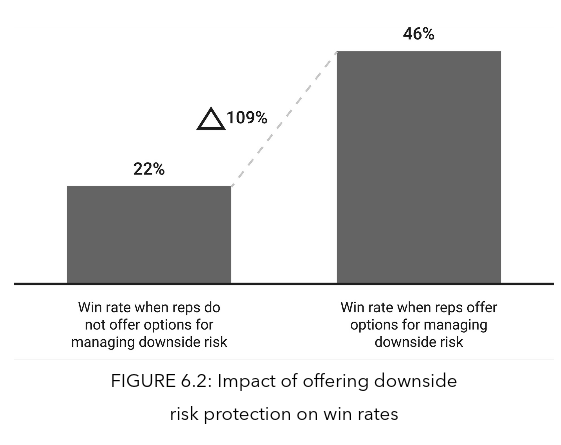 The impact of managing downside risk on win rates is significant. When reps offer options to minimize the perceived downside risk for the customer, win rates jump from 22 percent to 46 percent, an increase of 109 percent overall!
Unfortunately, reps use this technique on just 14 percent of calls studied.
Start Smaller
A sales leader shared, "What our best reps understand is that, ironically, they will sell more by selling less."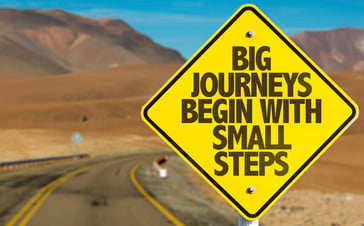 Better to offer multiple options to the client—one "all-in" option, one moderate, and one "toe-dipping" option.
Jolt Effect data is clear: high performers sell more over time and build stronger customer relationships by starting small, not going big right out of the gates.
High Performers suggest new customers start with a couple of their most popular services, discover how they like them, then follow up in a few months to see if the customer wants to add on to their package at that time.
The best reps talk customers out of additional options before giving them a price. Customers love when reps are good stewards of their money. It helps the rep proactively avoid the sticker shock moment.
Outcome Uncertainty
Outcome uncertainty is the most difficult-to-overcome source of customer indecision. Even when a customer knows they'll be better off, they avoid deciding for fear it might make them worse off.
By setting expectations, offering downside risk protection, and starting smaller, high performers overcome outcome uncertainty, producing dramatic increases in win rates excepting customers who are convinced they won't see the benefits of purchase (See Figure 6.3) In extreme cases, customers are so debilitated by indecision the benefits of any purchase are largely ignored. Often, high performers disqualify these opportunities from their pipelines long before they reach this point.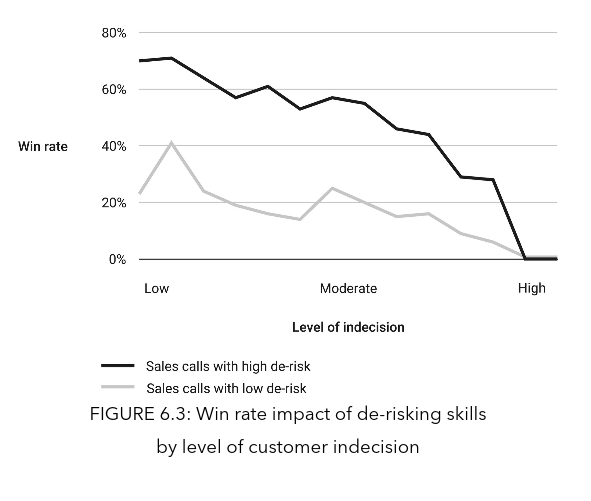 To create an environment where everyone is inspired to give their best, contact Positioning Systems today to schedule a free exploratory meeting.
Growth demands Strategic Discipline.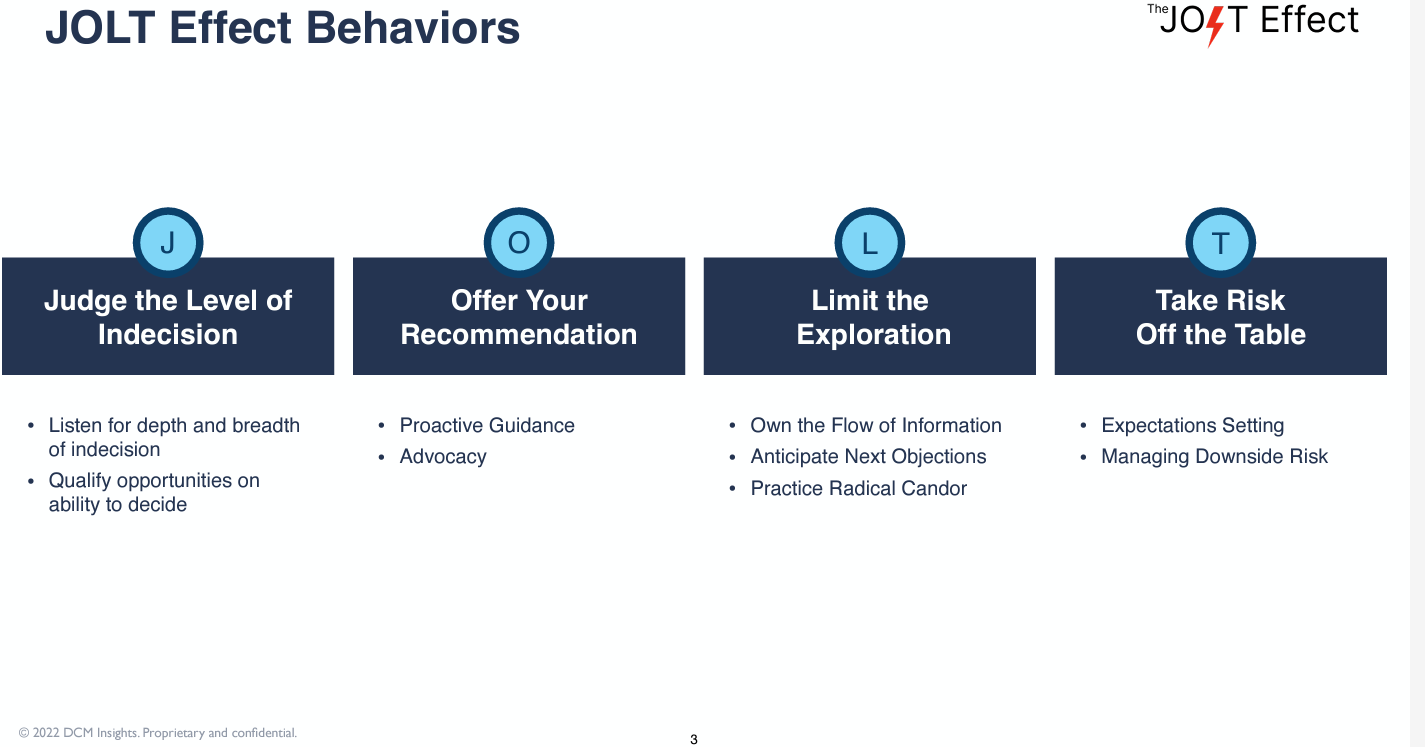 How do you hire, build, and develop a JOLT–capable sales force? We share how the next blog.
Building an enduring great organization requires disciplined people, disciplined thought, disciplined action, superior results, producing a distinctive impact on the world.
Discipline sustains momentum, over a long period of time, laying the foundations for lasting endurance.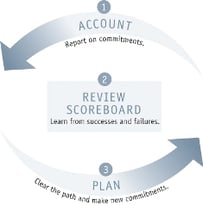 A winning habit starts with 3 Strategic Disciplines: Priority, Metrics, and Meeting Rhythms. Forecasting, accountability, individual, and team performance improve dramatically.
Meeting Rhythms achieve a disciplined focus on performance metrics to drive growth.
Let Positioning Systems help your business achieve these outcomes on the Four most Important Decisions your business faces:
DECISION

RESULT/OUTCOME

PEOPLE

STRATEGY

EXECUTION

CASH
Positioning Systems helps mid-sized ($5M - $500M+) businesses Scale-UP. We align your business to focus on Your One Thing! Contact dwick@positioningsystems.com to Scale Up your business! Take our Four Decisions Needs Assessment to discover how your business measures against other Scaled Up companies. We'll contact you.
NEXT BLOG – Building a "JOLT Effect" Sales Force