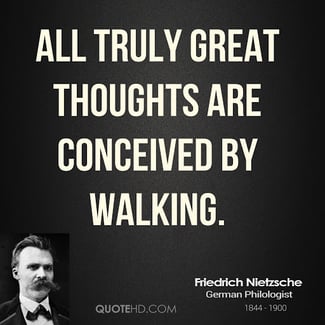 Each day, after finishing work, I walk 2-miles. Usually I listen to an audible book pacing briskly through my neighborhood.
Occasionally, when I'm working through a life problem or for a customer, I walk in silence, or listen to music.
"It is only ideas gained from walking that have any worth." ~FRIEDRICH NIETZSCHE
In Stillness Is the Key, Ryan Holiday, shares, "Stress and difficulty can knock us down. Sitting at our computers, we are overwhelmed with information, with emails, with one thing after another. Should we just sit there and absorb it? Should we sit there with the sickness and let it fester? No. Should we get up and throw ourselves into some other project—constructive, like cleaning, or cathartic, like picking a fight? No. We shouldn't do any of that. We should get walking."
COVID19 has multiplied stress about our future. More Americans are losing our jobs, security, earning capabilities, or fear their business failing.
How do you relieve this pressure? Work, harder, fight through this until you discover a solution?
Discovery by Walking
Ryan Holiday's Stillness Is the Key, shares multiple examples of discoveries made when walking.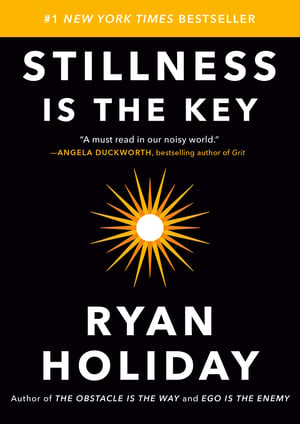 Nikola Tesla discovered the rotating magnetic field, one of the most important scientific discoveries of all time, on a walk through a city park in Budapest in 1882. When he lived in Paris, Ernest Hemingway would take long walks along the quais whenever he was stuck in his writing and needed to clarify his thinking. Charles Darwin's daily schedule included several walks, as did those of Steve Jobs and the groundbreaking psychologists Amos Tversky and Daniel Kahneman, the latter of whom wrote that "I did the best thinking of my life on leisurely walks with Amos." It was the physical activity in the body, Kahneman said, that got his brain going.
When Martin Luther King Jr. was a seminary student at Crozer, he took an hour walk each day through the campus woods to "commune with nature." Walt Whitman and Ulysses S. Grant often bumped into each other on their respective walks around Washington, which cleared their minds and helped them think.
Freud was known for his speedy walks around Vienna's Ringstrasse after his evening meal. The composer Gustav Mahler spent as much as four hours a day walking, using this time to work through and jot down ideas. Ludwig van Beethoven carried sheet music and a writing utensil with him on his walks for the same reason. It's probably not a coincidence that Jesus himself was a walker—a traveler—who knew the pleasures and the divineness of putting one foot in front of the other.
Is Walking Stillness?
You may not feel walking is being still. I challenge you to walk once this week. See if you don't discover relief from stress. If you don't come back relieved or with an idea, walk more. A walk should, spark an idea, or release whatever troubles you.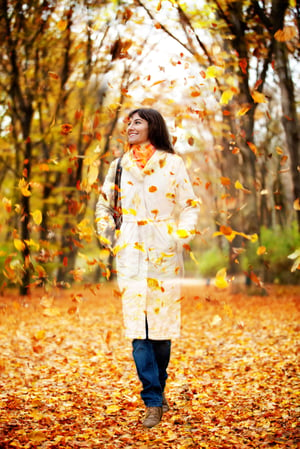 Breathe in. Breathe out.
Holiday suggests, when you feel the tug of your responsibilities or the desire to check in with the outside world, push yourself a bit further. If you're on a path you have trod before, take a sudden turn down a street or up a hill where you haven't been before. Feel the unfamiliarity and the newness of these surroundings, drink in what you have not yet tasted. Get lost. Be unreachable. Go slowly. It's an affordable luxury available to us all. Even the poorest pauper can go for a nice walk—in a national park or an empty parking lot. This isn't about burning calories or getting your heart rate up. On the contrary, it's not about anything. It is instead just a manifestation, an embodiment of the concepts of presence, of detachment, of emptying the mind, of noticing and appreciating the beauty of the world around you. Walk away from the thoughts that need to be walked away from; walk toward the ones that have now appeared.
Walking Research Results
A study at New Mexico Highlands University found the force from our footsteps can increase the supply of blood to the brain. Researchers at Stanford found walkers perform better on tests that measure "creative divergent thinking" during and after their walks. A study out of Duke University found walking could be as effective a treatment for major depression in some patients as medication.
Take a walk.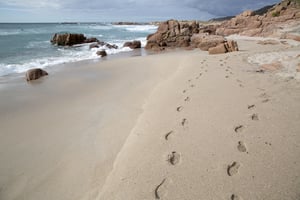 Positioning Systems and Scaling Up will not help start walking.
Most business fail for lack of discipline. Structure, process, routine, and discipline are critical to success. Develop discipline in your business. You'll discover you'll suddenly be free to create these disciplined habits in your personal life.
Contact us today to schedule an exploratory meeting.
Growth demands Strategic Discipline.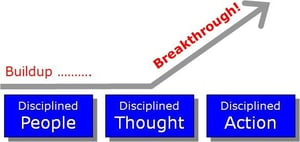 To build an enduring great organization, requires disciplined people, disciplined thought, disciplined action, to produce superior results, and make a distinctive impact in the world.
Discipline sustains momentum, over a long period of time, laying the foundations for lasting endurance.
A winning habit starts with 3 Strategic Disciplines: Priority, Metrics and Meeting Rhythms.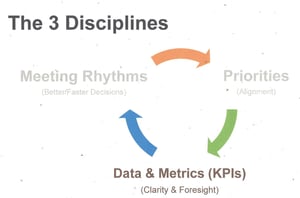 Forecasting, accountability, individual, and team performance improve dramatically.
Meeting Rhythms achieve a disciplined focus on performance metrics to drive growth.
Let Positioning Systems help your business achieve these outcomes on the Four most Important Decisions your business faces:
DECISION

RESULT/OUTCOME

PEOPLE

STRATEGY

EXECUTION

CASH
Positioning Systems helps mid-sized ($5M - $250M) business Scale-UP. We align your business to focus on Your One Thing! Contact dwick@positioningsystems.com to Scale Up your business! Take our Four Decisions Needs Assessment to discover how your business measures against other Scaled Up companies. We'll contact you.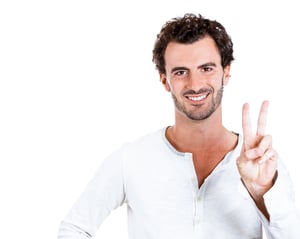 NEXT BLOG – Establish a Routine - Double Results
Scaling Up author Verne Harnish frequently reminds us, "Routine sets you free!" Chinese philosopher XUNZI said, "If a person puts even one measure of effort into following ritual and the standards of righteousness, he will get back twice as much." Where would two times the results help your business? We'll explore this next blog.