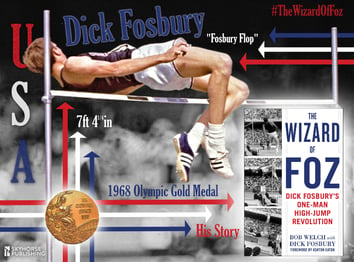 "Have you seen this guy?" my brother asked.
It was 1968, my brother, Gary, a senior in high school, marveled at the innovative approach to high jumping he'd been reading about.
Dick Fosbury, a ridiculed, misunderstood underdog, challenged the status quo, using a new high jump technique the media called the Fosbury Flop.
My brother loved the underdog. Probably because he considered himself one. At 5'9", 145 pounds he played starting right guard on our high school football team, and forward/center on the varsity basketball team, the latter, mostly because he couldn't dribble well.
The summer of '68 my brother had an appendicitis attack a month before football started. His appendix ruptured, he lost 17 pounds, detouring the most significant sport he enjoyed. Gary loved football. He could take his aggression out, show others he wasn't the underdog through grit, persistence, commitment, and determination.
In that conversation, Gary, personified what it often takes to innovate. Adversity, struggle, and more frequently impossible odds yield an approach not considered. Something innovative, and in this case revolutionary. As this video shares, breakthroughs/innovations frequently come outside of those considered experts.
No one would believe Dick Fosbury's unconventional approach would change the world of high jumping.
Biography – Discover the Real Story Behind Success
I enjoy reading biographies of leaders, historical figures, athletes, and successful businesses. Their stories show the courage, determination, and obstacles they overcame to achieve success, often unknown by the public. My father read biographies, and he passed this obsession on to me. I can recall Amelia Earhart and We, Charles Lindbergh's biography on the bookshelf in our den.
My son Josh inspired me to discover the story behind Dick Fosbury. He shared a video from a music artist he loves, Avicii, called Broken Arrow.
It was inspired by Fosbury's journey, and although the video is fictional, it provides a good illustration of the emotional path it requires to innovate and succeed.
Fosbury had to face ridicule, laughter, and derision creating a high jump method no one else was using. He also lost his brother in a bicycle accident, and shortly after, as frequently occurs in family tragedies, his parents divorced.
The author of The Wizard of Foz: Dick Fosbury's One-Man High-Jump Revolution, Bob Welch, believes, Fosbury channeled his emotions into becoming the best he could be at high jumping. The mockery, disdain, and disrespect Fosbury felt as a sophomore, just to make the team by clearing 5'4", only spurred him on to achieve more. Just 6 years later he cleared 7'4 1/4" in the 1968 Olympics to win the Gold Medal.
The Obstacle is the Way
Curiously, Fosbury never repeated his amazing success afterward. I share a common bond, surviving cancer, with Fosbury, who I discovered beat stage one lymphoma in 2008. He beat it, thanks to being physically fit, chemotherapy and radiation, and having a father-in-law who's a cancer researcher at the University of New Mexico Medical Center.
The 1968 US Olympic men's track and field team is still remembered as perhaps the finest in the history of the games. It produced Bob Beamon's stunning 29 feet, 2½ inches long jump record, breaking the previous record by one foot, 10 ½ inches.
Yet Fosbury's High Jump set off a revolution in how future jumpers would jump. From that record leap forward, high jumpers would use the Fosbury Flop.
Another event we often referred to in our coaching practices followed Beamon and Fosbury's records just nine months later, as the United States made good on JFK's 1961 challenge to go to the moon. Kennedy's inspiration is shared as an example of a BHAG, a Big Hairy Audacious Goals, which inspires companies to achieve wildly important targets.
What obstacle or challenge are you struggling to overcome? If you believe others have it easier or get all the breaks, I'd challenge you to read a biography of someone who achieved success. Without question, you'll discover the truth in Henry Ford's quote,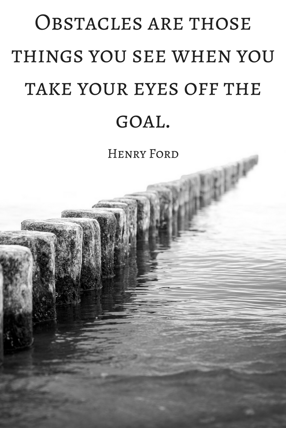 "Obstacles are those frightful things you see when you take your eyes off your goal."
Looking for great examples of extraordinary people overcoming significant challenges? Ryan Holiday's The Obstacle is the Way is full of inspiring stories.
To create an environment where everyone is inspired to give their best, contact Positioning Systems today to schedule a free exploratory meeting.
Growth demands Strategic Discipline.
Digital disruption is touching every industry setting enduring shifts in market conditions. Technology is seen as driving this disruption. Next blog, Unlocking the Customer Value Chain: How Decoupling Drives Consumer Disruption by Thales Teixeira. We unlock how a groundbreaking business model with a profound knowledge of customers is the source of disruptive activity, and how you can capitalize on this.
Building an enduring great organization requires disciplined people, disciplined thought, disciplined action, superior results, producing a distinctive impact on the world.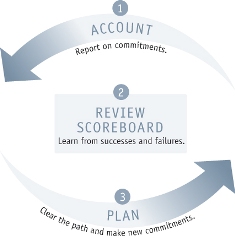 Discipline sustains momentum, over a long period of time, laying the foundations for lasting endurance.
A winning habit starts with 3 Strategic Disciplines: Priority, Metrics, and Meeting Rhythms. Forecasting, accountability, individual, and team performance improve dramatically.
Meeting Rhythms achieve a disciplined focus on performance metrics to drive growth.
Let Positioning Systems help your business achieve these outcomes on the Four most Important Decisions your business faces:
DECISION

RESULT/OUTCOME

PEOPLE

STRATEGY

EXECUTION

CASH
Positioning Systems helps mid-sized ($5M - $250M+) businesses Scale-UP. We align your business to focus on Your One Thing! Contact dwick@positioningsystems.com to Scale Up your business! Take our Four Decisions Needs Assessment to discover how your business measures against other Scaled Up companies. We'll contact you.
NEXT BLOG – Disrupting the Customer Value Chain