Since listening to Christine Comaford speak at the Orlando Growth Summit I've been reading and listening to her book SmartTribes extracting valuable nuggets on how to grow your business.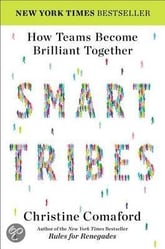 Many of Comaford's ideas are similar to our Gazelles and Positioning Systems tools and resources. And why wouldn't they be? Best practices that work fundamentally perform due to solid principles of discipline and human behavior.
Possibly the foundational element of Comaford thesis is to build and lead a SmartTribes, we need to make sure our people shift from their fear- and safety-driven Critter State to their innovation- and possibility-driven Smart State. How? By ensuring their survival needs are met and they know they belong and are valued.
To learn more about Critter state read Create Safety, Belonging, Mattering – Christine Comaford Orlando Growth Summit.
Comaford believes a GSD (Get Stuff Done) is essential in any organization.
This blog will share Comaford's ideas on how to get accountability, get things done, and how Gazelles and Positioning Systems share similar tools and resources to achieve similar results.
To get accountability in the DNA of our developing SmartTribes, Comaford suggests you build appropriate "containers." Containers are the structures that enable a group of people to achieve real accountability across the board, pulling together like a synchronized rowing team. She offers four key practices that will help you do that:
Utilize the accountability equation.
Create clear accountability structures with Needle Movers.
Track results via weekly reporting.
Reward high performance and provide consequences for low performance.
At Positioning Systems/Gazelles we have a number or similar tools. What Comaford notes is that by making these practices explicit team members keep in their Smart State. If you don't know what the Smart State is, read the book or the aforementioned blog above. People in their Smart State know what they have to do and how to do it.
These practices not only foster safety, belonging, and mattering, they also help create two tasty brain chemicals: dopamine, which is triggered by the desire for reward; and oxytocin, which is triggered by the feeling of connection. Both are essential in fostering a SmartTribe. (Comaford is well studied on the principles of the brain and how they apply to business success.)
1. Utilize the Accountability Equation
Comaford's recipe for accountability: Assigner's Clear Expectation + Owner's Agreement + Personal Rewards and Consequences = Self-Ownership and High Accountability
Here's a crucial point that Comaford sees leaders too often ignore: "When the leader takes responsibility for unspoken expectations, team members will fall right into line to mirror their boss. The flip side is true too—in low-accountability cultures, we see that the trouble begins at the top. The team is simply modeling the low accountability that the executive team is displaying."
What consequences do you set for yourself and your team when accountability is dropped? Consequences remind us that not keeping our commitments will carry repercussions.
In Comaford's case she notes that, 'With consequences we're safe, because we know that if we don't hand in our weekly hours, for example, we won't get paid. That's how it works here."
Rockefeller Habits Accountability Tool: At Positioning Systems we've adapted the Rockefeller Habits Accountability tool adding to the Who What When columns a page dedicated to asking accountability questions to keep the owner accountable. We include a question to assess risk to the company or project to increase the urgency to complete assignments. The meeting rhythms also produce peer pressure, which is a strong enforcer of accountability. If you want to learn more on how Positioning Systems and the Rockefeller Habits apply accountability read the following blogs:
2. Create Clear Accountability Structures with Needle Mover
Comaford finds many people struggle with overwhelm and lack of focus because they aren't defining their Needle Movers and exclusively working on them.
Everyone needs help identifying the key activities to focus on right now that move the needle—those activities that move your business forward from zero to ten miles per hour, or from ten to fifty miles per hour, or from fifty to one hundred miles per hour. Comaford's advice, "Distilling your business to its essence is key here. Maybe to move your business forward you need to generate more sales leads, close more sales, or train your team to be self-managed. At any given time, everyone on your team should focus on and report on their own Needle Movers. I encourage you to distill your Needle Movers to only three, because each of these three activities will have subactivities beneath them, and three key priorities are plenty to focus on."
Comaford prefers the term "Needle Mover" as opposed to "goal." She notes, "Goals are binary—you achieve them and feel great, or you don't and feel lousy. You won't always achieve the exact result you want. This doesn't mean you have failed! A result is a result, and it will move your business forward. A Needle Mover is a given result that will have a significant impact on the success of your business." Comaford suggests using a system similar to Rockefeller Habits Success Criteria, "Set a Target ("T" in table 5-1 below), Minimum (Min), and Mind Blower (MB) for each Needle Mover. The Target is what you want, the Minimum is the worst case you are willing to accept, and the Mind Blower is what would absolutely rock your world."
Rockefeller Habits Success Criteria Needle Mover Tool: Positioning Systems believes in knowing the score, building dashboards to keep the company and each individual and department tracking their progress toward Quarterly and Annual priorities. See the complete list of dashboard blogs here or for more specific blogs check these three out:
3. Track Results via Weekly Reporting
Comaford believes a key aspect of accountability is visibility: knowing what your key team members are doing each week to avoid surprises or missed results. We agree. She shares an example of a weekly reporting template in the book and on line http://www.christinecomaford.com/kits. She notes "Often we and our team members perform at levels lower than we are able to simply because of an absence of Needle Movers and results tracking."
Rockefeller Habits Tracking and Reporting Tools: Strategic Discipline blogs offer a plethora of examples and stories on tracking through our Rockefeller Habits Meeting Rhythms. Search our 55 blogs on Meeting Rhythms. Listed below are a several from this group specific to the topic of weekly reporting:
The fourth key practice to gaining accountability in Comaford's list is Reward High Performance and Provide Consequences for Low Performance will review this next blog in Consequences That Work.
We'll learn how to discover whether or not a person is truly committed and how Trust is broken in three levels. Be sure to join us on Monday.