As a leader the biggest kick I received was seeing my people succeed. Years ago while still in the broadcasting field I attended an industry conference in Dallas. There a former sales person approached me and fawned over the training and experience she'd gained working for me. She was now a radio station general manager and doing extremely well for a sizeable radio station group in Minnesota. I was overwhelmed. I had no idea how well she had done, nor would she attribute much of her success to my contribution.
If you've had that type of experience, someone thanking you for helping them develop their career, you know how good it feels.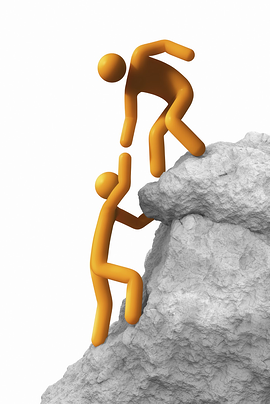 Isn't that the kind of reward we all would like to feel from our leadership? Help people become their best?
When I was hired many years ago as a new sales manager I recall being eager to do my best. I wanted to do things better and more sales friendly for my sales team. All the things I had disliked or despised as a sales person I eliminated. At the time I recall being sure that if I gave my people freedom they would be able to perform at their best without any limitations or infringement by management.
Instead of working with my sales team I went into a deep research and data building process, using a computer to track calls and information on each of the company's clients and prospects. Needless to say I failed to get my team to grow revenues. After a year of flat sales and being in danger of losing my job I sought help from one of my clients, a part-owner and sales manager of a car dealership.
We had several lunches together. His best advice provided me with a sales meeting structure that immediately stimulated the team's sales production. In the sales manager's office we had a blackboard that we created for each month sales tracking. It listed each sales person and their sales production goal. Each day represented a certain dollar amount they were required to sell to meet their target. While we had this "Dashboard" we didn't use it very effectively. Simply updating it when the salesperson increased their sales for the month wasn't enough. The sales meetings changed that. Each meeting we would review each sales person's sales efforts from the previous week. We'd celebrate their sales and then ask how they expected to make their target for the month based on where they presently were. We always had a training/learning session which eventually led us to work on building a presentation for clients called "Why Radio?"
I'm not sure whether that presentation was ever presented to a prospect. (I left to move to another position shortly after we completed it.) What I do know is that in creating it the sales team learned how radio worked, building confidence in the radio station and how to sell radio to their prospects. We finished that year with a 19% increase in sales. For our market it was significant. More importantly it produced real growth in the sales team and my ability to sales manage.
Do you agree with me that the role of the leader is to bring the best out in your people? Each week I worked individually with my sale team. An hour each week was dedicated to one-on-one meetings to discuss goals, calls made, practice overcoming objections, make presentations, and brainstorm ideas. Once a month I would spend a day with them making sales calls. What was my purpose? To help them improve. Spending that much time with each sales person allowed me to see beyond what they thought they were capable of. By nurturing and relentlessly demanding more I pushed them to perform at a higher level than believed they were capable of. The reward in seeing them succeed accelerated my performance as well.
A dashboard review each week forces your people to perform to the standards they've agreed to reach for the business to succeed. Peer pressure in these meetings (As discussed in Lack of Accountability Show the Group or Behind Closed Doors? And Accountability - Three Reasons Group Meetings Produce Better) put a spot light on each individual's efforts and compel improvement.
In coaching my clients now I see this same synergy at work. Meetings are no longer boring nor are they void of purpose and meaning. If for no other reason people come to meetings prepared. They know they will be called on to report on their progress. Everyone contributes. Everyone sees their success and failure.
Can you see that by monitoring your team's progress each week you are calling upon them to perform better than their best? You spotlight their performance and ask them to measure up. You urge them to perform to a higher capacity than they previously have. With performance comes confidence and fulfillment. They move out of their comfort zone and accomplish more than they thought possible to achieve.
I'm not sure about you, but that's what I got into this leadership gig for. To help others perform better than their best. To help them succeed beyond their present beliefs. Most of us are looking for someone who believes in us. If you've ever had the fortune to have been helped by a mentor you know what I mean. If we as leaders can be the person to compel more from those we lead we are rewarded doubly for our efforts. The joy and satisfaction of helping someone grow, and the growth we experience through the process of teaching, coaching, and helping others.
Dashboards are Pearson's Law in action, "When performance is measured, performance improves. When performance is measured and reported back, the rate of improvement accelerates."
Learn more on how to develop this and the entire concept of Strategic Discipline please contact us or plan to attend Mastering the Rockefeller Habits Four Decision Workshop in November.
What does it take to build leadership and growth for your business? We'll explore what I believe is the single most important element in business success next blog.