Developing your leadership skills requires time spent in the kitchen. It requires actually riding the bicycle, cooking the brew, communicating, leading, establishing your presence, and developing your people is a leadership evolution process.
This is why it is absolutely essential to establish a set of essential meeting rhythms.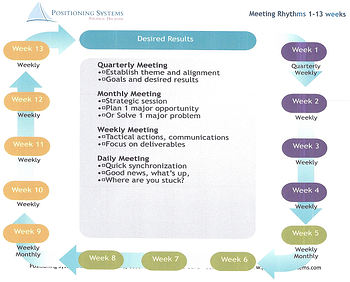 This routine habit of meeting with your team will help you develop them and grow your business.
By establishing a set of daily, weekly, monthly, quarterly and annual planning meetings you are investing time to not only in demonstrating your leadership capabilities, you are also passing on your leadership DNA to the people you need to count on to get results. You're utilizing the capability that discerns humans from all other species on the plant: Pattern Recognition. You and your leadership team will appraise things earlier, get a jump on where changes need to be made, create opportunities, or prevent issues from getting out of control.
You'll demonstrate your leadership capabilities by demanding accountability, looking forward to the future, and assuring everyone is staying committed to their priorities.
I've written a number of blogs on Leadership. Looking for some answers please consider these resources:
Tired of Questions – Leadership Discipline
One of my clients reminded me this week of an important leadership lesson. Quit answering your subordinate's questions.
Greg McKeown's definition a manager expresses best the role of the manager today and possibly what is the role of the manager is for the future.
Leadership's First Mission: Fulfill Spiritual Resources
In building a Good to Great company's spiritual resources are more important —by a factor of three to one. Businesses need Core Values and Purpose.
How the Best Managers and Leaders Deliver Positive Reinforcement
Most effective leaders do not necessarily reinforce more often than ineffective ones. Effective positive reinforcement is in the small details.
Leaderships' Role In Employee Feedback
Finding fault or blame? It's not part of leadership's role in employee feedback
Is Employee Engagement Poisoning or Nurturing Performance?
One person can dramatically affect the attitude of your people and undermine all your efforts to improve employee engagement.
Your Blindside – The Value of Collective Intelligence
Successful growth companies solve problems in teams using collaborate technique and harness the collective intelligence of the entire team together.
How Do You Make Good Decisions?
Most decisions are not clear black and white, right or wrong choices. Instead, the outcome rests more on what you do after you make your decision.
Leadership Requires Vulnerability
Leadership that reveals its mistakes and weaknesses is more effective growing their business.
Re-Think Common Sense as a Management Tool
Common sense is not a good management tool. Instead your management team needs to be using scientific knowledge for improved employee performance.
The shadow of leadership fails to recognize your weaknesses. By deceiving yourself you destroys trust and weaken your business growth.
The absolute here is there are many techniques, competencies, and characteristics that identify a good leader. The truth is there is no set formula. Gallup's Strengths Based Leadership determined this. You are you. You have unique strengths and weaknesses that will develop only in the crucible of adversity and in communication with your people. The absolute is you must be in a position to demonstrate and work with your people. That requires a meeting environment where you can work on and demonstrate your capabilities. You can achieve this one on one with your people to some degree, but never to the extent that a meeting demonstrates your command, authority and expertise in handling a group.
Here's another quick thought that you may feel runs counterproductive to you being the leader. One of our Gazelles coaches (Patrick Thean) recommends the need for an experienced facilitator. If you as CEO facilitate your meetings (yes, even daily huddles and weekly meetings) he's discovered your leadership team contributions are reduced by as much as 40%. Why do you believe that happens? People work for you because they respect you – so they have 'respected opinion' of what you say. So if you have an experienced facilitator – it really helps. The CEO should be in a position to really listen hard. Observing, hearing and providing objective feedback, and input will increase your respect level with your team. Your opinion should come last so everyone has the opportunity to express themselves.
Your leadership authority, and possibly autocracy may inhibit their responding. When you add the facilitator pen to your hand it can reduce group effectiveness & people IQ by another 20%. That's a remarkable number that if even remotely true should also help you understand the value of having a business coach in your meetings, and when conducting daily huddles or weekly meetings perhaps turning the baton over to someone else on your staff to facilitate.
Getting your team to contribute their thoughts and feelings offers more ideas and better opportunities for growth.
Working with my customer on developing their theme for the first trimester has placed an emphasis on two critical components of metrics. We'll explore one of those, and why it's so important next blog.