Accountability. It's a critical element in organizations that grow. Last Monday at about 2:15 AM one of the doctors took accountability for me, made a decision to send me to the ICU possibly saving my life, I didn't want to go there, I liked being in the familiar. He looked at the larger picture. The trends he saw disturbed him. Continuing fever for two and half days. Hemoglobin being absorbed almost as fast as they could put it in me. Plus the disturbing rate my heart was pumping at, and the balance between the low and high number they give on blood pressure. (The bottom number is not good if it drops below 60.)
So while I disliked the decision of having to move all my material and go to highest level of health care. What convinced me is the manner in which he approached, saying
"Doug my first concern is for you as a patient." I want you to make it."
Well from 2:15 AM on Monday Morning until today about 3 PM today I was under a flurry of activity as teams of doctors came in to see me regarding my condition. The most important team might have been Internal Disease control. They specifically identified what type of bacteria was causing the issue sending IV drugs to take them out. I'm hopelessly a zero in white blood cell count which is the type responsible from getting us sick.
Noticed I said a team of doctors. Almost every time a specialist would come in to ask questions, confer and get back to me. In one case two of the supporting assistants wanted to put a PIC line in my neck. I pushed back. Once the leader and his team got back to me, due to my blood pressure ratio steadily improving he agreed with me that a line into my neck wouldn't be necessary.
I'm the number one person on my team to get me healthy. When I see something that doesn't make sense I stand up for it. I'm back on the fourth floor out of ICU and feel like I'm really dialed in on my Priorities. To get healthy is the goal, which includes a sub priority to Meditate at least one hour and 10 minutes. More on this in another blog.
That's enough about me
Listening to Patrick Lencioni's The Advantage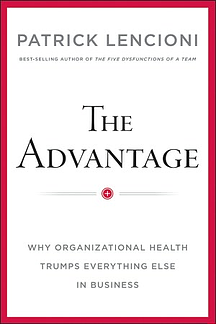 several days ago I leaned some things about accountability and the significance it points to achieving Organization Health. Most of this is taken right from Patrick Lencioni's book. Best choice for getting accountability is Team Meetings and the key is behavior performance not a person's metrics.
The Key is behavior performance is a leading indicator. We all would like to have more leading indicators that could keep us on tracking versus running into a ditch.
Which type of meeting provides the best accountability? Some people like individual meeting (Michael Gerber mentoring meetings) while others feel that team meetings are the best at achieving accountability.
From Patrick Lencioni's The Advantage, come some startling statistics. In reviewing the 12,000 teams who have taken the online assessment, data shows a full 65% of teams scored "red" on accountability—or lowest on The Table Group's three-tiered rating scale of green-yellow-red. Other red scores for the remaining four behaviors include trust (40%), conflict (36%), commitment (22%), and results (27%).
Some leaders don't realize they have an accountability problem. They're more than comfortable confronting people about issues regarding measurable performance. When a direct report misses his sales target four quarters in a row, leaders have no problem telling him and taking action. That is indeed one form of accountability, but it's not the most important kind. The kind that is more fundamental, important, and difficult is about behavior.
The most reluctant, fearful leaders can usually summon the courage to tell someone that he missed his number. That is a relatively objective, nonjudgmental act, which makes it safe and free from emotion. Confronting someone about their behavior is a different matter. It involves a judgment call that is more likely to provoke a defensive response.
The reason behavioral accountability is more important than metrics has nothing to do with the fact that it is harder. It is due to the fact that behavioral problems almost always proceed—and cause—a downturn in performance and results. Whether we're talking about, a sales department, or an elementary school, a meaningful drop in measurable performance can almost always be traced back to behavioral issues that made the drop possible. Decreased discipline about cold-calling, poor preparation of lesson plans: all of these are behavioral problems that occur long before any decrease in measurable results is apparent. Great leaders and great team members confront one another about those behaviors early because they see the connection between the two and care enough about the team to take that risk before the results begin to suffer. Behavior Accountability is a leading indicator!
It's difficult to overstate the competitive advantage that an accountability-friendly organization has over one where leaders don't hold one another accountable. More than anything else, problems are identified and solved earlier and without the collateral damage of politics. Whether you measure that in terms of greater revenue, higher productivity, or reduced turnover, the benefits are massive and real.
Thank you for reading my blog! Happy 4th of July.